Nadia Kakridonis grew up in the Queen West neighbourhood, so she's been scoping the local real estate since she was old enough to hit the convenience store for a pack of Big Chew. The strip between Ossington and and Dufferin has gone through significant changes in the past five years. What was it like when Nadia was a kid? "You wouldn't want to walk down the street. It was that bad."
Nadia has been running Twist Gallery for three years now, which means it opened when she had just turned twenty-six. Holy crap! But she was always a girl who knew what she wanted to do, for the most part. After high school, Nadia went to Humber to study Graphic Design and Advertising. She worked at a small graphic design firm for a couple of years but figured out fast that she wanted something more independent and creative, "I wasn't happy… I knew something was missing."
Many of you may have attended art parties in Twist Gallery since it's opening (Square Foot Art Show likely being the most notable), or you may even have attended a wedding. "We do tons of weddings here, and corporate events." With 5000 square feet of open space and gorgeous floor-to-ceiling windows, the generous room at Twist is a rarity for a downtown independent gallery.

While there are many art pieces that sell for over 5K, Nadia makes it her mission to offer varying price points so that young, first-time art buyers can also begin investing.
What made you want to start a gallery?
I always had a passion for art and events growing up. When I came across the building at 1100 Queen Street West, I knew I had to do something in that space. It was so beautiful and I didn't want to miss out on the opportunity. But I wanted Twist Gallery to be different from other art galleries. I wanted it to be the type of art gallery where people didn't feel intimidated. Even if people didn't follow art or know about art, I wanted them to feel comfortable to walk in and say hello. I wanted to change the perception of how people view art galleries.
With so many art galleries on the Queen West strip, how does TWIST define itself differently?
Twist is completely different from any art gallery in Toronto. The large 5,000 square foot gallery speaks for itself. You walk upstairs and you feel like you are in New York City. Many people know me by my first name. I also encourage different levels of artist to apply for an art exhibit at Twist.
How do you start an art gallery? Big question, got any small tips?
I dove right into the deep end and didn't look back. It was a lot of work and still is. My number one tip would be to practice patience. It's the most important part at the beginning and it will help you get to where you need to be. Also, have a plan and stick to it.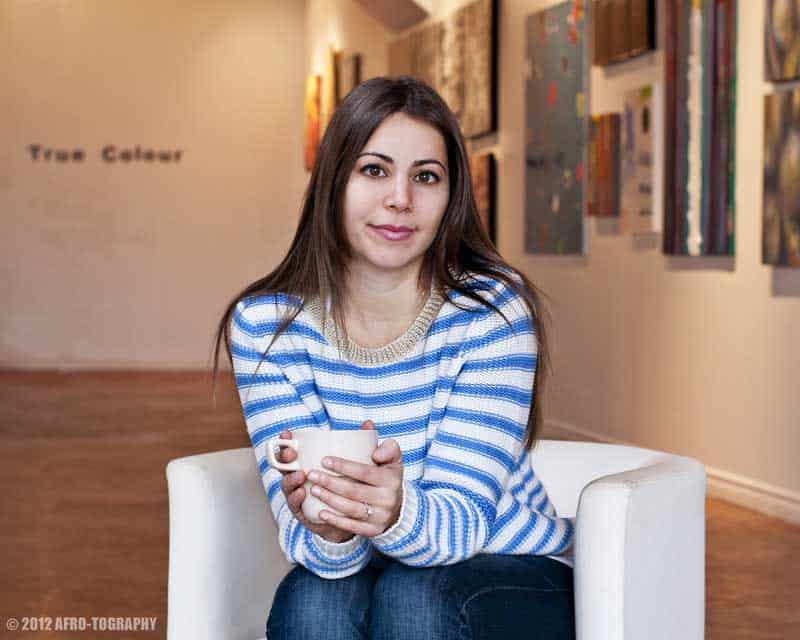 How do you go about choosing which artists to represent?
I try to look for an interesting story and an emotion when I am looking at art. What does the artist want to tell me? Artists paint with emotion and some artists have no idea what they are even going to paint until they see the end result. People want to relate to a painting and that's what I look for.
In your opinion, what is good art?
In my personal opinion, there is no such thing as good art or bad art. It has to speak to you personally. You have to have an attachment to the art from the minute you see it. People can't sell you on what to buy. It's a personal purchase.
What's your best advice for someone who is just starting to collect art?
It can get addicting. I would continue to follow an artist that you like and view the different styles of work they are creating. And always remember – an artist's path is a story. If you are buying a piece of art, you are owning a piece of that story.
If you could crack open a bottle of wine with one artist, dead or alive, who would it be?
This is such a hard question. There are so many artists that I would love to sit down and chat with, but the one artist that comes to mind right away would be Andy Warhol. When I was younger I always found him very interesting. He would take iconic American objects and make them creative. He was very fascinated with people's reactions and celebrities, which makes him very interesting to me.
What three skills do you think are most important for a gallery owner to possess?
You need to be creative, organized, and social.
How would you describe the Toronto art scene right now, in one sentence?
Toronto's art scene keeps growing daily, and a younger generation is starting to appreciate art, which is incredible.
What kind of art really excites you?
I go through phases. At the moment my eye really catches pop art, abstract, figurative with lots of colour. I love seeing different art, but most importantly, I love getting to know the artist.