It's 2 a.m. and I'm feeding the baby. I scan her room, taking note of all the things we've done to get the room ready, but mostly getting stuck staring at all that's unfinished. Pictures friends have painted to celebrate her arrival rest on the dresser waiting to be hung. Mine and my partner's books still line the shelves. The walls are painted bright yellow, the opposite of the subdued pastels I dreamt of while imagining the perfect nursery during our years of infertility.
Unlike birthing a baby, we haven't had much time to prepare for her arrival.
We found out our daughter was coming home with us just a month prior to her arrival (in the middle of the chaos of a pandemic, no less). With her older brother it was similar (no pandemic though, phew). One and a half weeks after his birth mom chose us to be his parents, our son was born. A week after that he was at home with us.
Many other families welcome kids through adoption, too. According to the Ontario Association of Children's Aid Societies, there were 525 public adoptions through non-Indigenous Ontario Children's Aid Societies in 2020-2021. In their 2011 annual report, the Adoption Council of Ontario reported there were about 100 private adoptions each year. A few years later, while we were on the waitlist at Beginnings Family Services, we were made aware there are less than 100 private adoptions in Ontario per year.
While the nesting urge is said to most intensely kick in during the third trimester of a pregnancy, the impulse to prepare our homes and lives for our kids is there for adoptive parents, too. It's just not something we hear or talk much about.
Karin Fields, who studied the nesting phenomenon among adoptive mothers, defines adoptive nesting "as the emotional, psychological, relational, physical, practical, and spiritual process of bringing a child into one's home and becoming a mother through adoption" that happens before and after the adoption placement.
This definition might as easily describe the preparations biological parents make while waiting for their babies to be born. There are commonalities, no doubt – decluttering and cleaning the house, preparing the baby's room, reflecting on the kind of parent you want to be.
Yet, in many ways adoptive nesting is an altogether different experience.
At first, it's the wait – to be approved as adoptive parents and, once approved, to be matched with a kid – which can be quite long. Through this wait the push and pull between wanting to prepare the space and self-preservation is ever-present.
Madison and her partner are foster parents and also have a biological kid. When they learned they would be matched she held onto much of the kid stuff she already had around the house, should the placement not go through and they need the items for future foster kids.
"We slowly purged some stuff over the summer when we were getting more and more positive feedback that we'd likely be her permanent home…but we didn't want to get rid of TOO much," she told me.
For those who experience infertility, the push and pull about whether or not to prepare and how much is deeply emotional. Some hold off on preparing the space altogether.
"We figured [adoption] would take years. [I] didn't want to prep the nursery because it would be too sad looking at [it] everyday and figured there would be time once we were chosen," recounts Cindy, an adoptive mother of five who has dealt with infertility, about her reluctance to nest after being approved to adopt.
Like many adoption stories, Cindy and her family were only given a few days notice about the arrival of their adopted son. She had less than a week to prepare.
For others, there can be a little more time to prepare. Among the women I spoke with it ranged from one to four months, with one exception in Samantha whose transition period with the teen she adopted lasting six months. While this timeline allows for a little while longer to prepare than Cindy, or myself, had to get ready, it's still fast and often unpredictable.
This isn't to say that's bad. In the complex practical, legal, and emotional process of adoption, it's difficult to imagine there would be a more predictable timeline. It is to say, though, that preparing for the arrival of the kids we adopt is different than preparing for the arrival of a biological child carried full-term.
In addition to the whirlwind and the emotional push and pull, one of the most striking aspects of adoptive nesting that makes it distinct is that we are getting our homes and lives ready for kids who have a history we weren't a part of.
They come to us from a sperm and egg that have ancestral and emotional memories from an entirely different family, bearing no resemblance to our first families, as much as others – and sometimes ourselves – try to convince us otherwise, pointing to the similarities we can find as a way to legitimize us as a biologically passing family.
Older kids already have favourite colours, imaginary friends, peer groups, preferred clothing, family photos from their birth and foster families, and, maybe most importantly, well-formed opinions we didn't influence.
And so, adoptive parents find ways to personalize our homes and lives for the kids we adopt to ease the transition for them and for us.
For Madison, she made a photo album, and framed and hung a few pictures from a photo shoot they did with their daughter while she was in foster care. Even if their placement didn't go through, she figured the relationship they developed while providing respite to their now daughter's foster parents was worth commemorating. Doing this also helped her get into the "frame of mind" that their family was "growing and changing."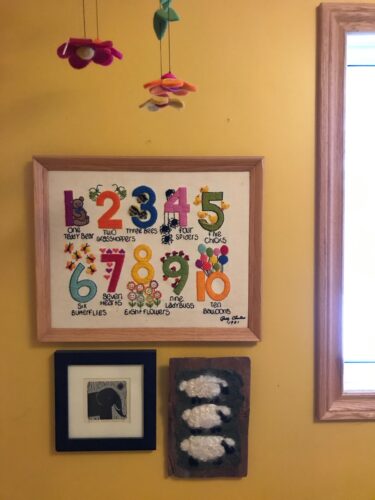 Hannah painted her kid's room the same colour it was at his foster family's house and Jen's first outing with her kids was to Home Depot, so they could choose the paint colour for their new room. "They were super excited about it cause they'd never had coloured walls before," she shares.
Samantha and her daughter prepared her room together, collaborating on an online design board and shopping for home décor items together "that would give the room personality that was hers."
The two also psychologically nested together. They talked a lot, about house rules and what her daughter's fears were and what she was looking forward to. At her daughter's wise request, they also prepared for how they would deal with the conflicts that would invariably arise after the honeymoon period. They walked a lot, orienting her daughter to her new neighbourhood.
One might say all parents are always adjusting and readjusting their lives to make room – physically, emotionally, and otherwise – for their kid's arrival and growth. To varying degrees that's true. Still, adoptive nesting is a distinctly different experience because it is one that is mostly hidden until we find ourselves in the aisles of the paint store with kid in tow, or feeding the baby in the middle of the night in a room that's not quite yet hers and no longer ours, that we're still very much preparing.
Jen Vasic is a PhD candidate, city councillor, lover of indie bookstores, and an adoptive mom to two young kids. Over the pandemic she rediscovered her younger self's dreams of becoming a writer. She shares more about all of these things online @jenvasic (Twitter and Instagram) and @_natandjen (Instagram).
This essay was selected as part of Shedoesthecity's New Voices Fund, established to help continue offering opportunities to talented emerging writers with less than 20 bylines. More info here.