Last Monday night at 10 p.m., it was time to get NUDE with Soho House Toronto. The private club is always coming up with new ways to inspire their members and get fresh talent through the door. This week was no different, as we checked out their fiery new monthly gathering, Art x Night; this time featuring an immersive art experience by Dahae Song with accompanying music from NUDE family cohorts, Nightzm,  Shagabond, Cyber69 and Marlon James.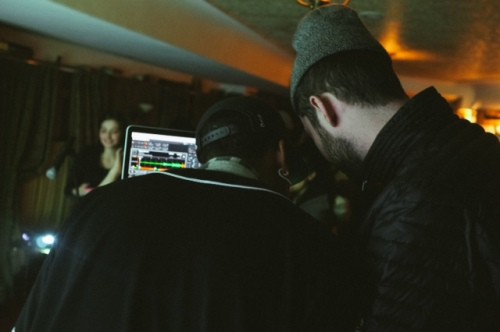 NUDE  is a collective with the aim to create events that go above and beyond our generation's sky-high expectations. Befriend them now, for they will inform you with their selection of the best up-and-comers, and shock you with their versatility. Formed in Montreal and founded by Alex Boyman, Cedric Garnier and Zachary Roher, the team brings their own edge, tested experience and eye for talent to Toronto. In this case, it meant packing Soho House with young culture-lovers with enough stamina to go up on a Monday and enough Rick Owens footwear to make any fashion freak quiver with envy.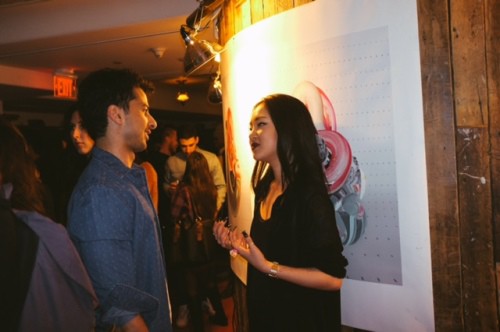 Bringing the bacon visually, Dahae Song is a South Korean, Toronto-based interdisciplinary artist whose work is shown regularly throughout the city. This particular exhibit was a technicolour dream that spoke to her general aesthetic, an evocation of "the symbiosis of traditional mediums and the aesthetics of the digital era". Hanging on the wooden walls were Song's neon, geometric yet nearly-anatomically correct human hearts. Synthetic Love, indeed.
Beside the DJ booth was a looping video of Dahae Song's own art film. Bodies and forms came apart and then back together with unexpected bursts of colour, beauty and gore. Prior to the event, the musicians were treated to a sneak peak of the visuals and constructed their sets around the video's vibe.
Art x Night is a snapshot of just one of the wide-ranging events that one can experience at Soho House. It's another world behind those doors, and a new world every time. Hopefully NUDE's contribution to Soho House Toronto (and in turn, the city as a whole) is just the beginning of what is already proving itself to be a lethal combination.