Toronto Fringe Festival is a trove of incredible theatre. We've chosen some of the best playwrights and directors from this year's festival to find out what makes them tick, and what you can expect to see this year. 
For this installment, we speak with playwright of Life After, Britta Johnson.
SDTC: What's your play about?
BJ: Life After is a story of love and loss. It's told by sixteen-year-old Alice who is trying to navigate life after her father, a superstar self-help guru, smashes into a truck while driving and sends her headlong into a search for the meaning of it all. It is about grieving for the first time. It is about growing up. It is about meeting your parents, about who they are as opposed to who you want or need them to be. It's about other things too but mostly that covers it!
What led you to come up with the concept?
Though the show certainly isn't autobiographical, it is informed by personal experience. I lost my dad when I was thirteen and I think it is a very universal, specific, confusing, peculiar and sometimes even funny experience to have a big loss when you are still just learning the rules of being alive. I think it is an experience that exists just outside of what we can talk about with words, so I was excited to use music as an active part of the storytelling. I wrote the beginnings of Life After when I was still a teenager. I got really interested in exploring some of the big questions, the big discomfort and the big growth that comes with grief.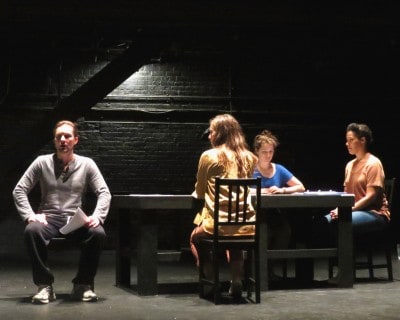 What was the most challenging aspect of this project? Most rewarding?
Writing is scary and vulnerable. Writing about loss is especially scary and vulnerable. I like making people laugh and although a lot of this show is a comedy, it hits close to my heart and that makes it a bit terrifying. I also think it is easy to overdo it and stop being truthful when you are telling a story with music. It's a delicate thing. Musicals also take a long time to write.
This is the first time this show has seen the light of day and it is essentially a workshop of a first draft. This fact has been both the most challenging and the most rewarding aspect of this process. The cast is incredibly generous and insightful. Robert McQueen (the director) is a genius. And my sister, Anika, who has also been my writing partner on a lot of other projects, is playing the lead.
I have learned so much from walking through this process with this specific group of people. It's an empowering thing to hand something raw over to a group of amazing artists and watch them help you to find the show's voice.
What do you want audiences to take away?
My hope is that the show tells a universal story honestly and sensitively and in a way that might be new for people. I hope that it will resonate as truthful and fresh. I also hope people will laugh sometimes. I am a lot more comfortable when people laugh. And I hope that they will walk out invested and curious in the show's further growth and development!
Life After is now playing at Theatre Passe Muraille Mainspace until July 10th. Get your tickets here!