I recently visited what is largely regarded as the world's most expensive city for tourists: Oslo, Norway.
Now, I had heard three major things about Oslo: 1) it is the world's most expensive city, 2) you have got to go, and 3) this song, by Of Montreal. Re the first: a friend of mine who had recently visited the city offered this anecdote: "We went out for breakfast on our last day there—a verrrrry basic greasy-spoon breakfast: eggs, toast, etc… the bill came to $80 for two." Cue personal-nightmare-heart-attack. "Just try to forget the conversion and you'll have a great time!" Sure. 
Despite my fears that I would return penniless and destitute with, I dunno, the plague (for effect), I was not completely turned off. I am, after all, the type of woman who will bike to No Frills, Kensington Market, and Honest Ed's in a single grocery run to save a whopping $5, so I took the notion of a city so wildly expensive as a personal challenge. "Ha HA!" I thought to myself (already getting into Viking-mode). "You're no match for me, city! Did you know I used to habitually park miles and miles away from campus in -40 degree Regina winter to save a buck on parking? I bet you didn't! I bet you didn't…"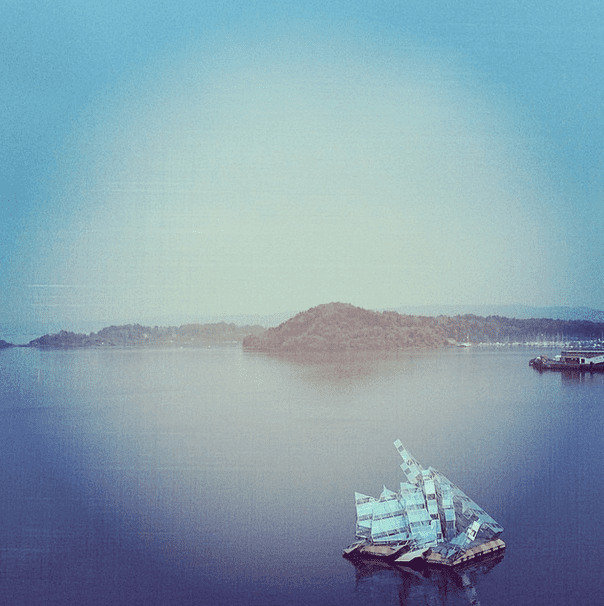 And now, after returning from 3 days in—spoiler alert—my new favourite city in the world, I thought it time to take stock of how I fared with my cash flow. I take you through 12 bli$$full hrs in the world's most expen$ive $ity to vi$it. A few things are important to note, here.
First, the conversion rate: approximately 5 Norwegian Krones for every Canadian Dollar; although never fear, I've done most of the calculations. Second, some basics: aside from the stack of rice cakes that I packed in my suitcase like an absolute grandma I stocked up on some ludicrously simple goods upon arriving. Milk, eggs (which I promptly boiled—more on that later)(fun!), apples, cans of chick peas, beans, and corn—all for a grand total of $34. I also purchased a weekly transit pass upon arrival for about 48 bucks, as a single ride can cost as much as $10. Third, and perhaps most importantly, my accommodations: I was being hosted by an incredible improv theatre; the community there treated me like family sight unseen, which included putting me up on a romantic little island called Nesodden, just outside of Oslo. And more than that, they're absolutely brilliant artists—If you find yourself in Oslo, or in the position of seeing anything anywhere by Det Andre Teatret, do yourself a favour and go. They're amazing people and do fucking amazing work.
And now: a day in Oslo!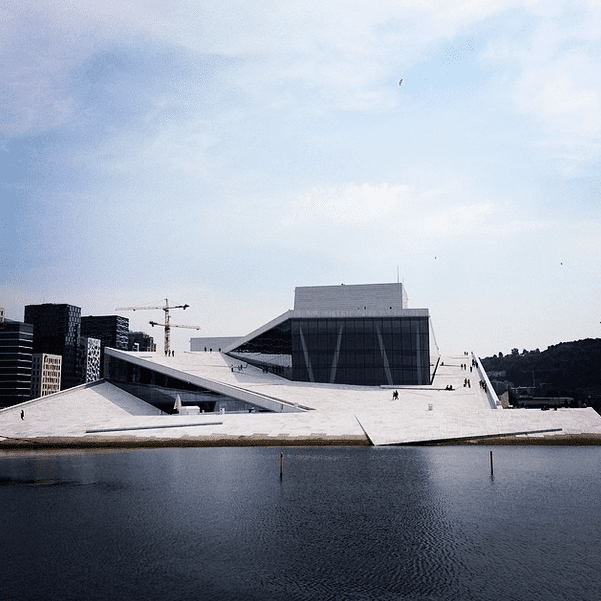 10:30am— After making my way by ferry from Nesodden to Oslo proper (20 NOK/ $4), I embark on perhaps the most economical way to experience a city: walking! I walk along the vibrant Aker Brygge, which is the city's main harbourfront; then through Old Town, and onto the breathtaking Oslo Opera House, a relatively new facility designed by architect Tarald Lundevall to look like an iceberg in the middle of the sea! ("Oiceberg straoiight ahead!" I declare, becoming my own actual mom).  I have no plans for the night and lose all sense of anything other than "walking towards the pretty building," so I decide to go in and price out opera tickets. Turns out they have affordable Standing Room "seats" to that night's performance of DER FLIEGENDE HOLLÄNDER ie. The Flying Dutchman for 100 NOK /$20. I la-la-la-leap at the opportunity and continue on my way.
12:30pm— My first purchased food of the day. A lush cappuccino from a "graffiti cafe" just off of one of the main streets in the hip Schous Plass area. The business seems to veer more towards Graffiti than Cafe, as the place is well stocked with 100s of cans of spray paint, while the coffee machine… isn't turned on. But after 20 minutes of the barista cleaning out the machine's various spurts, I'm off again with a pre' delish and very necessary coffee in hand. 20 NOK/$4.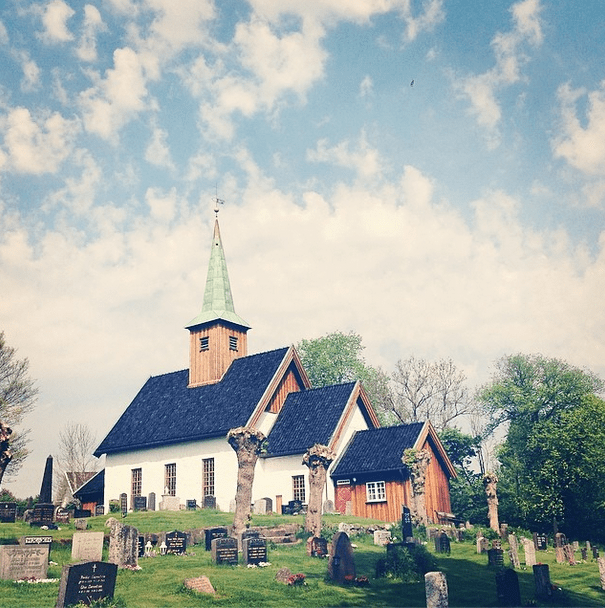 1:30pm— I stop by a friend's film set and chill with the extras for half an hour. The people are all very lovely, and extremely passionate about the project (Kolibri– watch for it!). And there are free grapes to nom! I do nom. I nom with all my heart.
2:30pm— Having what perhaps might be known as a prairie girl's Most Exotic Day of Transit, I find myself on the second boat of the day (50 NOK/$10 return), headed to the Viking Ship Museum on the smaller peninsula of Bygdøy. I was lucky enough to be accompanied by Torgny, a lovely local who works at the theatre, and who pointed me not only in the direction of the museum, but also towards a pound of freshly caught shrimp, which we bought straight off the boat for 50 NOK/$10 and split between the two of us. He was also kind enough to humour me when I unpacked some soggy rice cakes and boiled eggs for us to have what I very generously called "a picnic."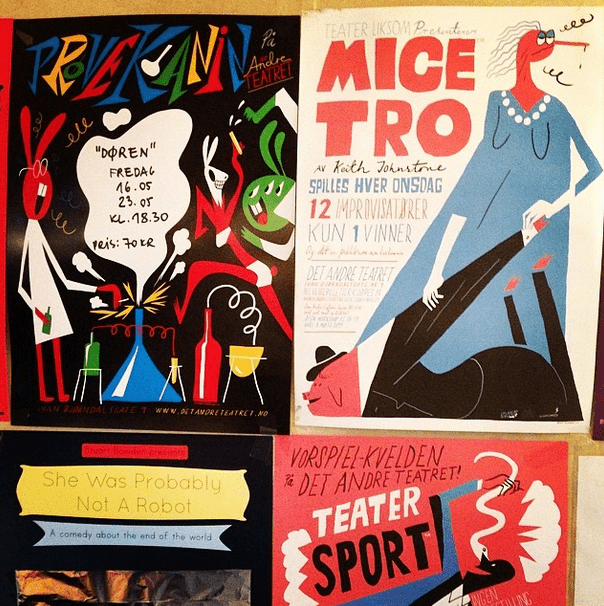 4:30pm— We make it through the pouring rain to the Viking Ship Museum! The museum centres around three major Viking burial ships and the contents found within, ranging from various cooking and hunting implements to my personal favourite: a peacock's GD 1200-year-old feathers!. It also contains the skeletal remains of the ship's passengers—which the museum has framed as the main players at the centre of an ancient mystery ("Who were these people? What clues can you find? We may never know!", etc.). It's a tad "The Da Vinci Code," but for the most part the museum is a super cool and remarkably tangible snapshot of a much-mythologized society. (And only cost 50 NOK/$10). Biggest myth debunked: Viking war helmets did not actually have horns! The horned headpieces were likely some kind of ornamental or ceremonial crown (making Hagar the Horrible some kind of king I guess…).
6:30pm— I head back to the Opera House with just enough time to splurge on a coffee (42 NOK/$8.50!!) (whups), and scarf down some food. Ten minutes before curtain, I find myself on the Opera's sprawling outdoor deck, accidentally wrecking the beautiful view for those behind me as I slurp on a can of beans and left-over rice cakes, feeling on top of the world.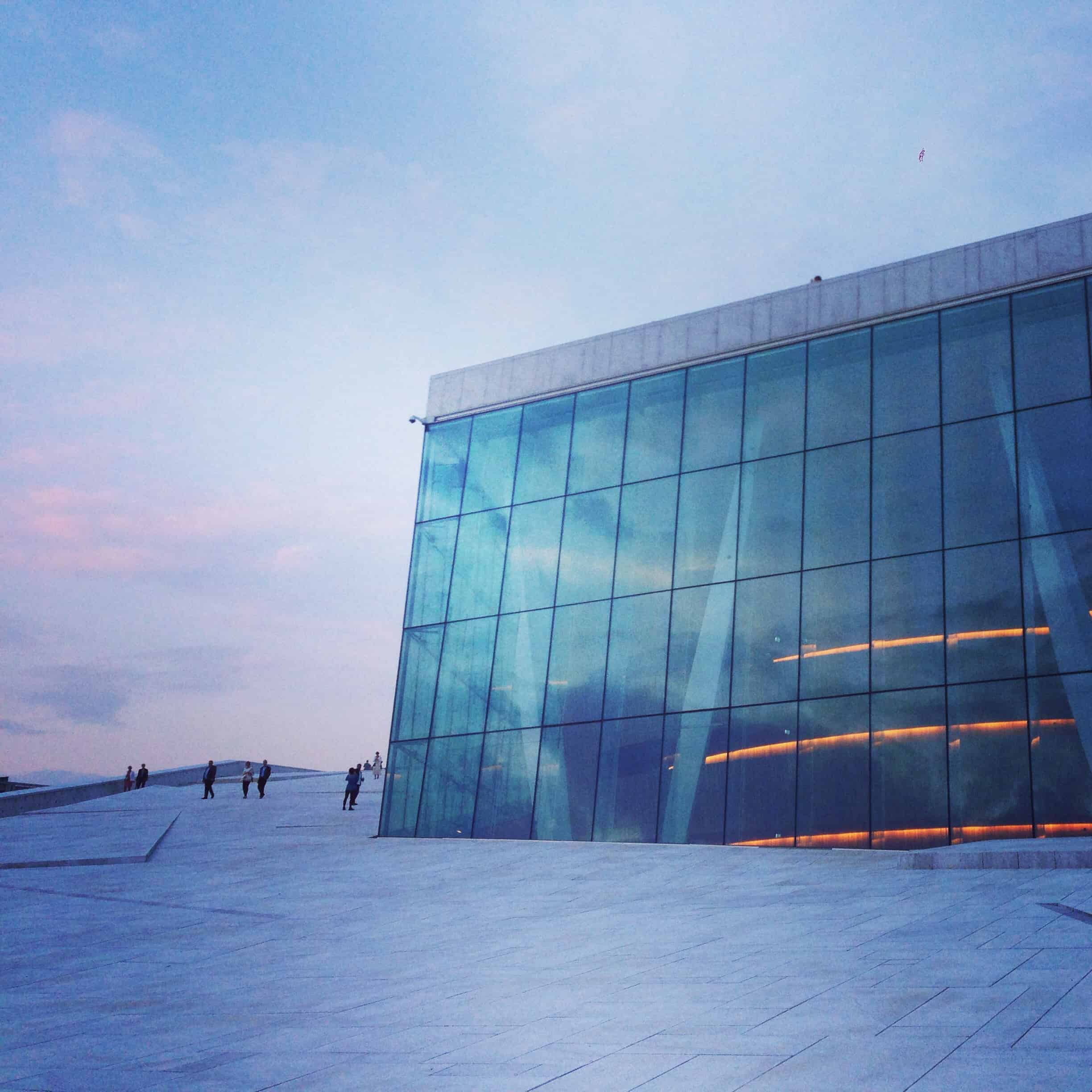 7pm-10pm— DER FLIEGENDE HOLLÄNDE, presented by Den Norske Opera. The show turns out to be nearly 3 hours without an intermission, and if it had been anything other than totally captivating my wee dogs(ie. feet) and uh… lizard? (ie. lower back??) would not have been able to handle it. But totally captivating it was, and I left feeling energized enough to walk up the roof of the Opera House and survey the city as the sun went down and it started to gently rain.
Cost of 1 day in Oslo:  $61.50 (plus rice cakes…)
Sitting on the roof of a magnificent Opera House as the sun begins to set in my new favourite city in the world: priceless. (I use Visa.)