Our Place tackles a subject rarely seen in theatre: the life of undocumented immigrants. "They don't have legal status. They have to keep under the radar of immigration," says playwright Kanika Ambrose, explaining the backstory of her protagonists Andrea and Niesha, played by Virgilia Griffith and Sophia Walker. The pair work under the table at Scarborough's Jerk Pork Castle restaurant, a community hot spot where drama unfolds.
The scene of Our Place is inspired by the many beloved Caribbean restaurants that line Kingston Road, places that Ambrose frequented regularly in her childhood and youth. "There are about 11 Caribbean restaurants within a couple of blocks. They are very much a staple in the community," she says, adding that the constant flow of people coming in and out make it a great place for action, or the ideal setting for a play, but Ambrose was careful to fictionalize details to protect her community. "People don't talk about it [undocumented immigrants] because people don't want to out themselves, or anybody. I fictionalized islands, fictionalized dialects, and music so as not to identify any one country doing this."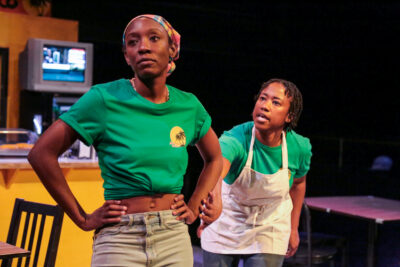 For Ambrose, writing about life in Scarborough has always been a priority. "When I started writing as a teenager, it was very much my mission to write stories that painted varying views of what Scarborough is. Not all of them are positive—this one is complex—but it does show the resilience of people in Scarborough and the varying levels of existence in the area. Representation of Scarborough has always been an important part of my creative contribution and my intention."
Not having legal immigration status is a difficult reality for many people in Scarborough, and everywhere in Canada. It's difficult to pinpoint, but studies share that number could be anywhere between 20,000 and 500,000.
Since she was a child, Ambrose has known people in her community who've struggled with this existence, she has witnessed the stress and fear they lived with constantly, and seen what happens when people are suddenly deported. The theme has been a constant in her life, but it was her own frustrating and prolonged experience with the immigration process that inspired her to write Our Place. "In 2016, I started the immigration application process for my mother-in-law. I started to realize a lot of the red tape surrounding the Canadian immigration process," she says, noting that certain racist criteria excluded large regions of the world. "It has taken over six years. My mother-in-law has finally immigrated, but the process was rocky."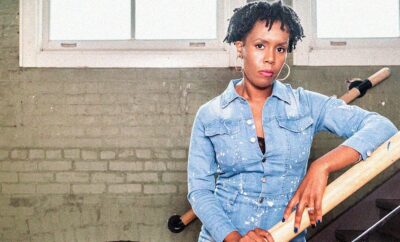 Our Place includes lots of humour, but the questions Ambrose hopes the play sparks are serious ones: "Why is the immigration system the way it is? Why do we value certain immigrants over certain others?" They are questions she asked herself often while helping her mother-in-law on her journey, and common questions in the Scarborough community, where so many individuals and families are first-generation Canadians.
Knowing the stress faced by documented folks, Ambrose has deep wells of empathy for those who don't even have that protection. "It is a constant grind to get to what the Canadian dream is in a new immigrant's mind, it does not necessarily manifest right away, or even at all. I hope that people identify and care about the characters and maybe that will extend to their feelings of others and community."
OUR PLACE is now playing at the Theatre Passe Muraille Mainspace. The show will run until December 3rd.