Jessica Russell has always loved adding splashes of colour to old antiques, and swapping knobs and fabrics to give preloved pieces a fresh look. But she never thought her hobby would turn into a thriving business.
Like so many, Jessica was let go from her job shortly after the pandemic hit, so decided to take her furniture refurbishing skills to the next level. After knocking out a few bedside drawers and old chairs, she began experimenting with the branding of her side hustle, and called her business Sunday Stroll (a name that vintage thrifters and garage sale thrill-seekers will understand well).
Now she's churning out everything from coffee tables to refurbished mid-century dressers and selling the updated furniture within hours of posting to the Sunday Stroll feed. Her taste and style is well loved.
Fans of her work and her gumption, we connected with Jess to ask her some things.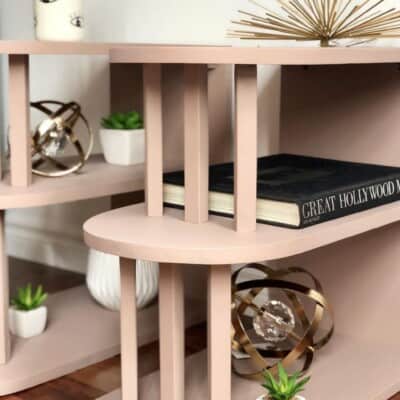 What did your life look like in February 2020? How drastically did it change when COVID hit Toronto?
Right before COVID hit, I was on the corporate 9-5 grind in downtown Toronto. Following shut down, I went through the whole bread baking, Netflix binging phase we all did until ultimately landing on this as a hobby to fill my days.
Paint a picture for us of the moment you decided you were going to do a hard pivot, and start a furniture refurbishing business?
When I learned I wasn't going back to work I had two choices; sniff out another corporate gig which really meant doing the same dance to a different song, or take advantage of the uncertainty in the world and experiment with the time I'd been given. One brought fear of unhappiness and boredom, the other brought fear in a brand new endeavour, in creative potential and in personal growth. It wasn't a tough decision.
How has launching Sunday Stroll helped you during the pandemic?
It's true that I launched the brand, but I like to think the brand also kind of launched me. Having the freetime to experiment with the right side of my brain has confirmed that my days at a desk have concluded. I've also come to learn that the 9-5 hustle is one of those 'hiding in plain sight' phenomenons in my case. Any negativity that comes from it; sleep deprivation, lack of exercise, conflicts at home are all things you only notice once you're out. I can see now that my mental health has improved greatly and my body is a lot happier now that I'm on my own grind.
How does it work, exactly? Do you find old items on eBay and refurbish them? Do people drop stuff off at your home and ask you to make something pretty?
I don't have an exact process. Sometimes I buy pieces, sometimes they catch my eye on the curb and sometimes I just give some love to things of my own. Every now and then I am approached for custom work which I welcome because it's challenging to be asked to find beauty and potential, rather than to just happen upon it yourself. People are really trusting in handing you the keys to the kingdom with a piece. It's most often a case of "I don't want to get rid of this, do whatever you think will make me love it.
What do you love most about this new endeavour?
I love having a creative outlet that I can share regularly whether it's just through Instagram or by actually bringing a unique, conversation-starting piece into someone's home.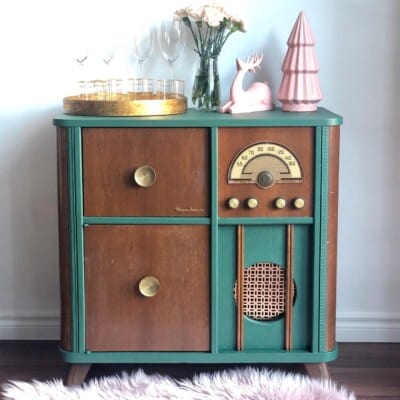 What has this big life change for you taught you?
Contributing to your mental health is so important. You really get out of it what you put in. Going to sleep early, regularly experiencing joy, maximizing endorphins; doing things to make your body smile will ultimately make your brain smile.
What's next for Sunday Stroll? Do you have a vision on how to grow it? OR do you love as is?
I am so happy to see it having grown past a pandemic hobby so in that respect I am proud of where I'm at today. That being said, now that I know what I'm capable of, I definitely have my eye on different avenues of expansion come 2021.
Lastly, what refurbished item received the most interest?
Bars. I have done several different bars, but I have developed a signature piece that is a vintage phonograph converted into a bar. People love cocktails, they love vintage flare and they love to be unique. These encompass all those criteria and are a fan favourite by far. I'm hoping it will get to the point where guests can enter a room and know right away where their host scored such a great piece of functional furniture.
Check out the Sunday Stroll Instagram feed, and find something beautiful for your home.