Spread the word about this AMAZING program! Green Thumbs and Project Canoe have come together to create a 10-month healing program (Sept – June) for Black and Indigenous girls, 2s, and non-binary youth. They've called it Local Explorers, and it's all about coming together to be brave, curious and get creative with nature.
Created and facilitated by Cara McArthur, Ohemaa Boateng and Segen Mehreteab, Local Explorers will meet once a month on weekends at various nature sites across the city, as well as once a month virtually. Gardening, native plant identification, storytelling, journalling, nature based mindfulness and art are some of the activities the group will enjoy, while also learning the histories of the land and sharing stories. There will be an overnight retreats during Winter Break and March Break, and a closing canoe trip in the summer of 2022.
This is a life-changing opportunity, and a wonderful way to learn skills, build confidence, and make friends. If this sounds like something a young person in your life could deeply benefit from, visit the site to find out how to apply. Space is limited, and there is no cost for participants.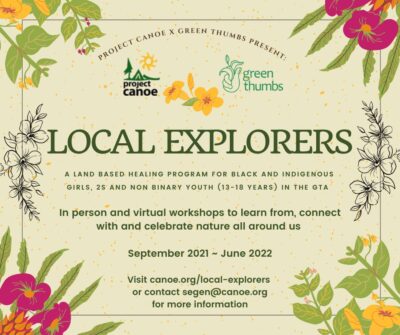 Eligibility
13-18 years old

Identify as female or non-binary

Identify as Black and/or Indigenous

Live in the G.T.A.

Able to commit to the full program
Some background info on each of the organizations behind Local Explorers…
Green Thumbs is a for-impact food and nature literacy program in downtown east Toronto that partners with schools, City and community agencies to help foster urban agriculture, greenspace enjoyment, physical and mental health benefits.
Project Canoe helps youth transform their lives through therapeutic and educational outdoor programming that takes place in both wilderness and urban environments.