Joe Fresh Cosmetics are arriving at Shoppers Drug Mart stores with a bang. The line boasts a newly expanded product line; sleeker, more grown-up packaging and some pretty sexy displays popping up in Shoppers locations all over the place (the Yonge-Bloor location, for example).
We got a chance to test-drive the new Joe Fresh Cosmetics line, already available in select Shoppers Drug Mart locations (and coming soon to many more). This is one upside to Loblaws' acquisition of Shoppers Drug Mart – along with Decadent cookies and other President's Choice items being added to the snack aisle.
While many of the classic Joe Fresh Cosmetics products will be sticking around, there are some hot new finds you'll definitely want to burn some Optimum Points on.
The newly enhanced line features an illuminating primer; powder highlighters; two formulas of liquid lipsticks (one is a "veil" of sheer coverage and the other is described as a combination between a lipstick and gloss); medium-coverage liquid foundation and concealer; and quick applying "stick" formulas including foundation, blush and a highlighter.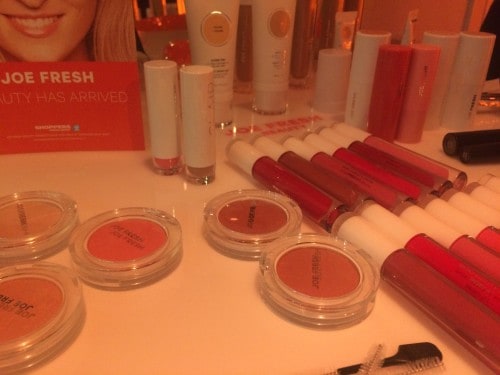 [One exciting thing about this super-affordable line is that we've already spotted some great dupes for some seriously high-end products. Want to know which ones? Check out our Instagram page. When the featured photo gets 1000 likes, we'll name names!]
While there has been lots of scuttlebutt on online makeup forums about the future of some of the in-house Shoppers brands, we can assure you that there are some very exciting developments on the way! Shoppers beauty department will be launching Joe Fresh Cosmetics as well as some other very cool, affordable brands. Some of the in-house favourites, like Annabelle and Almay will, however, be saying farewell (which can only mean some juicy clearance steals over the coming weeks).
If you want to know when your local store is getting their Joe Fresh goodies in, ask the staff at your nearest Shoppers Beauty Boutique.
Closing thoughts on the new Joe Fresh Cosmetics products:
– Packaging revamp is lovely and feels sturdier; a marked improvement.
– We're most excited about the powder and stick highlighters, the illuminating primer and the stick-formula foundation.
– The brow gel with tiny wand applicator also provides a lovely, natural look, which you could easily amp up with brow pencil.
– We can only imagine the line will expand to include a wider range of shades for Canada's stunning, diverse population. Foundations in a range of tones, shades and undertones is 100% a must. Leave no makeup-wearers behind – no excuses.
– Two formulas of liquid lipstick – a sheer veil and a "lipstick-gloss" combo – are nice, but we would love to see more nudes (again, for a wide range of skin tones/undertones), matte finishes and some fun, trendy colours, even if just as limited editions.
– It is nice to see an entry-level brand price-wise offer products in stick and cream formats, which are very flattering to women with dry, delicate and mature skin.
-With such broad appeal and affordable prices (most single items range from $5 to $10) the line will surely be a hit. Expect to find poplar shades and products depleted quickly. We hope the Shoppers supply-chain will live up to the demand.