One of the perks of working for Shedoesthecity is a packed events calendar. There's no shortage of fun, eccentric and unique events in the city, but one of my regular favourites is variety burlesque show, Reveal Me at the Rivoli: burlesque with a comedic bent. Every performance is different and its own delicious spectacle.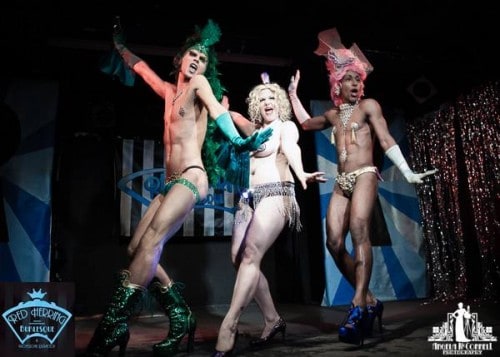 A $10 cover gets you into Rivoli's back room for a night sassy humour, provocative moves and outrageous costumes; it's sexy and silly to the max. Acrobats, comedians, fancy fan dancers, circus performers and live singers take turns entertaining a receptive audience, eager to titillate and tease.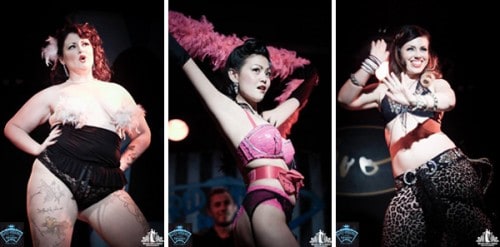 Co-produced by notorious drag queen Daytona Bitch and burlesque beauty Red Herring, who began the night back in 2011, the monthly event is full of wildly inappropriate, punchy one-liners. It always makes for a memorable, and hilarious, evening.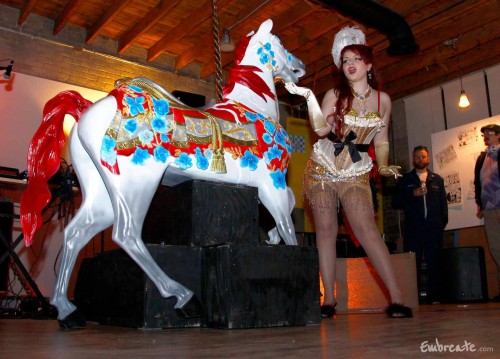 To sum up the night in one word: FUN! It's cozy and welcoming, but raucous too; the audience is chatty, and singles share tables. There's a feeling of community between performers who run out to watch and applaud each other from the sidelines in various states of undress.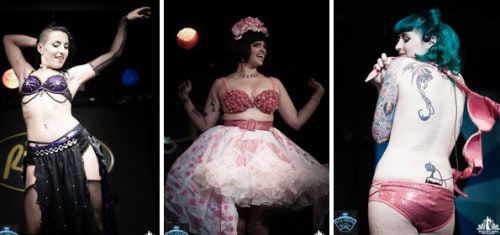 The next Reveal Me at the Rivoli is goin' down on Wednesday, Feb 5th. Doors open at 8pm, show begins at 9pm. We love it so much that we want to send YOU!
We're giving away 2 pairs of tix to the Feb 5th show. To enter, tweet your sassiest burlesque name to @shedoesthecity & @revealmeTO with hashtag #revealmeburlesque.
If you're needing a little help coming up with a name, try these combos: a hobby and a form of royalty (Ping Pong Princess!), a cheeky name and a type of weapon (Spanky Hammer!), or a flower and a cheese (Violet Camembert.)