There is something to be said about the uncharted path; it will always lead you to unexpected places that you would otherwise never have experienced. When we loosen our grasp and let life steer us, versus trying to meticulously control every move, we often land exactly where we were supposed to be.
Over the past decade, Robin Hercia's path in life has been a circuitous one, steered by passion, impulsiveness, a quest for meaning, and at times, pure chance. I knew her when she was a wild and colourful twenty-something working for Betsey Johnson in Toronto and was getting serious about yoga. She was and is a free spirit with impeccable style.
After a stint in New York, Robin found herself in LA, and almost on a whim ended up in design school at UCLA. Now she runs AWMYL Design Studio, the warm climate allowing her to have an outdoor desk surrounded by lush vegetation. It is in this quiet green space where Robin helps companies define their brands through creative design work, be it logos, print materials, or overall branding.
You began your career at Betsey Johnson. What were the biggest lessons you learned while there?
Starting out working retail at Betsey was such an amazing job. I've been a designer since I was a little kid, but there's a very wide gap from making things to getting them sold. This job was my largest first-hand exposure to how the machine behind a designer runs. There are literally hundreds of tasks and requirements at every level of the business from the front end on the sales floor, to the sort of middle-world of management and then behind the curtain in the showroom. I was exposed to the whole operation during my time there and it very often informs how I'm running my own design business. It also helps that now I'm really good at getting goods made of various materials across borders without getting stuck at customs.
Before you moved to LA, you did a stint in NYC. Can you compare how each city makes you feel?
Toronto is a kind city. It's where I'm from and I will always have a close bond with the geography of it and the people in it. NYC is a smorgasbord of human indulgence – the best of everything is there and it feels so good to spoil yourself to all of it. LA allows me to just be me. It varies so widely geographically and culturally; it gives you everything you want but only when you choose it. There is a lot of space here – actual space because it's sprawled horizontally rather than vertically. It's easy to think and create and – when you want to – connect.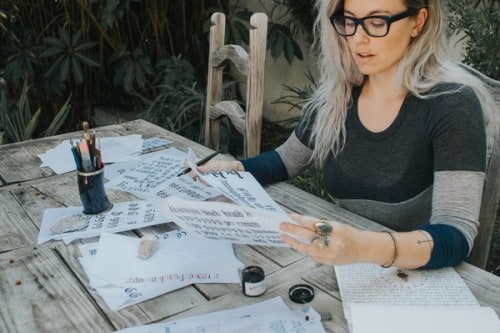 Teaching yoga is part of your career journey. How did this shape and guide you?
Hands down the most beneficial thing that came from teaching yoga classes is the ability to command people. As Canadians we're inherently apologetic and accommodating people. We make amazing neighbours and friends, but in business that stopped me from getting where I wanted.
When you're guiding a yoga class, you can't tell a room of people, "Would you mind, when you have a minute, activating your right thigh more, like maybe as much as you can? It's okay if you can't, you don't have to, it just would help." I had to learn to drop all the niceties and tell the crowd to make movements clearly, confidently, and efficiently. I was working with a photographer a few weeks ago and after giving another direction she complimented me on how clear my instruction was. I told her I learned it from teaching yoga.
There is a major spiritual component to a committed yoga practice, which is multiplied when you're teaching. It was a major role in understanding myself and shaping a narrative as a creator.
What made you decide to enroll at UCLA?
I had already studied Interior Design and Textile Design (with a minor in furniture) in Toronto, but the city never gave me a design career, as hard as I tried. When I arrived in LA, I had no good reason to be here except that I felt something bigger than me telling me I can be what I want here.
Graphic Design is really surface design, which is in line with my own interests and aspirations for myself. So it just made clear sense to enroll in school for all of these factors. My ego was having a fit – I had already spent six years in school studying design and at thirty-two, I wanted to work in my industry so desperately, but I had to be patient and focus on cultivating skills. Now that I'm on the other side of it I'm so grateful for it all. My time at UCLA opened up a lot for me personally and professionally.
Who or what helped give you the confidence to start your own design company in LA?
In short, I just had to. When I left Betsey Johnson it was because I was approaching my thirtieth year and suddenly realized the more time I spent at this job, the farther I got from my original intention of creating my own things. There was a brief moment when I was wrapping up at UCLA that I thought I had to find places to apply to, and while there are so many far out amazing companies out here, I just knew that my interests wouldn't fit into somebody else's flow. Perhaps the day will come that they will, but that day is not today. So I opened a design studio and have been acting as Art Director ever since.

What are you working on now that excites you most?
I accepted a job as Art Director for a new web development school called Dev Mason that's opening its first of five locations in San Diego this fall. I've been designing the identity the last few months. The school is founded on a lot of old freemason principals, so the references I'm working with are absolutely amazing. And in a few months' time I'll be working on the interior of the first campus. The owner is so cool and is encouraging me to create something on the front lines of awesome.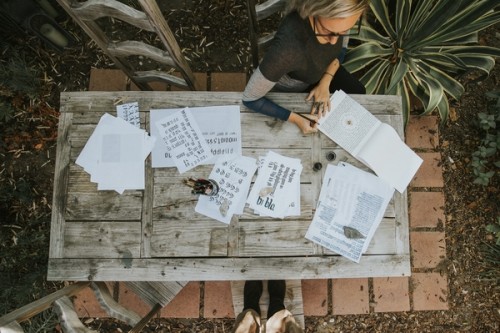 What's your advice to women who feel they don't know what to do next in their career? Or are feeling stuck in a job they dislike?
Being stuck somewhere you're not happy is an awful experience – I did it for years. Your first move is to turn inward, take care of yourself (physically and spiritually), and cultivate peace around you. I know it sounds wishy-washy, but if you're really good to yourself the things around you don't bother you so much, if at all. Often with this practice we're equipped to hold tight until the next opportunity arises.
Sometimes the inevitable move is to take a bold step and create the shift yourself. That call is up to the individual. This is where your personal practice of wellness will help you find clarity to make the choice that's best. In this instance, the choice never makes practical "sense" – technically on paper these are risky moves, albeit completely necessary to get you on the path you're supposed to be on.
How did you know that design was where you should be?
I have a friend who as a kid would draw pictures of airplanes and said he wanted to be a pilot. He finished high school, enrolled in school to learn to fly planes and now he's a commercial airline pilot.
For me it was exactly the same thing. I was an only child and obsessively decorated everything – bed frames, nightstands, school bags, binders. I really wowed people with my ability to expand the potential for googly eye application in grade school.
I remember one day in grade two we were supposed to dress up like whatever we wanted to be when we grow up. So my mom asked me what I wanted to be, not realizing that applied arts was a thing, and I said an artist. She sent me to school dressed as a cheerleader with a short skirt and pom poms and nothing has ever felt more wrong.

When do you feel most creative? How do you set the tone to work?
Creative work is done in the mornings – my head is clear, I've had a cup of tea and sometimes I'm out of my pyjamas. Each project is a little different, but typically I make sure there's some ambient, focused electronic music on (usually something pretty minimal so as not to invade my head space). I burn sage, Palo Santo and other incenses. And there's always a fresh brew of green tea (Sencha). Half of my studio space is outdoors and I have a great seating area outside, so preliminary sketching and reference sourcing happens out there.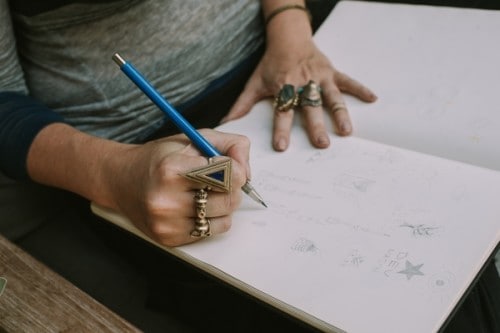 Top five tips for newbies heading to LA for a weekend?
LA is a difficult place to understand because it's not designed like any other North American city. My first tip is to embrace the impressive expanse of geography and accept that you will not be walking aimlessly for hours stopping for coffee and being impressed left right and center. You have to find things here. The neighbourhoods are amazing. Here is a very incomplete list of top notch LA activities + neighbourhoods:
Go to the water. You should see Venice Beach because it's a historical thing, but it's overrun with tourism and crap made in China, so once you've seen it, go north. Anywhere from Malibu to Zuma there are great beaches, and some sneaky little neighbourhood beaches with almost nobody on them if you can figure out where to look.
Since you're over there, once you've had too much sun, head to Topanga Canyon. Real hippies still live here in off-grid tree houses and there are some beautiful hikes. There are some restaurants, but for the complete magical Topanga experience I implore you to go to Inn of the Seventh Ray. You will leave understanding that California exists in a dimensional shift from everywhere else.
Hit the eastern neighbourhoods – Los Feliz, Silver Lake, Echo Park. Los Feliz is a sweet little treed neighbourhood at the bottom of Griffith Park, which is where the Observatory and the Greek Theater are. Walking Hillhurst + Vermont is a nice afternoon activity with record, book + clothing shops and a couple of spots for a bite to eat.
Silver Lake is the Queen West of LA. Yes, it's been gentrified but is still worth a visit as these hills are inhabited by your favourite songwriters from the 90s and consequently the local businesses are on point. There are more juice places than you have fingers on your hands, great shops to buy very California indigo-dyed things, and casual but very cool bars for nightlife. It's important to note LA is not a formal place and you will look silly in your heels – so don't pack them or make a reservation some place fancy in DTLA.
Echo Park is the Parkdale of LA. Again gentrifying, but please do visit as the local businesses are still very DIY. There are a few performance spaces here as it's a hub of great music. Hit Vega's Meat Market for an underground rock show and go for a hike in Elysian Park. Also note the area's infamous stairs – great exercise and you get to see some far out little houses. I live and work here so I'm biased, but it's the best little neighbourhood in LA.
And lastly, if you're into vintage, check the schedule at the Rosebowl Flea Market – it's so big you'll never see everything in one day. Things are organized mostly by category, so that helps you get a grasp on what you're doing. Definitely bring a cart, and if you burn easily, bring an umbrella for the sun.
Best advice for the entrepreneur about to start his or her own biz?
Fill your social media feeds with businesses you admire and study them. Seeing how other people do things is a necessary validation that you're doing things correctly. It's like having an intangible boss.
Follow Robin's work on Instagram at @awmyl_design_studio