When Sam Maggs walks into the charming Italian café on Toronto's Yonge Street on a sweaty summer evening, she's immediately adorable. Off the top, Maggs lets me know that her teased hair and false eyelashes are not an everyday look for her. She's looking fancier than usual because she's just come from a shoot with Cineplex. In case you didn't know, Sam Maggs is the host of Cineplex's pre-show. She's basically your cinematic spirit guide!
Because I couldn't resist, I ask which Cineplex is her favourite one. To be clear, she thinks they have a variety of awesome locations, but Maggs has a particular soft spot for the AMC at Yonge and Dundas, thanks to their brand new VIP lounge. As an interviewer, I was particularly chuffed to hear this, because that's my local theatre! The face of Cineplex endorsing my personal Cineplex location makes me inordinately happy.
Of course, Maggs isn't just the person who lets you know when it's time to get out your phones for Time Play, as important as that job may be. Like many ambitious millennials, this Torontonian has multiple jobs. She writes about popular culture for popular website The Mary Sue, and she's the author of the bestselling book The Fangirl's Guide to the Galaxy, which you can purchase here. It's basically a bible for any young woman who wants to get into self-identified "Geek Culture," but isn't sure how to do it. Think Emily Post for "capital N" Nerd social norms. It's a book with a mission to teach young woman how to fan.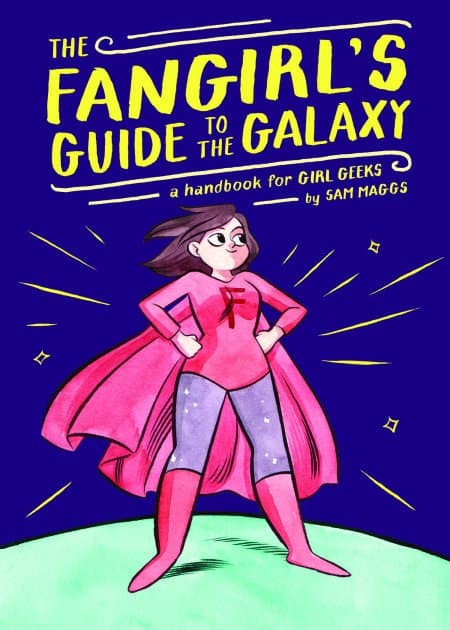 As a girl who grew up nerdy, I wish Maggs had been around for my adolescence. At the time, my nerd tastes ran more toward Jane Austen and debating tournaments, because no one ever told me it was okay for girls to like things society told me were for boys, like comic books and science fiction. However, I did secretly watch Star Wars 5 times a week in my parents' basement throughout my tween years. In light of this, I wish I could go back in time and give 12-year-old me this book.
Sam Maggs, however, does not want to stop at providing you with nerdy reading material. She wants you to go to Fan Expo, which runs in Toronto between September 3-6. What is Fan Expo, you ask? It's basically Toronto's solution to San Diego's famed Comic Con. The event will be held at the Metro Toronto Convention Centre, and the list of stars attending includes such luminaries as Neve Campbell, Lennie James, and Ms. Gillian Anderson herself.
While waiting for our drinks to arrive, Maggs says, "There used to be a lot of barriers for girls who wanted to get into fandom." However, she believes all that is changing. She points out most fan conventions now have approximately 50% female attendance. According to her, "You'll be surrounded by amazing women," some of whom are there to watch and enjoy, some of whom are on the panels, and some of whom are venders selling charming things, like Disney Princess fan art.
Maggs tells me between sips of juice, "It can be easy to look at a convention and say, 'I don't know if I'd be welcome there.'" But she makes it clear that these fears are "unfounded." Proudly, she declares, "In Toronto, there is such a great geek community and they're so welcoming. They're always willing to take in another person." According to Maggs, Fan Expo is a very "inclusive" event. She assures me you don't have to do cosplay to attend, though if you want to, that's cool too.
Maggs herself talks about Fan Expo like the proverbial kid in the candy store. A cool feature about the convention is that panels run the gambit from discussing super big budget fare to the indie scene. Maggs is particularly excited about the panel on Carmilla, a Canadian web series about lesbian vampires she insists would delight anyone who grew up loving Buffy The Vampire Slayer. Maggs herself will be moderating the panel. She will also be around Fan Expo the whole time, signing her book at various points during the convention.
Another feature of Fan Expo about which Maggs is particularly enthusiastic is the fact that Hayley Atwell, Agent Carter herself, will be speaking. For those Billie Piper Fans out there, Fan Expo is also hosting "An Evening With the Doctor's Companions." Piper, Karen Gillan and Jenna Coleman will all be on stage together! That's deserving of a "squee," no?
So is going to a convention just a fun weekend activity you will soon forget? Not according to Maggs. She believes attending Fan Expo can transform your life. She talks about having met all her best girlfriends in person for the first time at conferences: "It's a great neutral place to meet your online friends," she tells me. "It's less intimidating than going out for a formal dinner with just each other." Maggs also points out that if you're interested in writing comics or doing fan art professionally, there's no better place to make contacts.
Maggs is clear that you can meet lovely people at "cons," as she blithely refers to them like the pro that she is. But what about the trolls? Maggs assures me conventions are actually safe spaces for nerd girls with something to say. She points to Fan Expo's detailed harassment policy, which is made available to guests on their website. She adds, "Trolls are typically too scared to do anything in real life." It sounds like Fan Expo is a bit of a nerdy paradise where fangirls can feel free talk about their favourite superheroes without Twitter mansplainers calling them a bunch of expletives.
The coolness of Fan Expo as Sam Maggs explains it is pretty obvious, but there is still the cost to be considered. A deluxe four-day pass will set you back $125. The price does include countless panels and opportunities to meet your idols; however, that may seem like a steep investment to some money-conscious aspiring fangirls. For those who are not quite certain how much they'll like the convention environment, it's possible to buy daily passes for far less. In fact, tickets to the Thursday retail for only $25, making it relatively affordable to stick your toe inside the Fan Expo waters.
Having said all this, what if the idea of becoming a fangirl intrigues you, but you're still a comic book virgin like me? How can you brush up on geek culture before the big convention? Maggs recommends introducing yourself to the world of fandom on such feminist-friendly comics as Ms. Marvel, which tells the story of Kamala Khan, a Pakistani-American girl from New Jersey who discovers she has shape-shifting abilities. Another recommendation Maggs gives me is Squirrel Girl, a Marvel comic about a young woman whose super power is communicating with – you guessed it – squirrels! Given the humungous size of the squirrel population in the GTA, I think many of us would be interested in such a text.
Maggs also points out that you can be a good feminist without limiting your nerd love exclusively to feminist-friendly texts. She says sagely, "You can like something and acknowledge it has problems." Furthermore, she argues feminist fans should point when a text or a franchise we love has issues, because that's the only way things will change. She advises fangirls everywhere: "Tweet at Marvel! They have to listen because they don't want to look like jerks." With that in mind, I am going to keep campaigning for a standalone Black Widow movie.
In the end, Sam Maggs is an inspirational figure. One of the most appealing qualities a person can possess is having passion for something, and she has passion in spades for so many things. Her love of nerd culture is both deep and intense. If Fan Expo 2015 is full of attendees like her, it will be an affirming experience for anyone who loves anything enough to call herself a "fan."