In baseball, not all stadiums are made equal. The Skydome (…Rogers Centre, ugh) is alright, but not particularly noteworthy. So when the opportunity to go to Fenway Stadium in Boston to see a game came up, I just had to take it. As a new Jays fan, there were so many things I wanted to know, primarily:
Are Boston fans as obnoxious on home turf as they are at Jays games?
Do those (possibly) obnoxious fans get better food at their home stadium?
Would I turn into an obnoxious Red Sox fan upon being exposed to the dark side?
In the handful of games I've been to so far, two of them have been against Boston, and Boston fans have to be some of baseball's most brutal ding-dongs (technical term). In my experience they were mouthy, abrasive, and in one case, had zero concept of when it was appropriate to stand-up and talk to his buddy behind him during the game, effectively blocking everyone's view (hint: NEVER appropriate, sit down, you donkey). Now I finally had a chance to see Boston fans in their natural habitat: Fenway. Tres exotique.
Fenway is home to the Boston Red Sox, aka one of the Jays' rivals. Now, I haven't quite reached the level of fandom where I automatically hate other teams that the Jays are against (except for the New York Yankees, because honestly FUCK THE YANKEES FOREVER), but I've been told by all my veteran Jays fan friends to never root for the Red Sox. Not only are they division rivals, but their current manager, John Farrell, was the Blue Jays manager from 2011-2012 until he dumped us so he could be the Red Sox manager. And as anyone who's been dumped publicly, there's not a lot of goodwill left for your ex (Eff you, Kevin). But how was I supposed to infiltrate the enemy base without looking like the enemy? Surely they'd be able to smell the Toronto on me. So like a modern-day Mulan, I put on a Red Sox cap and pretended to be one of them. That's how Mulan goes, right? The last Disney princess I cared about was Jasmine. I'll assume yes.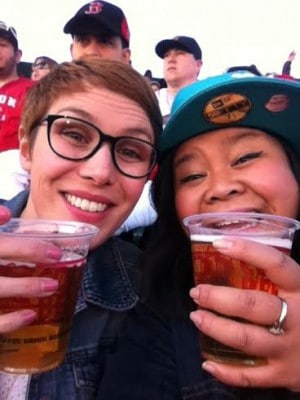 The first thing to hit me when we got to Fenway was that Boston LOVES baseball. Maybe as much as I love butts (just kidding, that's impossible). They shut down the streets surrounding the stadium so you can freely weave in and out of the street and stadium. Food vendors and merch lined Yawkey Way and it was delightfully claustrophobic with all the Boston fans, who so far remained relatively benign and non-douchey. It really felt and smelled like baseball. What does baseball smell like, you ask? Hot dogs. Also, don't worry, everybody, there is NO shortage of fiiiiiiiiiiine-ass men in Boston. They're beefy, rugged, and sometimes had that sexy Marky Mark accent. Boston was like my own personal Juicy Boy Heaven. Hashtag: blessed. So, let's see, excited baseball fans, hot dudes and hot dogs, and we hadn't even reached our seats yet? Fenway was treating this lady right! And what better way to show my appreciation than to dish about my date with the dark side. Here's why it was great:
-The stadium isn't very tall, thank eff. Even though we had nosebleed seats all the way in the upper bleachers of the outfield, it wasn't a 5-minute long, winding, upward climb to the 500s like it is at the Skydome (…Rogers Centre, ugh).
-Fenway is an open air stadium, which made for a beautiful view of the orange and purple sky and a lovely spring breeze. Pretty romantic.
-David Ortiz aka Big Papi was even more juicy in real life. Not even our nosebleed seats could obscure his thickness from my lusty gaze. Also his walk-up song was "Drunk In Love" so just let me squeeze your whole body already, Big Papi.
-The food. Oh, the food. It was ONE HUNNY PERCENT BETTER than what you'd get in Toronto if only for the variety alone. In Toronto all the "fancy" food is on the 100 level, which means everywhere else is restricted to basically hot dogs, popcorn, pizza and chips. But in Fenway, there's really only one level anyway, so everything is there. In addition to your standards, you can also get various types of burgers, chicken fingers, cheese steaks, cuban sandwiches, lobster rolls, clam chowder, fried dough (basic bishes' version of a beaver tail), fish, stuffed pretzels, kettle corn, and oh yeah, FRIED MAC 'N CHEESE BITES. To answer everybody's question, they were as incredible as they sound.
-The hot dogs come to you. I repeat, THE HOT DOGS COME TO YOU. There is one sweet, beautiful angel of steamies whose job it is to bring happiness and joy in the form of a fresh, hot, steamy dog directly to your seated mouth. No getting up, no waiting in line, no having to balance your beer and food in your hands while going up stairs. Praise be.
-Someone proposed at the game! This was a special treat that never happens at the Skydome because it's one of the MLB stadiums that doesn't allow public proposals. So I guess Bautista, Lawrie, Lind, Rasmus, Reyes and Thole will have to find another place to ask me to marry all of them at once.
-Thankfully, no boner fans! Probably because we were surrounded by kids and families. Maybe it was because we were in the cheap seats while the d-bag fans sat where you could actually see what was happening, whatever it was, there weren't any dickheads near us. Except for that 3 year old girl who kept kicking us. I mean, I know she probably didn't realize what she was doing, but you're 3, get your life together.
Overall, it was a great experience and all of my questions were answered. It felt really weird going to see a baseball game where I wasn't stressed out at all at any point in time. In fact, we left early, which I would never do at a Jays game. There were zero stakes for me as a spectator because I wasn't really a fan of either the Red Sox or their opponents, the Cincinnati Reds. But even so, there's no denying the beauty and charm that comes with being in the oldest stadium in Major League baseball. You can see and feel the history of the sport within the walls of Fenway, as well as the pride of Bostonians and Red Sox fans. Sure, it wasn't strong enough to rub off on me as a Jays fan, but if Dustin Pedroia ever wanted to give me a personal tour of the stadium and/or his body, it might be a different story.