Now in its ninth year, SiriusXM Top Comic Competition is a nationwide search for Canada's best comedian and also the biggest comedy competition in Canada!
Toronto's Ashley Moffatt, Cara Connors and Chanty Marostica are among the eighteen semi-finalists vying for your votes and a shot at the grand prize of $25,000, plus international exposure with a guaranteed spot to perform at JFL Sydney (Australia), as well as at JFL42 (Toronto), JFL NorthWest (Vancouver), and Just For Laughs Montreal and a JFL TV taping. YOWZA!
You've got until August 17 to cast your vote for your favourite comic here. (Limit of one vote per day.) At the end of the voting period, eight finalists will compete for the title of SiriusXM's Top Comic live at the finale, headlined by Nikki Glaser, during JFL42 in Toronto this September.
Let's make someone's dream come true!!!
We're catching up with a few local semi-finalists. For this installment, we chatted with Cara Connors.
SDTC: As a child, what piqued your interest in comedy?
CC: SNL. I was obsessed for as long as I can remember. I loved Molly Shannon and Cheri Oteri and Will Ferrell and all those guys. I would devour the episode and then reenact my favourite sketches and characters alone or with any friend I could trick into doing it with me. As a kid, I couldn't decide if I wanted to be a popstar or on SNL, so I would make "routines," which were basically awkward one-woman shows where I'd do characters, dance poorly and sing overly seductive Britney Spears songs for uncomfortable family members. I fancied myself a "triple threat" and had no problem bullying loved ones into attending my performances so I could work out new material. Not much has changed!
Can you share with us an event from adolescence that shaped who you are today?
Woof! Not my favourite time in my life, for sure. I can't think of a specific event that shaped me most, but I will say that the kindness my friends and mentors extended to me during that time and the fact that I was always really encouraged to believe in what I wanted to do and follow what made me happy set the foundation for me.
What did you excel at in school?
I excelled in making friends with my teachers and never knowing when to shut my big mouth! (The nuns at my Catholic all-girls high school didn't particularly care for that.) I was always a very good student but definitely enjoyed getting away with stuff when I could (I believe in Canada it's called being a shit disturber).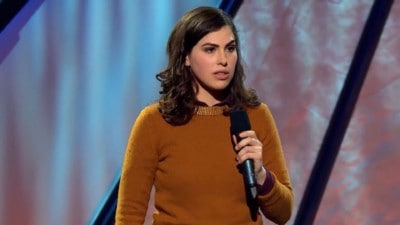 What's the best thing about your current age?
I love that I can still go out and party like an enthusiastic frat boy and not be super hungover the next day. I know this magical power is going to be gone soon so I am enjoying it while I can.
What adventure did you recently have, and how has it changed your view on the world?
I took a solo trip to Iceland for two weeks on what I affectionately call my "Eat, Gay, Love" trip. It was spectacularly beautiful, unbelievably expensive and I'd go back in a heartbeat. It reminded me it's good to do big adventures on your own, but I still think I'll always have more fun with a friend along.
What thing do you not have any control over?
How other people act or think!
What has been the most awkward moment in the history of your stand-up career?
Ah, so many fond memories to choose from, but I'm going to go with being hired to "open" for a bizarre misogynistic play for an audience of elderly people who had zero interest in hearing me talk. Then I was told I would have to hand out a bucket to get paid (to the audience I just bombed hard for). Just another day in the life of a comedian!
What other skill/talent do you possess that you don't often share on stage?
I can Irish stepdance! I did it all throughout my childhood and totally loved it. I just haven't figured out how to do it or talk about my experience in my stand-up…YET.
What's a current goal of yours?
I'm getting ready to move to L.A. in two weeks, so my current goal is to find a nice apartment and pray that he-who-shall-not-be-named doesn't make the country full-blown Handmaid's Tale (at least until I find a place with parking).
What does a perfect Saturday look like to you?
Sleep in. Heavy-duty brunch with my girlfriend and friends. And then bop around Leslieville with my dog!
How do you chill?
I am pretty hyped up most of the time and tend to crash at the end of the day and calm down with a nice horrific true crime doc.
Don't forget to cast your vote here.