Nine days. That's how long it took Stephanie and Andrea French to open The Pie Shoppe. The tiny (310 square feet) space fell into their laps when a friend who previously rented it decided to move to a bigger location. With essentially no time to think about it, the sister duo dove right in. Enlisting the help of talented friends (the art, the tables, the ceramics—it's all made by local friends of the girls), they turned what used to be a ceramics studio into a homey, warm, friendly shop where literally the only things you can buy are coffee and pie. It's simple, but that's why it works.
"We just wanted to do something fun," says Stephanie. "There's something about pie and all of the fresh fruit that you can get in BC. It's a super simple operation, and we've had a really good response to that."
Six months after that initial nine-day swoop, the French sisters are still going strong. Open six days a week and operating on the hours of 11am "til the pies run out" (which they always do), they've already established themselves in Vancouver's Chinatown neighbourhood. The Pie Shoppe has a strong following, including a slew of regular customers, and its popularity is only growing.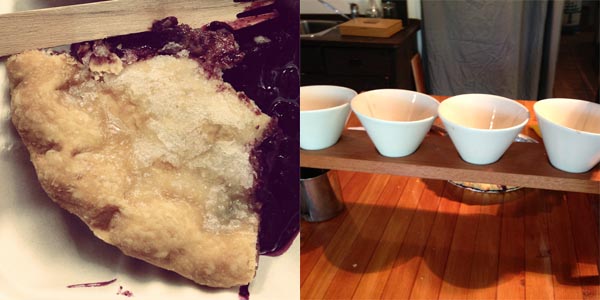 "A lot of people say they feel like they're walking into someone's living room when they come here," Stephanie says. "It's small, it's intimate, and we serve two things that are both quite nostalgic. People go out the door and they're like, 'Thanks for having me!' And we're like, 'Uh, we just took your money…' [Laughs] They feel like we're hosting them."
Aside from the delicious daily rotating selection of pies that are sold whole or by the slice, the sisters also own and sell organic, free trade Panoramic coffee (which Stephanie roasts herself, and which has been doing well at pop-ups across the city since last spring) in single cups by either manual pour-over or Aeropress. Pie and coffee. That's it.
Born in Ottawa but now both self-proclaimed Vancouverites, Andrea, 24, and Stephanie, 28 grew up loving to eat and cook—so really it's no wonder their lives took them to this place. And while pairing with a sibling might be scary to some, for them the partnership was just right.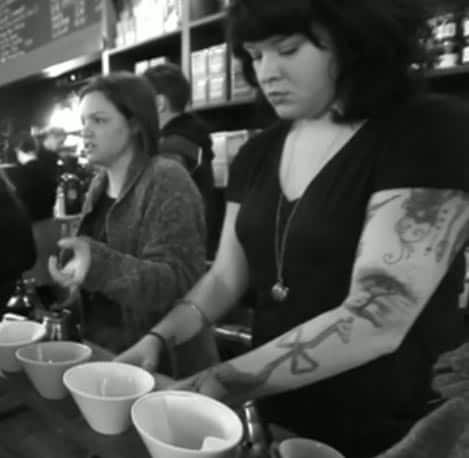 "At the end of the day, if Andrea and I have a falling out in the morning," says Andrea, "And release all this gas on each other, within an hour it's like—"
Andrea pipes in: "What me to make you lunch? [Laughs] Stephanie and I have a pretty tight family. Our parents knocked a lot of common sense into our brains."
And even when they're not working, the business partners often end up together.
"On our one day off we won't even go to the coffee shop together, but when I get there she'll be standing in line," says Andrea. "It's like, 'Oh, you're here!'"
When it comes to starting your own business, The Pie Shoppe girls emphasize having a business partner (someone to fall back on), creating a business plan, getting connections, and, above all, making sure you have a product that people want. It sure worked for them.
"When people come in and say, 'Oh, this tastes like my mom's pie,' or 'Like my grandmother's pie,'" Stephanie says, "you know you're doing something right."