Something You Said Last Night is the poignant feature debut from Luis De Filippis, that unfurls slowly and subtly, wrapping you into a beautiful and flawed family. De Filippis' film breaks the mould for trans storytelling, illustrating a fresh perspective that isn't centered on tragedy, but instead on the conflict that still manages to rear its head for trans characters with an accepting and loving family.
The film follows Ren, an aspiring writer and trans woman in her 20s, and her sister Siena, on vacation with their parents. They spend the week in a small beach town as blow-up fights devolve into giggle fits, secrets are uncovered, and the entire family must navigate a new dynamic in the comfort and familiarity of a place that hasn't changed.
The insular setting of a family beach vacation is inspired by childhood trips that De Filippis would take with her family to Florida. She recalls how bizarre it felt to go on the same vacation as an adult, and the simultaneous comfort and fear that arises from feeling like you are resorting back to being a child.
"When you go on vacation with people, all the stakes become a lot higher. Your world becomes a lot smaller. And those people are your lifeline basically. It's a really interesting dynamic to witness, and very relatable."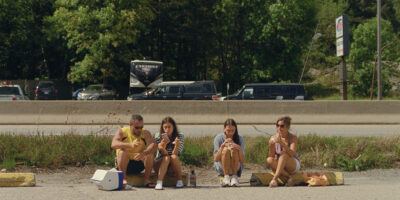 Something You Said Last Night is elevated by a stellar breakout performance from Carmen Madonia as Ren. "It was kind of like a no-brainer, it had to be Carmen," says De Filippis. "From the moment that she sat on the couch and she opened her mouth, it was just like, she nailed it. She knew exactly the nuances of the character. She knew the strength of being silent." It's in those quiet moments that we see Ren evolve into a place of being able to fully accept her family's love and support.
"What we're witnessing is Ren really coming into her own and growing up in a way because she's realizing that it's not always about her. It's not always about her journey. It's not always about her needs. Sometimes, you just have to make space for your mother to be your mother." This layered narrative is not one we're used to seeing when it comes to trans women, whose character arcs can often be one-dimensional.
"The narrative that we always see is a successful trans woman, an independent trans woman, someone who doesn't need anyone, someone who's cut off from her family but still succeeds. This story has a different perspective of a trans woman who's still very much involved with her family and still very much currently needs their love and wants their love."
With so many trans stories chronicling difficult and traumatic struggles for acceptance, there is almost an expectation for this familiar storyline to erupt in Something You Said Last Night, for bigotry to be lurking amidst the people who Ren loves the most. Ren being trans absolutely shapes her experiences—the film is punctuated with uneasy stares and tense interactions with other visitors in the conservative beach town. But it isn't the defining conflict at this moment in her life, and that leaves room for a more authentic and nuanced story to unfold. De Filippis agrees that audiences are also eager to see a broader range of trans stories on screen.
"We've seen a lot more films from the trans perspective, particularly from trans women telling their own stories. We have Kokomo City, we have The Stroll. Both stories deal with heavy topics, but they do so in this light way. That's how I think a lot of trans women survive and get through their day. They make light of these really tough situations. And I think audiences want to see more stories like that as well."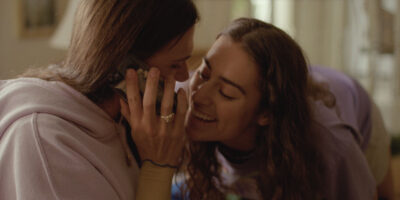 De Filippis is dedicated to helping these trans stories flourish, and is also passionate about nurturing trans talent behind the camera. It was during the production of Something You Said Last Night that De Filippis founded the Trans Film Mentorship, an organization that offers training programs and work placements for transgender and non-binary creatives in film and TV.
"From the beginning, I knew that I didn't want Carmen and myself to be the only trans people on set, because I think that's quite an alienating experience," says De Filippis. She received so many applications for the mentorship program that they were able to mentor emerging trans youth, as well as hire some of the more qualified applicants as crew members.
"This meant that we had a trans presence on set. It meant that Carmen had a trans girl doing her makeup, that she had a trans girl getting her dressed, that she had a trans girl behind the camera," she says. "It just contributed to this really warm and family-like environment."
Since then, the Trans Film Mentorship has taken on several iterations, with programs and internships offered for Sort Of Seasons 2 and 3, and for an upcoming documentary on soul singer and Black trans trailblazer Jackie Shane. And following the success of last year's inaugural Trans Film Summit at TIFF 2022, they are gearing up to host their second year in September.
Something You Said Last Night offers a new kind of trans representation, both in front of and behind the camera, that will certainly make a meaningful impact on so many. "I hope they see themselves in the film," says De Filippis. "I hope they see the people that they love the most in the film, and they walk away feeling a little bit sunkissed and with a reminder to call your mom."
Something You Said Last Night is in theatres now.