On Saturday May 13th, Toronto's Parkdale nieghourhood is hosting the Parkdale Spring Festival. Walk the West Queen West strip from Dufferin to Roncesvalles, and enjoy outdoor shopping, Kids Zone (including a pirate ship!), Mobile Skate Part, Parkdale Flea, Toronto Designers Market Pop-Up Patio, Cycling Zone with free tune-ups, Crown Flora Mother's Day Flower Market, Foodora Night Market, and MORE!
In anticipation, we're interviewing some of the local shopkeepers and restaurant owners who are integral to building this strong and colourful neighbourhood that we're proud to call home.
Meet twin sisters Sarah and Jen Wetmore of Jinks Art Factory: Tattoos & Coffee.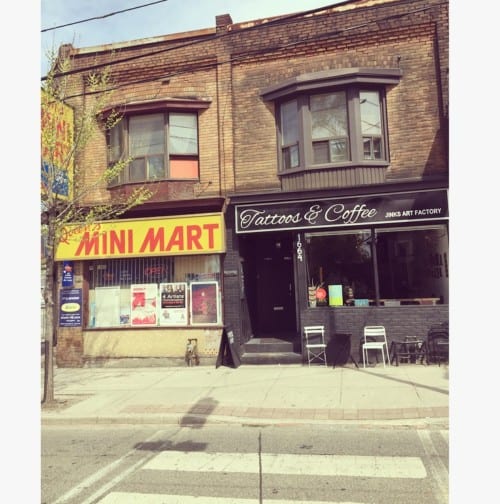 SDTC: Can you recall when you first discovered Parkdale? What was your first impression?
We discovered Parkdale around eight years ago. Our first impression was: how refreshing! It's a neighbourhood in the city that remains diverse, holds on to its character and roots, is artsy, and has a reasonable cost of living. Parkdale is a neighbourhood that appreciates local and independently owned businesses.
For people who've never visited your establishment, what's the quick way to describe who you are?
Jinks Art Factory is a Coffee Shop, Tattoo Shop, and Art Hub nestled in the Queens End of Parkdale. We offer amazing Bird Friendly coffee roasted by Birds and Beans in Etobicoke, smoothies, and all-day breakfast and lunch menus with ingredients from local suppliers. Along with custom tattooing by Jen (owner), Jinks is a gallery. We show local artist works on a monthly rotation. Jinks is a place where everyone feels welcome.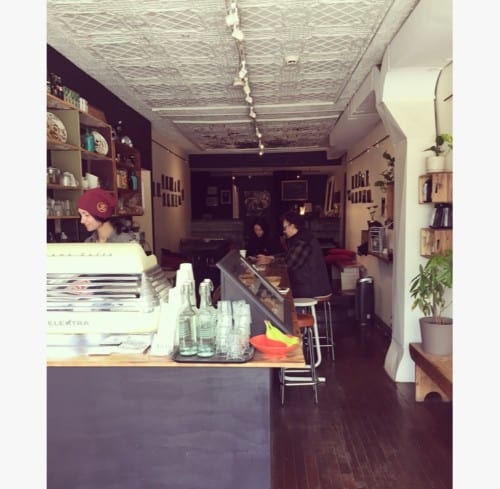 Why did you decide to open your business here, and what do you love most about the neighbourhood?
We wanted an area where our business could grow as the neighbourhood grew. We also wanted to be in an area that had an artsy and unique feel. Being the first Tattoo & Coffee Shop in Canada, we felt we needed to be in an up-and-coming neighbourhood. What we love most is the people, our loyal regular customers, and our friends, who are family.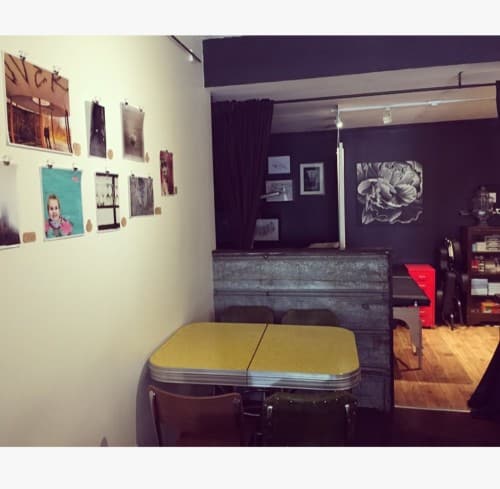 How are you celebrating the Parkdale Spring Festival?
We're hosting a "Jinks Queens End Festival Block Party" with a BBQ. Music & local artisans will be selling jewellery in front of the shop.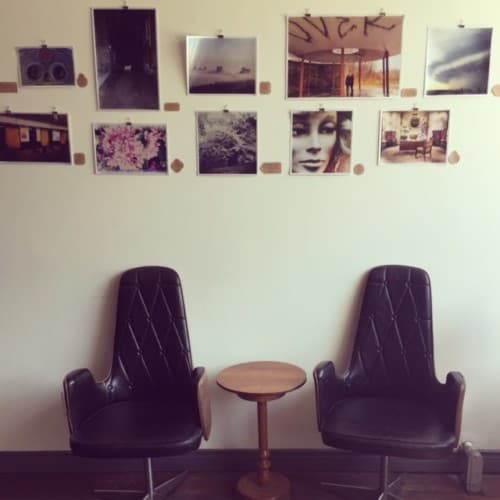 Festival aside, what else is exciting right now? Do you have anything special that you are working on at the moment?
This year is a very exciting year for Jinks; we're celebrating our fifth anniversary on May 12th! We're kicking off the anniversary week as an exhibitor for Scotiabank CONTACT Photography Festival – Donna Lypchuk is displaying her photography at Jinks for the month of May. This Thursday, we will be hosting an opening reception from 6 to 10pm.
What about this season do you love most?
We get to open our doors! The flowers and trees are blooming. It smells refreshing…as if the world took a nap during winter and is now awakening. People get outside and wander the 'hood. Most importantly: we get to serve some of our warm weather specialities like homemade lemonade and ice coffees.
Jinx Coffee & Art is located at 1664 Queen Street West. Go visit them.