On Saturday May 13th, Toronto's Parkdale neighbourhood is hosting the Parkdale Spring Festival. Walk the West Queen West strip from Dufferin to Roncesvalles, and enjoy outdoor shopping, Kids Zone (including a pirate ship!), Mobile Skate Part, Parkdale Flea, Toronto Designers Market Pop-Up Patio, Cycling Zone with free tune-ups, Crown Flora Mother's Day Flower Market, Foodora Night Market, and MORE!
In anticipation, we're interviewing some of the local shopkeepers and restaurant owners who are integral to building this strong and colourful neighbourhood that we're proud to call home.
For this installment, we spoke with Michelle Germain, founder of Shopgirls.
SDTC: Can you remember when you first discovered Parkdale? What was your impression?
MG: I was strolling with my daughter along Queen West looking for a potential space to open a boutique. I came across a vacant storefront and was pleasantly surprised by the friendly neighbourhood businesses. Parkdale felt like a special hidden gem and I wanted to be part of it.
Why did you decide to open your business here and what do you love most about the neighbourhood?
I wanted my business to be close to home so I could make myself available for my kids. But I also wanted to be in an area that still had some grit, some edge, nothing cookie cutter, and Parkdale fit the bill.
Only in Parkdale will you find such a colourful array of people from all backgrounds and lifestyles coexisting, quite happily if you ask me. There's no room for snobbery or a Starbucks here – just hard-working individuals going about their lives.
Parkdale is the real deal. No other spot in Toronto has this type of vibe and it's only recently that everyone else (non-Parkdalians) is realizing it. I guess the jig is up!
How are you celebrating the Parkdale Spring Festival? What offerings will you have?
We will have a sidewalk sale with lots of amazing Canadian pieces starting at $10. Tops, jeans, scarves and jewellery! Quantities are limited! First come first served!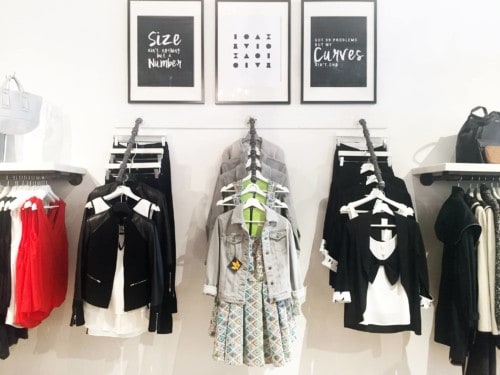 Festival aside, what else is exciting right now? Do you have anything special that you are working on at the moment?
Shopgirls will be hosting a Happy Bums event later this month from May 18 to 20 with special offers and gifts with purchase. We're also in the beginning stages of planning our TEN-YEAR ANNIVERSARY!!!! I cannot believe we are approaching a decade in Parkdale!
For people who've never visited your establishment, what's a quick way to share what you're all about?
With pieces curated to fit and flatter every shape or size and a focus on making all women look and feel great in their body, Shopgirls is all about body positivity. We proudly support Canadian designers, stocking all Canadian, all the time. We're also the largest retail location for Second Denim's Yoga Jeans, a favourite for all women in search of quality denim that fits their curves and are crazy comfortable.
What about this season do you love most?
Three letters: B-B-Q.