There's nothing like summer in the city, and there's no better time to experience the vibrant arts scene Toronto has to offer. The next two months are packed full of beloved annual festivals, outdoor arts programming, and engaging new exhibits for you to explore.
In the mood for a live performance by the waterfront? A stroll through Yorkville to admire stunning murals? How about Shakespeare in the park, or a movie under the stars? No matter the vibe you're chasing this summer, these upcoming events will create lasting memories, introduce you to local artists, and deliver you your ideal summer experience.
Here is our guide to 15 of the most exciting Toronto arts events happening in July and August 2023.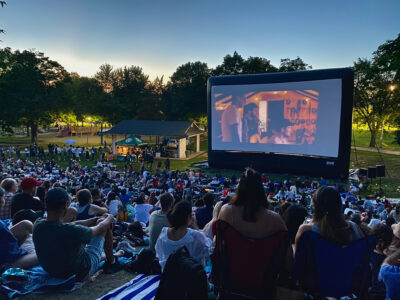 Toronto Outdoor Picture Show
The Toronto Outdoor Picture Show (TOPS) will screen 21 films for FREE in four Toronto parks (Fort York, Christie Pits Park, Corktown Common, and Bell Manor Park) this summer. The films screening this season invite viewers to get lost in new worlds—from classic flicks like The Wizard of Oz to blockbusters like Black Panther and Coco, to Canadian favourites like Viking and Riceboy Sleeps, there's something in this lineup for everyone. Bring your own blankets and chairs, find a spot on the grass, and settle in at sundown for a magical evening of cinema. See the full lineup of films here.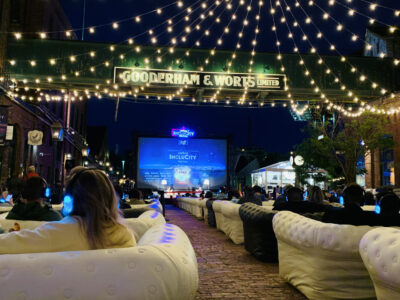 Lavazza IncluCity Film Festival
For three weeks this summer, the cobblestone streets of the Distillery District will be transformed into an outdoor cinema village. Running from June 27-July 21, the Lavazza IncluCity Film Festival returns to Toronto with a celebration of international cinema, screening films from over 20 countries under the stars, complete with special guest appearances and stellar red carpets. With beautiful ambience, comfy couches, and a unique selection of films, this makes a lovely summer evening. See the film lineup and grab tickets here.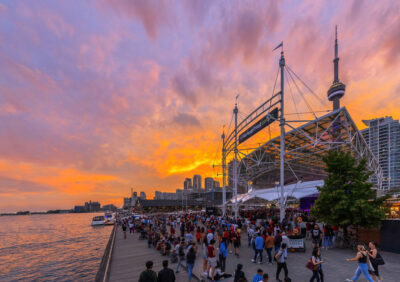 Free Summer Concerts & More at Harbourfront Centre
Harbourfront is the place to be for free outdoor entertainment this summer. From concerts to comedy to dance, enjoy a summer full of energizing live performances with serene lakeside views. Some highlights to look forward to: concerts at the Toronto Music Garden, water's edge performances at twilight from the National Ballet of Canada, a celebration of Caribbean culture at the Island Soul festival, and an incredible lineup of performers on the June 30-July 3 opening weekend (including the Toronto Symphony Orchestra, The Strumbellas, Crystal Shawanda, Martha Chaves, and more). More info here.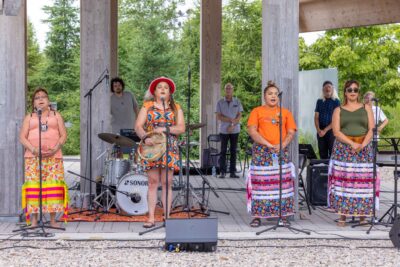 SummerSeries at Ontario Place
Ontario Place will be hosting 8 weekends full of free arts and culture events, starting on July 1. SummerSeries will be hosted in Trillium Park, and will spotlight a variety of local, Ontario-based, and international artists. After the big start-of-summer bash on July 1 (with live performances, arts and crafts, a henna booth, a photo booth, and a communal bonfire) a series of local music and arts organizations will host free festivals on weekends throughout the summer. See the full schedule here—including a celebration of the Black arts community, a showcase of Indigenous musicians, and a spotlight on local artists.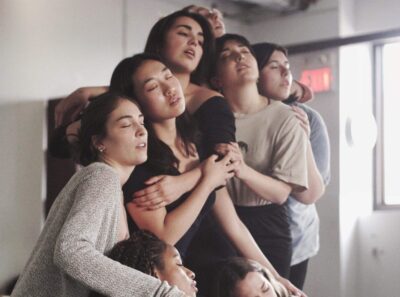 Toronto Fringe Festival
The Toronto Fringe Festival is a beloved celebration of live theatre, comedy, dance and musicals, returning from July 5-16 for its 35th year. With more than 100 shows in a dozen venues, Fringe presents so many intriguing performances across genres. Support local and international performing artists, and discover a hidden gem. Need help choosing a show? See our guide to the incredible women-led productions featured at this year's festival.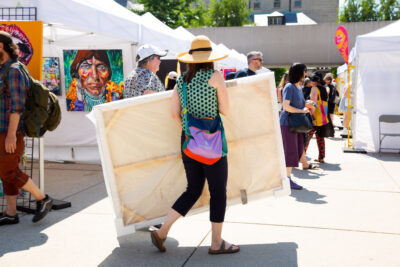 Toronto Outdoor Art Fair
Spend an afternoon this summer strolling through stunning creations and supporting local artists at the 62nd annual Toronto Outdoor Art Fair! This 3-day art fair returns to Nathan Phillips Square from July 7-9. More than 350 artists will be spread out across the square, displaying and selling breathtaking art, ranging from paintings to photography to sculptures to jewelry. You can also check out the fair's live music, dance programming, and captivating art installations, or take a guided art tour! More info here.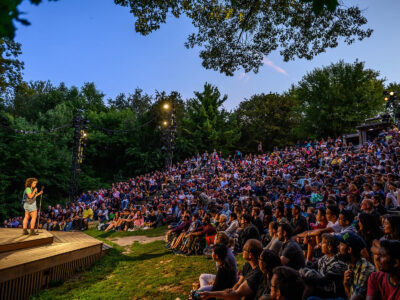 Dream in High Park
Dream in High Park is an iconic Toronto summertime experience, and it's back this summer for its 40th year. Canadian Stage is bringing back its inaugural production, A Midsummer Night's Dream, from July 21 to September 3. Plan a magical summer evening with a nature hike, meditative walk, or picnic, before you settle in for a performance under the stars in High Park. More info and tickets here.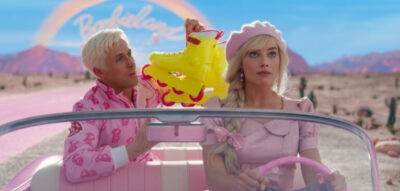 Barbie Movie & Global Tour Stop in Toronto
The hype has been building and building, and we have a feeling that Barbie will be THE movie of the summer. Since the trailers and character posters have dropped, Barbie has taken over the internet, generating even more anticipation for the summer's biggest blockbuster. The Barbie movie opens in theatres on July 21, and we can't wait to be transported to the fantastic plastic world that Greta Gerwig has dreamed up- we're already planning our hot pink outfits. PLUS, it was recently announced that the Barbie cast will be going on tour! The film's stars, Margot Robbie and Ryan Gosling (and possibly some other Barbies and Kens) will be making a stop in Toronto this summer. The tour dates are still under wraps—so stay tuned.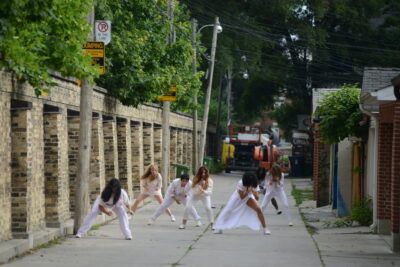 Summerworks
Summerworks is another beloved city-wide arts festival, bringing theatre, dance, music and live art performances and events to neighbourhoods across Toronto. This year's festival is running from August 3-13th, promising 11 days of diverse encounters and curious collaborations. Stay tuned for their full programming announcement! Summerworks is an amazing opportunity to explore new parts of the city and take in the work of some talented local artists and performers. More info.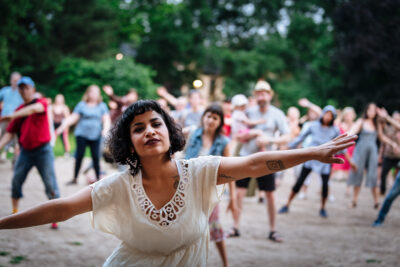 Porch View Dances
From August 9-13, front porches and lawns across Seaton Village will be transformed into stages, as local residents perform new dance works created with professional choreographers. This award-winning community dance event from Toronto's Kaeja d'Dance has been running for 12 years, and is beloved for bringing dance onto the streets and into our daily lives. Drag queen Mary Moonshine will also lead a walking/wheeling tour through streets and lanes—all are invited to experience four new Porch View dance works. More info here.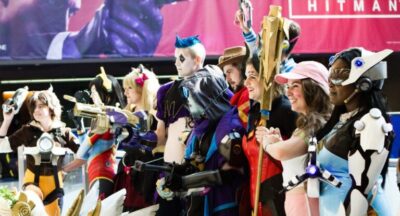 FAN EXPO Canada
Join thousands of fans at the third-largest pop culture event in North America, and celebrate all things comics, gaming, anime, sci-fi and horror. This fun-filled four-day convention is a must-do for any devoted fan, with fun for everyone in the family. There will be panels, meetups, hundreds of retailers, and of course, lots of creative cosplay! Celebrity guests include Christina Ricci, Hayden Christensen, and Zachary Levi. FAN EXPO Canada is happening August 24-27, so mark your calendars.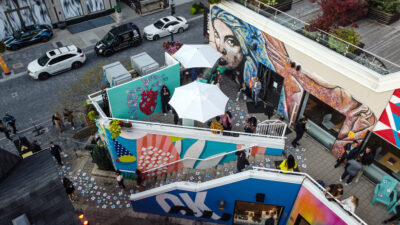 Yorkville Murals
On August 26 and 27, Yorkville Avenue will be transformed into a massive celebration of public art. Captivating murals and eye-catching art installations will bring the street to life from Bellair Street to Hazelton Avenue. There will be plenty of other activities to enjoy, all for free, including live painting, art talks, music, dance battles, pop-up shops and an evening block party. With this year's theme of "No Empty Spaces", we're sure the weekend will be jam-packed with art and entertainment. More info on Yorkville Murals here.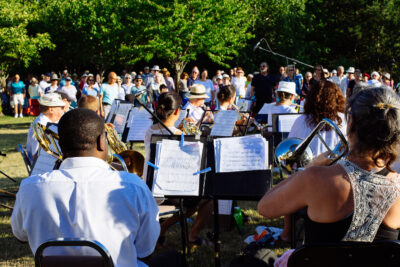 Arts in the Parks
Arts in the Parks is a summer-long initiative, bringing a variety of free arts events to public parks across Toronto. They offer theatre performances, dance classes, movies, festivals and more! The events are perfect for families and everyone is welcome—no tickets are needed. We love that Arts in the Parks makes arts activities easily accessible to all, and also encourages us to explore local parks. Keep an eye on their events calendar to find entertaining events all summer long.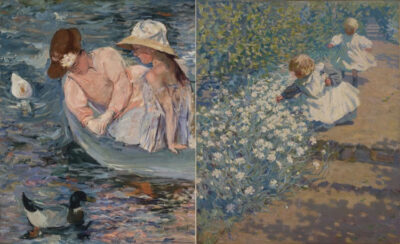 Cassat-McNicoll: Impressionists Between Worlds at the AGO
This new exhibit at the AGO brings together the work of two extraordinary women Impressionist painters, Mary Cassatt and Helen McNicoll, both renowned for their depictions of modern womanhood. This eye-opening exhibition includes more than 65 artworks, including paintings, prints and sketchbooks from these two artists that had a profound impact on Impressionism in North America. Impressionists Between Worlds is on display now at the AGO until September 4. See a preview of this stunning art exhibit on the AGO website.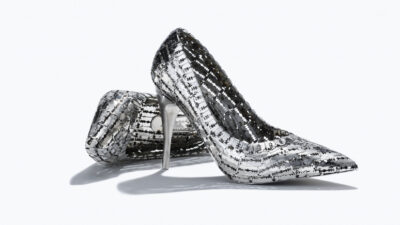 Being and Belonging: Contemporary Women Artists from the Islamic World and Beyond
This bold new ROM exhibit features compelling artworks by 25 women artists from Africa, Asia, North America, and Europe, offering fresh perspectives on the defining issues of our time—exploring themes like identity, power, sexuality and displacement. More than 100 art pieces will be on display starting July 1, including paintings, photography, graffiti art, textiles, ceramics, animation, mosaics, and video installations. Make some time this summer to see this eye-opening exhibit. More info here.