You've probably noticed the meal prep trend happening on Instagram. You know, the one where you prep as much food as you can at the beginning of the week and divide it into containers?
Now, before you roll your eyes and say to yourself, "I'm completely incapable of such organization and health!" hear me out.
Meal planning has made such a huge impact in my life. It helps keep me organized and on track. When I plan my meals with delicious recipes, I'm actually excited to eat well. I buy only what I need, which saves me a ton of time and money. I'm never left wondering what I'm having for my next meal or reaching for food that makes me feel icky.
Like you, I'm busy. I don't have much time. I'm living on a budget and I'm trying to maintain a social life. But I still manage to make eating well a priority. Why? Because I learned the hard way that sacrificing your health for the sake of a lifestyle that isn't serving you is short-sighted and self-destructive. Also because I got sick and tired (literally) of feeling like crap about the food I was putting in my body.
If you are feeling a calling to fuel your body with better food, you can take control too.
Getting into the habit of meal planning has been a serious game-changer for me. If eating healthy is a priority for you this year, I'm about to rock your world with three ridiculously delicious recipes from our meal planning platform, That Clean Life that you can make on a Sunday and eat throughout the week.
Ready to get started? Make sure you have lots of containers on hand and let's get to it!
Breakfast: Apple Cinnamon Overnight Oats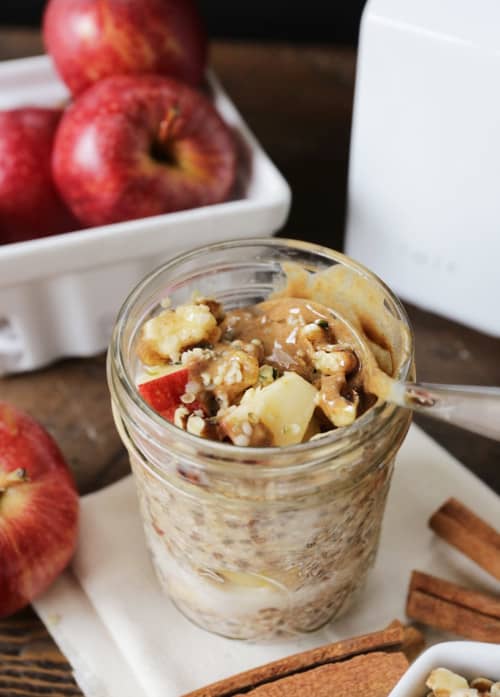 Servings: 4
Ingredients
1½ cups quick or traditional oats
1½ cups unsweetened almond milk
2 tablespoons chia seeds
1 tablespoon honey or maple syrup
1 teaspoon cinnamon
¼ teaspoon nutmeg
½ teaspoon vanilla extract
½ cup water
1 apple (cored and diced)
1 cup walnuts (chopped)
Directions:
Combine oats, almond milk, chia seeds, honey, cinnamon, nutmeg, vanilla extract, and water in a large glass container. Stir well to evenly mix. Cover and store in the fridge overnight.
Remove from fridge. Use single-serving-size jars (1 to 2 cups in size) and place a few spoonfuls of the oat mixture in the bottom of each. Then add a layer of diced apple followed by a layer of chopped walnuts. Repeat until all ingredients are used up.
Store in the fridge up to 4 days or until ready to eat.
Note: For some next-level deliciousness, warm the oats up for about 1 minute then add an extra splash of almond milk, a drizzle of honey or maple syrup, and a spoonful of your favorite nut butter. Enjoy!
Lunch: Slow Cooker Curried Chicken Stew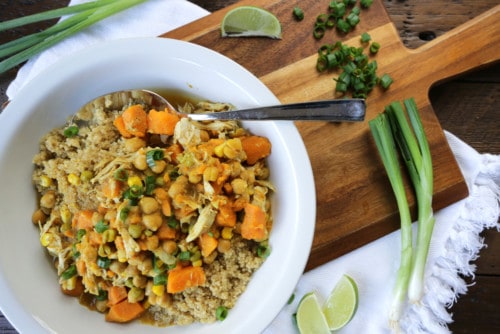 Servings: 6
Times: 6 hours
Ingredients
1 large sweet potato (diced)
1 can chickpeas (drained and rinsed)
1/2 cup frozen corn
1/2 cup frozen peas
1 tsp ground cumin
1 tbsp curry powder
2 garlic cloves (minced)
2 cups organic vegetable broth (or any type of broth)
2 chicken breast (skinless, boneless)
Note: To make this one vegan or even more budget-friendly, skip the chicken breast and add in an extra can of chickpeas, lentils or beans instead.
Directions:
Add all ingredients except chicken breasts to the crock pot and stir well to mix. Then lay chicken on top and season them generously with sea salt and pepper. Cover with lid and cook on low setting overnight or for 6 to 8 hours.
After 6 to 8 hours, remove the lid and lift the chicken out onto a plate. Use a fork to shred the chicken breasts and add them back to the crock pot. Stir well to mix and let sit for 15 minutes.Serve the stew on it's own or over brown rice. Enjoy!
Dinner: Creamy Butter Chicken with Cauliflower Rice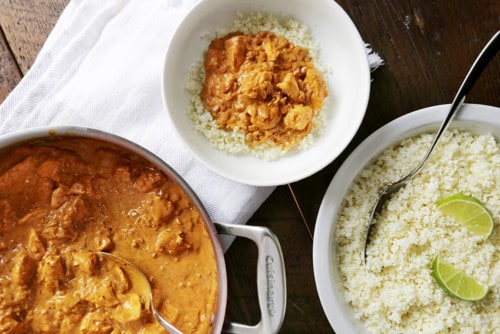 Servings: 4
Time: 30 minutes
Ingredients:
2 chicken breast
2 tbsps extra virgin olive oil
2 yellow onion (diced)
2 garlic cloves (minced)
2 tbsps grated ginger root
4 tbsps tomato paste
2 tsps paprika
1 tbsp curry powder
2 tsps garam masala
1 tsp sea salt
1 tbsp chili powder
1/4 cup water
1 cup organic coconut milk
1 head cauliflower
1/2 lime (juiced)
Note: To make this one vegan or more budget-friendly, skip the chicken breast and replace with chickpeas, lentils or beans.
Directions:
Dice your chicken into cubes and set aside.
Heat olive oil in a large skillet over medium heat. Saute your onion, garlic and ginger. Stir in tomato paste, paprika, curry, garam masala, sea salt and chilli powder. Cook for 1-2 minute or until fragrant.
Add diced chicken and stir until cooked through, about 5-7 minutes. Add in the water and loosen the paste.
Stir in coconut milk and reduce to simmer for about 5 minutes.
Meanwhile, create your cauliflower rice by adding the florets to the food processor. Process until the cauliflower has a rice-like consistency. Squeeze lime juice on cauliflower rice and transfer into a bowl.
Remove from heat and ladle butter chicken over cauliflower rice. Enjoy!
Abigail Hopkins is the co-founder of That Clean Life, a meal planning platform that makes eating healthy simple and fun. Sign up now for the January 21-day reset program.