Current food costs are exorbitant and things are predicted to get worse.
Canada's Food Price Report 2022 forecasts an overall food price increase of 5%-7% for 2023, the highest predicted increase in food prices since the inception of the report twelve years ago. The most significant increases are predicted for dairy at 6%-8%, and bakery and vegetables at 5%-7%.
"It's important for consumers to understand that food prices have been going up for some time, and there's no turning back," says Dr. Sylvain Charlebois, project lead and Director of the Agri-Food Analytics Lab at Dalhousie University. "Our relationship with food is changing, and so will our food budgets. Showing up at the grocery store knowing what you should be paying will help."
The issue isn't just affecting low-income and middle-class households—everyone is impacted. "I've never had so many conversations around the cost of food and what has to go in order to make room for it," says Shannon Lee Simmons, best-selling author (Worry-Free Money, Debt Free, No Regret Decisions). "It's not just people in the gig economy, who are living paycheck to paycheck, I'm having conversations around stopping your savings and making room for groceries with people who are making hundreds of thousands of dollars a year, and that's what's so different about what's happening now. It's the combination of inflation and rising interest rates, the middle class who have good incomes but big mortgages and who have kids… it's a recipe for disaster right now."
So what to do? Chef, educator and food activist Joshna Maharaj hosts a weekly food column on CBC Radio called Kitchen Helpdesk, and she has plenty of tips on how to best shop and prepare meals in these challenging times, while also prioritizing nutrition. We connected with both Joshna and Shannon, combining their expertise, to help you navigate the tough economy.
Eat at Home
"100% cook your own food. Cooking for yourself is no question the cheapest way to eat," says Joshna, adding that it's usually a lack of knowledge and skill that prevent people from cooking versus the ingredients. "Figure out what to do with potatoes, rice, and dry beans—really inexpensive foods."
Skip the Prepared Foods
"There's absolutely zero room for prepared foods anymore. Convenience food, or those delivery services like Hello Fresh," says Shannon. "Getting away from convenience packaged food is one of the things that I think a lot of people have been like, Oh, I should do that. Now they're like, I have to do that."
Meal Plan
"Make a mega Sunday roast, maybe there's a chicken or another piece of meat… One roast on a Sunday dinner can turn into an easy grain bowl with some of those roasted vegetables and a vinaigrette. The bits of chicken can get pulled off to go into a rice bowl, or tacos or chicken salad," says Joshna, who also recommends using the carcass and stems and skins from vegetables for stock.
Plan Your Trip to the Grocery Store
"Do not go hungry, but also plan it all out because then you can really plan out the whole roast one day, tacos the next day, chicken salad etc," says Joshna, recommending you even think about how to best use items like a loaf of bread, i.e sandwiches for the first half of the week, and breadcrumbs for recipes in the latter half.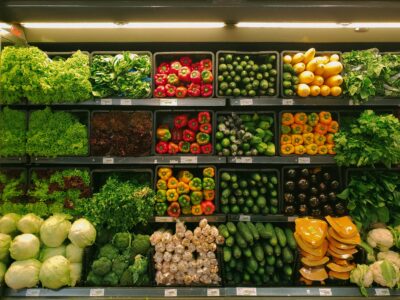 Where to scale back
"Granola bars, salad dressings… you don't need to buy bottles of nonsense, you can do dressings easily at home—get a bottle of canola oil and a bottle of red wine vinegar, both very inexpensive, and play around," says Joshna, adding that drinks, like sodas, juices, and flavoured water, are also non-essentials that add up and can be easily removed.
What to keep on your list
"For me it's dark leafy greens. If you only have so much money to buy fresh things, I would recommend getting the best dark leafy greens you can get your hands on. They are packed with nutrition," says Joshna, who uses them in soups, salads, smoothies, sautéed dishes and more. Get creative with your greens.
Choose where you shop wisely
"Regardless of how much I spend, I still get really focused on where I spend. A lot of the price hikes we're seeing at major grocery stores are not in fact real things. Maybe they're trying to boost profits.. Maybe we need to stop shopping at these places," Joshna advises. "Think about consciously finding smaller family-owned grocery stores. I cannot ever say enough good things about Fiesta Farms. That's my grocery store!"
Mindset Shift
If cooking overwhelms you, Joshna has advice: "Stand in your kitchen. Take a deep breath and remind yourself of the fact that you are actively taking care of yourself, this is not an Oh, shit. I gotta do this now… After a bit of practice, you'll have some successes. It will feel good to know that you've got something in the fridge waiting for you that is delicious."
While the above tips will help, the reality is that a lot of people will not be able to afford groceries. Since 2019, Toronto's Daily Bread Food Bank's numbers have tripled. "In our 40-year history we've never been anywhere close to this," said CEO Neil Hetherington. "Two years ago we weren't even at 100,000 (monthly client visits). It's absolutely unbelievable how high it is now."
Another result of rising food costs is that households are choosing processed foods over fresh produce, as they are often the quickest and cheapest fix to fill a hungry belly. "Cheap calories will fill the tank in more desperate times. And that, to me, is the biggest concern here: our food security and our collective nourishment. I want everybody to invest more time in their cooking. I think we would all have healthier, better versions of ourselves, regardless of how much money we have."