It was lunchtime and I was making a rice and veggie dish. I had just poured the oil into the pan and turned on the stove to heat it, when my husband came over and tossed the onions and carrots in.
"The oil wasn't hot!" I said to him in exasperation.
"So, what's the big deal? Just turn the heat up and everything will heat up together."
It was at this point I decided to give my husband a lesson (aka lecture) on the golden rules of Indian cooking – even though I wasn't making an Indian dish. How the oil needed to be hot before anything gets added to the pan. Then once the oil is hot, the first ingredient that usually gets added are the onions. And those onions better be sauteed thoroughly because the fate of the entire dish rests on this crucial step.
"These are the fundamentals my mom has drilled into me when cooking Indian food."
"Then how come your Indian dishes don't taste like hers?"
He didn't mean it like I interpreted it, but it was too late. His words hit a soft spot.
"I may not be a great Indian cook, but I'm a damn good baker," I retorted. "And cake decorator." I added for good measure.
"But you could be great at both…" His tone was gentler this time. He said the words with longing, for the food he probably thought he'd be eating on a weekly basis when he married an Indian girl.
I grew up eating tandoori chicken, pork vindaloo, aloo bhaji, and dhal. To me this wasn't "Indian food", it was just food. It wasn't exotic; it was just what our family ate. And this was obvious to my non-Indian friends who could always detect the aroma of Indian food from my clothes. As a newly immigrated child trying to fit in at school, I had no desire to spend time around the very food I was trying to avoid smelling like. I grew up in a fairly diverse neighbourhood of Scarborough in the 90s and was around kids from a lot of different ethnicities, but Indian kids like me were few and far between.
My mother, who did the majority of the cooking when I was growing up, was a busy woman. She worked full time and didn't have time to spend hours labouring in the kitchen making food. Weeknight meals were put together quickly and in advance, but that didn't take away from their deliciousness. All that needed to be done was reheat and serve, which was easily accomplished once my parents bought a microwave.
But these conveniences also meant I wasn't learning how to cook Indian food – a skill that I felt culturally pressured to acquire. My parents must have missed the memo on that, or they were too busy working to notice. The same way they didn't mind if my sister and I married outside our culture (which we did), they didn't fixate over the fact that I wasn't able to properly make a chicken tikka masala.
At the same time, a little boy I didn't even know existed was in his kitchen soaking in everything he could about pasta fagioli, gnocchi, stracciatella and prosciutto. That boy eventually became my husband and I later discovered, his finesse for cooking food stemmed from his "training" from the matriarch in his family. Watching, observing, and absorbing it all in; something I was never able to do (and still am not) until YouTube was invented.
A pinch of salt, a few pods of cardamom, a handful of cloves… these were the words I often heard when older Indian women in my family shared their cooking secrets. Most of their recipes were deep-rooted, passed down from the women who came before them. How could I expect them to spell it out for me when they too learned through osmosis?
"You've got to cook with love! Listen to your food." My husband always said to me. This was him in his element. He didn't understand why I was struggling so much.
When I finally did get my hands on my mother's recipe book and other Indian cookbooks, I encountered challenges. Ingredient names like jeera (cumin), dhania (coriander), methi (fenugreek) and haldi (turmeric) were not used in Canadian grocery stores. Measurements were often in grams, not cups. There were so many hurdles in attempting to make a dish that I pretty much gave up before I even got started.
It wasn't surprising then that I ended up gravitating towards continental fare, and ultimately found my niche in baking. It was the simplicity of ingredients and the concreteness of the measurements that drew me in, but it was the presentation of the final product that always enthralled me. My baking skills increased tremendously over the years, and I was content to shine in this category and leave the cooking primarily to my husband who loved doing it anyways.
Until a few months ago, when I hit a mid-life crisis. With my 40th birthday looming over the horizon, I couldn't deny this nagging feeling that I had not done my mother or my culture justice by learning to cook its quintessential dishes.
What bothered me more was that I even cared. I wasn't one to follow cultural norms, but yet, I knew I hadn't given it my all in attempting to cook my native cuisine. I had tried several times – oh how I tried. But my Indian dishes were sad imitations of the real deal. I couldn't quite hit the mark; I couldn't cook Indian food like my mother. While I could make a rustic chicken cacciatore, mouth-watering lemon garlic shrimp, creamy white wine risotto, delicious chow mein or a decadent molten lava cake, murgh makhani was a mystery I couldn't quite crack. The dish didn't taste like it was supposed to – it didn't taste like my mother's murgh makhani – and it was painfully obvious to me.
But now, I had a choice. I could dismiss my husband's honest opinion of my Indian cooking skills and focus on the fare I already excelled in. Or, I could heed the call that was beckoning me to my roots. While I spent my formative years actively trying to avoid the smells of cumin, cardamom, mustard seed and any type of masala that linked me to my Indian heritage, I now felt a pull to not just devour, but to also learn how to properly cook Indian food.
My goal isn't astronomical. I am not trying to make one Indian dish a night like in the Julie & Julia movie. (I have 5-year-old twins – let's be realistic.) Nor do I have a laundry list of Indian recipes I want to recreate before the year is out. Rather, when my taste buds (or my husband's) start craving the bold and aromatic flavours that Indian dishes are known for, I scour Google for healthy Indian recipes, and I pull out my cutting board and get to chopping those onions. I am not tied to any particular recipe — as long as murgh kari (chicken curry) smells and tastes as I remember it when it was bubbling on the stove in our house growing up, I'll be happy. And truth be told, I didn't realize that my decision to embark on cooking Indian fare — like when I was rolling out a puri (fried bread) the other day — would evoke such strong feelings of nostalgia for the food I remembered eating as a child.
My expectations are in check over how this will all pan out, but I remain hopeful that with a bit (read: a lot) of trial and error, I will eventually be able to recreate the dishes of my childhood to the satisfaction of my taste buds, and in doing so, will make my mother and my culture proud.
***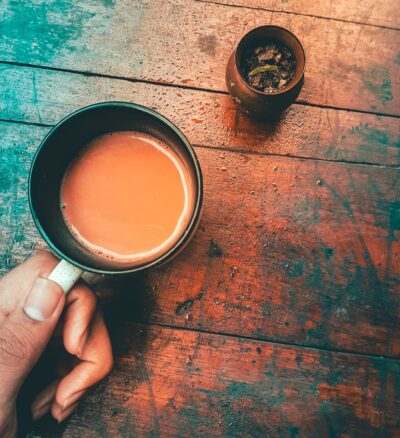 If you would like to experience the flavours of India, one of the easiest ways to start is by making a simple, yet aromatic cup of chai. Chai (or tea as it's called in India) is black tea that is boiled with milk and water and infused with warming spices like cardamom, cumin, cinnamon, fennel and ginger. It is marketed as "masala tea" by tea companies here, however, homemade chai tastes so much better than the store bought version. I have been making chai since I was a teenager, and my love for it has grown over the years. There are different ways to make chai depending on your taste preferences, but here is how I like to make it:
1 ½ cups water
15 fennel seeds
5 cardamom seeds (cracked open with the back of a wooden spoon)
Small stick of cinnamon (or ¼ tsp ground cinnamon)
Pinch of fresh ginger (or ¼ tsp ground ginger
1 Black or orange pekoe tea bag
½ cup milk of your choice (I use 1% or 2% cow's milk)
1 tsp sugar (I prefer brown sugar)
Bring the water and spices to a boil. Allow to boil for 1-2 minutes – you will start to smell the spices.
Drop in the tea bag and let the mixture boil for another 5 minutes. Watch your pot and lower the heat as necessary so the liquid doesn't boil over.
Once the liquid has turned a rich, dark brown colour, add in the milk and bring to a boil once again. Allow the chai to boil for another 5–10 minutes, stirring every once in a while so it doesn't burn. The longer the mixture sits on the stove, the stronger the tea flavour will be.
Add the sugar directly into the chai or into your cup and sweeten according to your taste buds. The chai is done when everything is well-blended together – you'll be able to smell the spiced tea – and it is a rich, beige colour.
Strain and serve hot. Serves 1 (or 2 if you're feeling generous and only want a tea cup amount).
This essay was selected as part of Shedoesthecity's New Voices Fund, established to help continue offering opportunities to talented emerging writers with less than 20 bylines. More info here.