Is 2023 the year you finally leave your secure 9-to-5 to follow your entrepreneurial dreams? Or maybe you are working on making the jump from renting to owning? Need to take out a serious loan to fund your small business? If you're currently grappling with a big life decision, with high emotional and financial stakes, No-Regret Decisions by financial planner and bestselling author Shannon Lee Simmons (Worry-Free Money and Living Debt Free), is the book you need.
As the founder of Toronto's award-winning New School of Finance, Shannon has helped countless individuals and couples navigate big life decisions. While her past books have focused more on the nitty gritty of everyday finances, No-Regret Decisions is less about the dollars and cents than the mindset, support, and action steps required to make sound choices.
We love Shannon's down-to-earth and judgment-free approach, and know this book will help many. Curious to dig a bit deeper, we connected with Shannon to ask her some things.
You see a lot of people struggle with big life decisions, what common theme did you identify that compelled you to write this book?
Over time, you see how people cope when things don't work out after major life decisions. I really noticed that those who didn't regret how they made their choice felt better about the outcome, even when things didn't work out the way they wanted. The people who regret their decisions lose confidence in their ability to make tough choices in the future.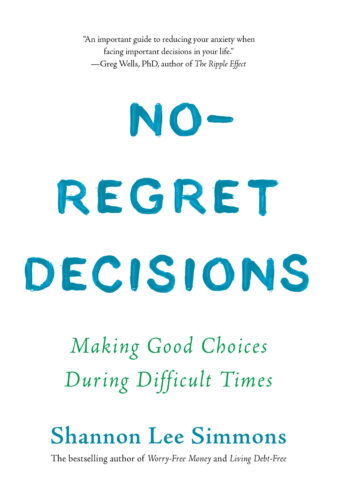 Would you say that big life decisions are harder now, more than ever? In the year 2023? If so, why?
I think decisions are more complex since we get in our heads a lot more. We have input from social media and 24-hour news cycles that either uphold our values or violate them and it can cloud our judgement on what we really want to do. Block out the noise.
When you say "circle of care" what does that mean? Who does it involve?
A Circle of Care can be a temporary or permanent group of people who are in the exact same situation as you while you're in your decision crisis. We all have support people in our life, but sometimes, our regular support systems are in a different place than us when life throws us a curveball. We need to find people going through it or who have already been through it to lean on for support during this critical time. It helps us feel understood and safe.
What's a great example of embracing change that you think about/refer to often?
I think change is hard for many of us. Sure, lots of us like to switch things up in our life for fun, but real change from a decision crisis may have been a change you didn't ask for. Change you didn't want. That's scary. Embracing change doesn't necessarily mean you love your current life situation. It means that you have accepted that it's happening. You're on the rollercoaster and hopefully you can mindfully try to bring some of your old life with you on the ride to your Next Normal.
How has writing this book shifted your own understanding of making decisions? Or put another way: what's the biggest lesson it taught you?
Oh, thousands. I wrote this book during my own personal crisis. It was therapy. At one point, I was about to move my family during the height of COVID lockdowns, and then I was writing the chapter about finding your deciding values and listening to the audio recording of me from the previous year speak to my client and I'm like – oh my god, I'm making a massive panic based decision here to move. What am I doing? So, the biggest lesson for me was that I had to pull myself out of panic mode often. Daily at some points. It wasn't like it happened once and that was that. It took time and daily practice to make sure I was making no-regret decisions. This book is a series of a thousand personal no-regret decisions.