I could just tell you that Bellavance was inspired by high school uniforms and tattoos, or that Steven Tai was inspired by break-ups and ex-boyfriends, and you might feel like you understand the psychology of each designer's collections from last night at The ShOws. But would you really get it? And even if you kind of, sort of did, would you truly feel like you had traced the narrative from beginning to end?
The real story last night was Steven Tai, arguably one of the most talented Canadian designers in recent memory. He is the young UBC grad who uses an oft-underused fabric called Lurex (a yarn made by vaporizing a metallic onto a synthetic film), and who finds something pleasing about the way stray fibers appear after jacquard is woven. But not only does he turn loom-processed inevitabilities into excess art, he also told me that one valuable life lesson he's learned is that there's no end to the combinations of sandwiches you can make.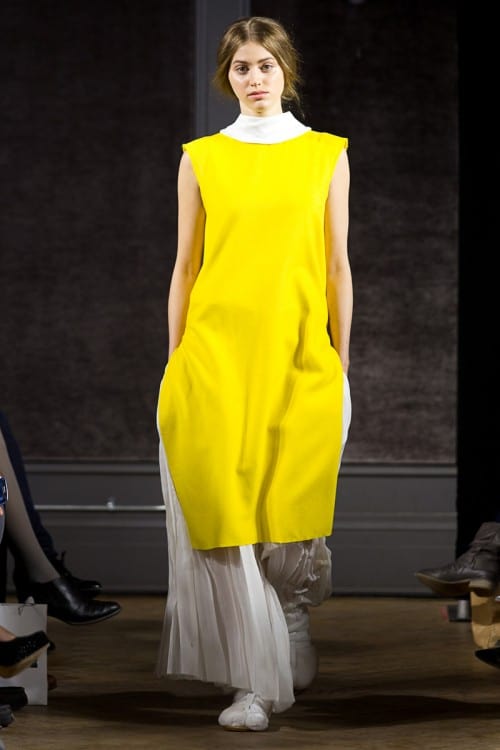 Steven Tai wasn't always the Holt's-sold designer he is today. He wasn't always making haute raver pants or layering women in multiple pleated skirts. Tai used to be a Subway sandwich artist at the UBC student union, and he also cut his teeth at Vancouver's Vera's Burger Shack. He's a reminder to treat people in the service industry like anyone else—with respect. He's a reminder that a necessity to make money trumps any pre-conceived attitudes about flipping burgers, or preparing cold cut trios on bread that uses chemicals found in yoga mats. But mostly, he's a reminder that sandwiches are really good, and if you work at Vera's, they let you play around with meat-bread-veg-sauce-cheese combinations to your heart's content.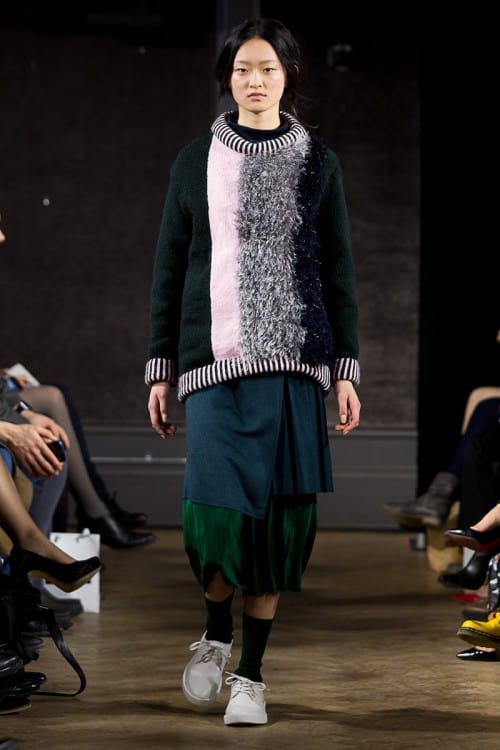 We often wonder where the creative juices begin to flow—is it nature, or is it nurture? Tai's first atelier was a sandwich shop, and I'd like to propose that this isn't as trivial as it might seem. Do you like lettuce on your sandwich? The uniformity of Subway's giant bags of chiffonade lettuce are emulated in the precise layers of jacquard fringe seen on everything from jackets to dresses and pants in Tai's F/W 2014 collection. The have-it-your-way design of any decent sub shop can be found in the core principles of Tai's designs—he creates separates that are meant to be layered and layered, ensuring that there is no shortage of how you can combine any of his pieces. His use of six-petal applique daisies on feminine sweaters and dresses is a reminder to stay fresh (perhaps as a nod to his Eat Fresh days), while his jarring and unexpected bright yellow grouping is like finding a hint of tangy mustard in every bite of a five-dollar foot-long.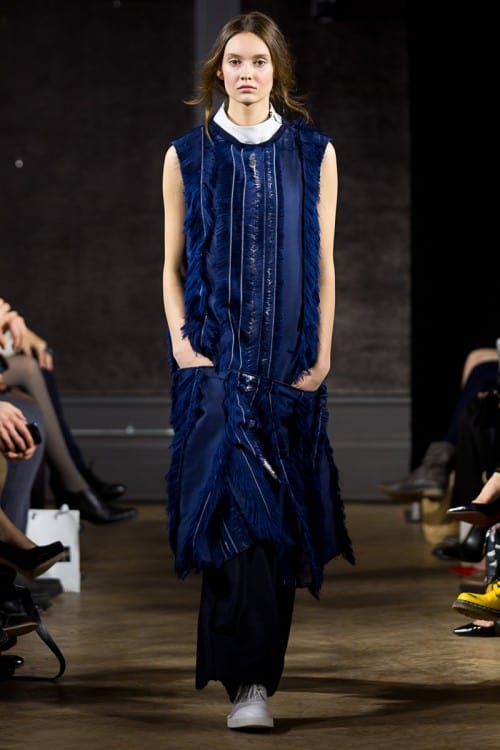 Make no mistake, I am not undermining this designer based on his humble beginnings. In fact, I am making an argument that without them, he might not be the most interesting designer Canada has to offer. Perhaps the next time you snicker at the absurdity of a "sandwich artist" job title, you'll realize that among the pool of frozen bread log bakers and Chipotle Southwest wage workers is someone with ideas that could shake the sandwich world and more.
Besides fashion and food, the buzz in and out of the seats was, like on the Internet, and in every corridor of thought, about cats. Blogger Lauren O' Nizzle was spotted on the front row representing feline fashion with a cute phone case, photographer Jenna Marie Wakani talked openly about her poor Floyd's recent harrowing surgery, and the Post's Nathalie Atkinson poured over countless cellphone photos of her new and adorable black and white adopted five-and-a-half-year-old cat. And that, friends, makes three. And three, as they say, is a trend. Sorry, dogs. Pussy is in.