George Street in St. John's, Newfoundland has the most pubs and bars per capita of any street in North America. Two blocks devoted to debauchery and music, make outs and break ups, and strangers dancing on the cobblestone street. A playground for adults. I may have visited there a little too early.
My high school friends and I would sneak into shady spots, fake IDs in hand. I had a theory that if I showed up looking like I just got out of a business meeting, I'd be okay, so I would go downtown dressed like a misplaced investment banker. I was 18 with braces. I was the Doogie Howser of George Street. Good thing I had a wicked fake ID.
When I finally was of age, my friend Jennifer and I marched straight downtown to look for jobs. I still had braces, but left my investment banker outfit at home. And we got hired. 
At Club Etomik.
Club Etomik was a huge dance club. I was a cocktail waitress and Jenn worked the door. We had to wear glow in the dark shirts with "explosive thursdays" and a barage of fireworks along the front. Jenn's ample curves created an explosion. I had the figure of a thirteen year old boy and my shirt looked like the result of a thick match struggling in the wind. The tips were terrible. Foreign men from the boats would offer me money to touch my braces. We would eat hot dogs on the steps of George Street when we finally emerged from work at 5 in the morning.
It was the best summer of my life.
Ten years later, I am back on the street, sans braces and with a mission to visit some old haunts. But now, what I love about downtown St. John's isn't the dance clubs. It's the live music. It's everywhere, and it's excellent. 

Jennifer called me on a Saturday afternoon after I'd hit the streets to ask me how the previous night was.
"What did you do?"
– "Everything."
"Where'd you go?"
– "Everywhere."
Here is a breakdown of the beaten path:
BEST BET ON GEORGE: The Rock House is a wicked venue on George Street for bigger shows, and The New Years Eve show with Cafeteria, The Wobbly Pops and The Texmestics was the best ticket I bought all Christmas. The Wobbly Pops and The Texmestics are rival cover bands comprised of members of local rock groups that play special events like Fake Prom for a laugh. At any point during the night, the stage was filled with great mish-mash of musicians, playing versions of songs like Bohemian Rhapsody and piking balloons. I have to admit that I had to scroll through the blurry photos on my phone to piece together the particulars of the party, but I seemed to have filled my dance card and kept a smile on my face that could crack a pineapple. I woke the next morning (correction: late afternoon) fully dressed with sore feet and a sparkly "Happy New Year" tiara that was gifted to me by a kind stranger in the ladies bathroom. I know this happened strictly due to iPhone evidence. 
I also saw Gramercy Riffs with Secret Connection play at The Rock house earlier in the week, and it was super fun! Honorable mention to the Rock House door girl, who served us both nights and may be the nicest door girl I have ever met!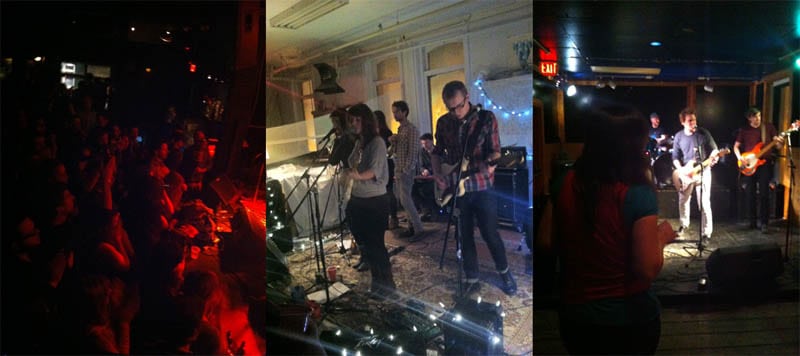 BEST BET OFF GEORGE: The Ship Inn is, in my opinion, the place to see live music in St. John's. It's off Duckworth Street, down Solomans Lane. It's akin to one of my favorite venues in Toronto, The Horseshoe Tavern. If Labatt 50 is the Horseshoe Champagne, you pop the cork on an India at The Ship and sweat it out amongst a sea of old and young, gathered in the small dark room to have a good time. My favorite show at the Ship this trip was Mark Bragg and the Butchers, who are always a wicked time and really rocked it for the Boxing Day bash. Big props also go to The Ships 2-piece Fish and Chips. Not the band. The food. Nothing to do with music. It's giant and delicious.
BEST BANG FOR YOUR BUCK: The Levee for 9 O'Clock Rocks, a Thursday 
Residency that boasts three beers for $5. For real. Pair that with bands like The Pathological Lovers and Mercy, the Sexton and you've got a good time (and a good deal). I got cover, three India, two shots of Jager and the cute bartender's phone number for less than $20. The phone number may have cost more than the beer.
BEST SPIN AROUND A SWEATY DANCE FLOOR: The Dardanelles played to a sold out crowd at Erin's Pub, satisfying my need for some fantastic traditional music and a hearty spin around a dance floor filled with young women jigging and older couples two-stepping. 
BEST ROCK OUT WIND DOWN: The Wunderstrands gave a sensational private show in a Water Street artists loft.  Joined by Ilia Nicoll and the Hot Toddies, it was a perfect evening of sweet sounds and soft lights. Followed by a giant dance party. I guess it never winds down that much…
BEST SOLO PERFORMANCE: Honorable mention also goes to a busker on Water Street, playing outside of Velmas, the CIBC and O'Briens Music on the afternoon of Dec. 29th. Not for talent, per se, but for sheer volume, enthusiasm and willingness to go where the action was.
BEST RANDOM ACT OF MUSIC: The biggest surprise happened off the beaten path, at my great friend Willow's Christmas Party. We were visited by a group of carolers, comprised of members of bands like Repartee and Hey! Rosetta, to name a few. We all gathered outside and listened to songs and then crammed into her sweet little house for more. Then they packed up their songbooks and moved on down the street, to sing to whoever came upon their path.
If you can't have fun in St. John's, you don't like fun. You don't want it at all.I think I got an integral part of my groove back. Let's see where I end up next week.