There's lots to look forward to on Netflix for the rest of 2022. With new seasons of our favourite series, buzzy film premieres, and some promising new releases, there's no shortage of titles to stream this November and December. Start lining up your holiday binge-watches!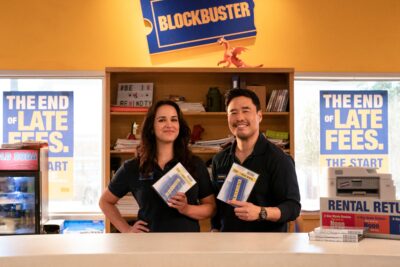 Blockbuster – November 3
Series, Comedy
From Brooklyn Nine-Nine and Superstore writers comes another charming workplace sitcom—this time, set in a beloved but nearly extinct movie store. Randall Park stars as Timmy Yoon, a movie lover and long-time Blockbuster employee. After learning he is operating the last Blockbuster Video in America, Timmy and his employees fight to stay relevant. The only way to succeed is to remind their community that they provide something big corporations can't: human connection. Brooklyn Nine-Nine's Melissa Fumero stars as Eliza, Timmy's love interest, and Olga Merediz (who shone in her roles as a grandmother in In The Heights and Encanto) plays the store's blunt mother figure.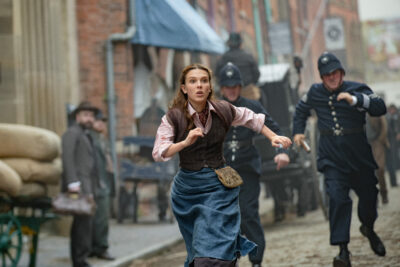 Enola Holmes 2 – November 4
Film, Adventure, Mystery, Drama
The much-anticipated Enola Holmes sequel arrives on Netflix on November 4, picking up with Enola (Millie Bobby Brown) opening her own detective agency, following in the footsteps of her famous brother, Sherlock (Henry Cavill). As the harsh realities of adulthood (and being a female detective) set in, Enola nearly gives up—until a new case involving a missing girl throws her into a puzzling and dangerous new world. The search leads her to London's sinister factories and colourful music halls, to the highest echelons of society and 221B Baker Street itself. If you enjoyed Enola's adventures the first time around, this looks to be an even more intriguing mystery for her to unravel.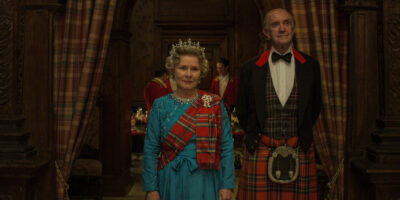 The Crown – November 9
Series, Drama
The Crown's long-awaited 5th season is dropping soon, just 2 months after the death of Queen Elizabeth. But in the show's timeline, we'll pick up as Queen Elizabeth II (Imelda Staunton) approaches the 40th anniversary of her accession and new challenges are on the horizon. Prince Charles (Dominic West) pressures his mother to allow him to divorce Diana (Elizabeth Debicki), presenting a constitutional crisis of the monarchy. Rumours circulate as husband and wife are seen to live increasingly separate lives and, as media scrutiny intensifies, Diana decides to take control of her own narrative, breaking with family protocol to publish a book that undermines public support for Charles and exposes the cracks in the House of Windsor. The official trailer arrived a few weeks ago, and yes, it was worth the hype.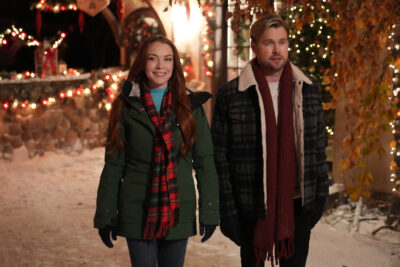 Falling for Christmas – November 10
Film, Romance, Comedy
Lindsay Lohan returns to the screen on November 10th for this charming holiday rom-com. A newly engaged, spoiled hotel heiress (Lohan) gets into a skiing accident, suffers from total amnesia and finds herself in the care of a handsome, blue-collar lodge owner (Chord Overstreet) and his precocious daughter in the days leading up to Christmas. "It's such a refreshing, heartwarming romantic comedy, and I miss doing those kinds of movies," Lohan told Tudum. A perfect watch to get into the holiday spirit!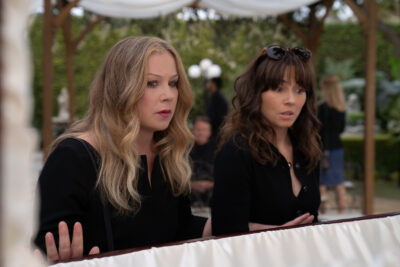 Dead to Me Season 3 – November 17
Series, Comedy, Drama
In the final season of Dead to Me Jen (Christina Applegate) and Judy (Linda Cardellini) return, ready to risk their lives one last time. In the aftermath of yet another hit and run, both women receive shocking news. When the FBI takes over Steve's murder case, Jen is confronted with the dire consequences of taking a life. Meanwhile, Judy faces her own existential crisis when her life is threatened by an unexpected force from her past. Will Jen and Judy get away with their lives? And can they save each other? Dead to Me always delivers on shocking twists, unexpected turns, and the kind of laughter you can only share with your best friend.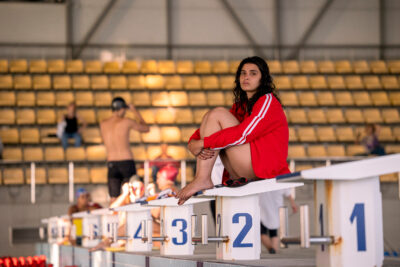 The Swimmers – November 23
Film, Drama
Following its Opening Night Gala premiere at TIFF this September, this story of sisterhood and survival will be dropping on Netflix on November 23. Based on a true story, The Swimmers follows two young sisters as they embark on a harrowing journey out of war-torn Syria as refugees, putting both their hearts and champion swimming skills to heroic use. Real-life sisters Nathalie Issa and Manal Issa star as Yusra and Sara Mardini, as they escape Damascus through Lebanon, Turkey and a lethal stretch of the Mediterranean Sea, while holding on to their lifelong dreams of swimming for Olympic gold.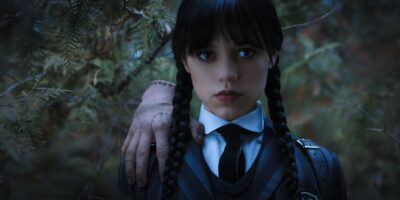 Wednesday – November 23
Series, Mystery, Comedy, Fantasy
Coming to Netflix on November 23 is this twist on The Addams Family, focused on the family's gloomy teenage daughter Wednesday as she starts at a creepy new school. Starring Jenna Ortega as Wednesday and Catherine Zeta-Jones and Luis Guzmán as her parents Morticia and Gomez, the series is described as a "sleuthing, supernaturally infused mystery," and will follow Wednesday at her new school as she "attempts to master her emerging psychic ability, thwart a monstrous killing spree that has terrorized the local town, and solve the murder mystery that embroiled her parents 25 years ago." This new series from the mind of Tim Burton promises to draw us in with twisted adventures and dark mysteries. And fear not, Christina Ricci will make an appearance.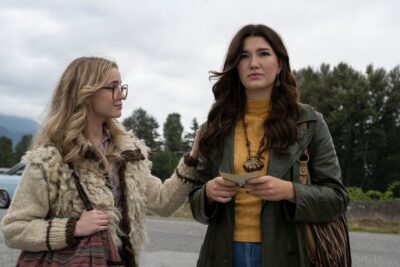 Firefly Lane Season 2 (Part 1) – December 2
Series, Romance, Drama
The emotional and endearing series Firefly Lane is returning on December 2 with the first nine episodes of Season 2. We're all wondering what led to the end of Kate and Tully's 30-year friendship, and this season is promising us the answer to that and plenty of other pivotal moments from their lives. Tully faces a lawsuit and a quest to find her estranged father, while Kate grapples with the painful aftermath of Johnny's ill-fated trip to Iraq. The show flashes back to the 80s, as Tully's career rises and we see Kate and Johnny first fall in love — causing some newsroom drama. We'll also see teenage Kate and Tully struggle to keep their friendship together when Tully moves away from Firefly Lane. We love how Firefly Lane shows the enduring power of strong friendship, and we're excited to see this next chapter of Kate and Tully's story unfold.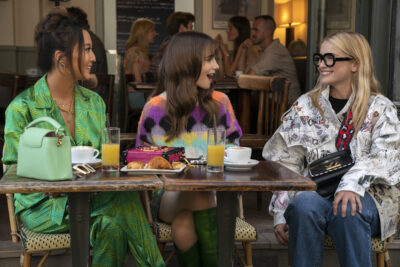 Emily in Paris Season 3- December 21
Series, Romance, Comedy, Drama
Fashion, love triangles, luxury marketing campaigns, glamour and misadventures—Emily in Paris returns to Netflix on December 21. Now after one year in Paris, Emily finds herself at a crucial crossroads in every aspect of her life. Faced with two very different paths, Emily will have to decide exactly where her loyalties lie — at work and in her romantic life —, all while continuing to immerse herself in the adventures and surprising twists and turns that life in Paris provides. Emily in Paris is already renewed for Season 4, so there is plenty of Emily's adventures left for us to watch.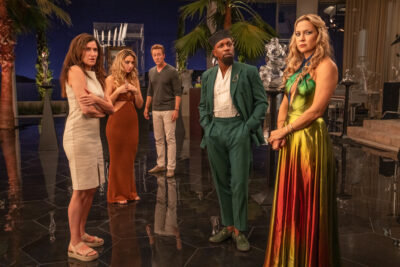 Glass Onion: A Knives Out Mystery – December 23
Film, Comedy, Mystery
The highly-anticipated follow-up to Rian Johnson's murder-mystery film Knives Out premiered at TIFF earlier this year to sold-out crowds, and the buzz around Glass Onion: A Knives Out Mystery is still going strong. This time around, there's a new cast of characters, and of course, a new mystery to solve. Detective Benoit Blanc travels to a lavish private estate on a Greek island, where he meets a group of friends gathering at the invitation of billionaire Miles Bron for their yearly reunion. With each character harbouring their own secrets, lies and motivations, when someone turns up dead, everyone is a suspect. Another star-studded cast is taking the screen, with Daniel Craig returning alongside Janelle Monáe, Kathryn Hahn, Kate Hudson, Edward Norton, Leslie Odom Jr., Jessica Henwick, Madelyn Cline and Dave Bautista. Coming to theatres for one week on November 23, this blockbuster is arriving to Netflix just in time for the holidays, on December 23.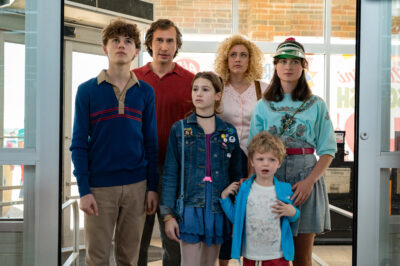 White Noise – December 30
Film, Comedy, Drama
Noah Baumbach's latest family drama White Noise stars Greta Gerwig and Adam Driver as parents of a contemporary American family dealing with the mundane conflicts of everyday life while grappling with the universal mysteries. The film is already getting lots of buzz for its dark, apocalyptic comedy. Judging from the trailer, it looks to be equal parts zany, amusing, and intense—we're intrigued to see it when it comes to Netflix on December 30.