I love Italian food, especially a really great pasta dish.  Unfortunately, being a gluten-free diner at times hinders that, so I really, truly appreciate that restaurants are adapting and providing us with some great options as well as alternatives, like Ciao, a lovely little Italian restaurant in the heart of Yorkville. Their menu is excellent and there are tons of wonderfully GF items for all; salads with or without protein (vegetarian/vegan friendly), great risottos and egg drop soup. All the pastas can be prepared with GF pasta (minus the ravioli) and many meats and seafood options can be served as carpaccio!  You could easily go a few times and you wouldn't have to repeat-order!  We let the lovely (and handsome) manager Victor choose for us and he did an amazing job.
For an amuse bouche, they served fresh basil, onions and marinated olives in place of bread. It was a nice little colourful treat for all the senses.  Trust me, I miss bread, so this gesture didn't go unnoticed.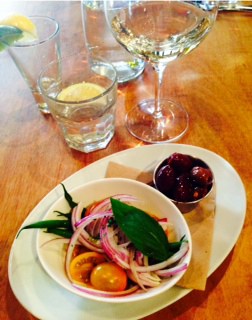 Next, we tried the Grilled Whole Calimari and Lemon over Mixed Greens. The calamari was perfectly cooked with just enough char from the grill, and the sweet and tartness of the dressed greens was the perfect start to a lovely meal.  I highly recommend this as your first course!
For our main, we had the Gluten Free Pasta (in place of farfalle) with Cherry Tomato, Zuchinni, Bocconcini, Black Olives, Prosciutto, Basil & Extra Virgin Olive Oil. I think my most favorite quality of Italian food is the simplicity and perfect attention to detail. Everything in this dish paired really well, I'm going to recreate (or at least attempt) in my own kitchen.
For dessert, we ate Fresh Mixed Berries—a lovely palette cleanser and treat in the winter, a succulent and berrylicious dessert.  Even if not you'r not GF, I would request it. And, of course, what Italian meal isnt complete without an Espresso!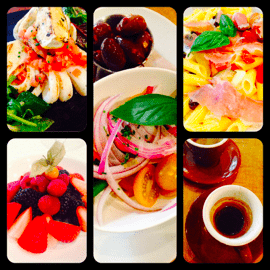 The menu has tons of possibilities for those with celiac or gluten allergies, and the kitchen is more than happy to modify dishes based to your liking.  Be sure to ask your server for any suggestions and to warn the kitchen based on the severity of your allergy and to find out the possibility of cross contamination.  Thanks to Victor and Ciao for having us.
Ciao is located at 133 Yorkville Avenue.  Call 416-925-2143 for reservations.