"If Necessity Is the Mother of Invention Then Curiosity Is the Father" –Rupal Bhadu
Without necessity and curiosity, sangria just wouldn't be a thing. It all starts with having a bottle of wine (in my case, Cupcake Vineyards Chardonnay). Then you take a look at what else you can throw in there. Scanning the liquor cabinet, checking out the fridge, digging through the fruit bowl, googling a few things (thanks, Oprah!), grabbing mint from the garden and thinking, "Yeah…maybe this will work." In this case, it did. Here's a citrusy, minty, fruity, boozy sangria to sip on as we say our teary goodbyes to summer.
To begin, make a mint simple syrup by combining one cup of water, one cup of sugar and handful of fresh mint into a pot on the stove. Bring to a boil. When the sugar has dissolved, take the pot off the stovetop and let it cool. Strain the mint out and set aside.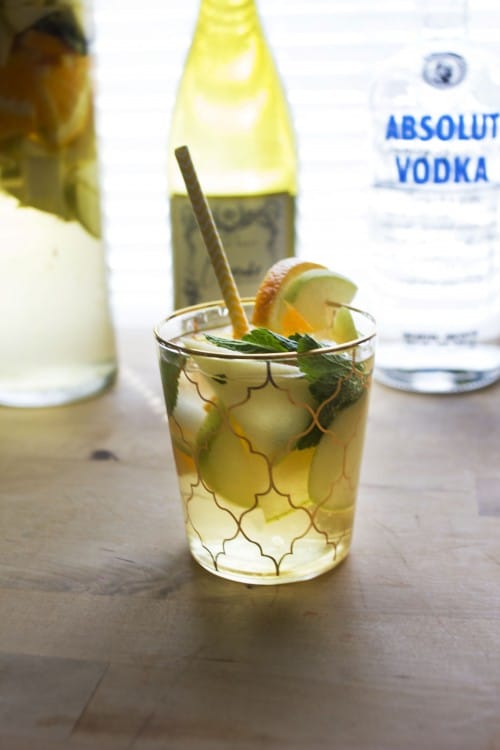 Recipe
¼ cup of mint simple syrup
½ cup of vodka
¼ cup of orange liquor 1 orange cut into small wedges 1 green apple cut into small wedges
1 bottle of white wine
top with champagne
garnish with fresh mint, orange and apple slices
Combine the vodka, triple sec, orange and apple slices and refrigerate a few hours or overnight. Then in a large pitcher, combine the fruit infused liquor with a bottle of chilled white wine and the mint simple syrup. Stir well and pour into a glass. Top with champagne.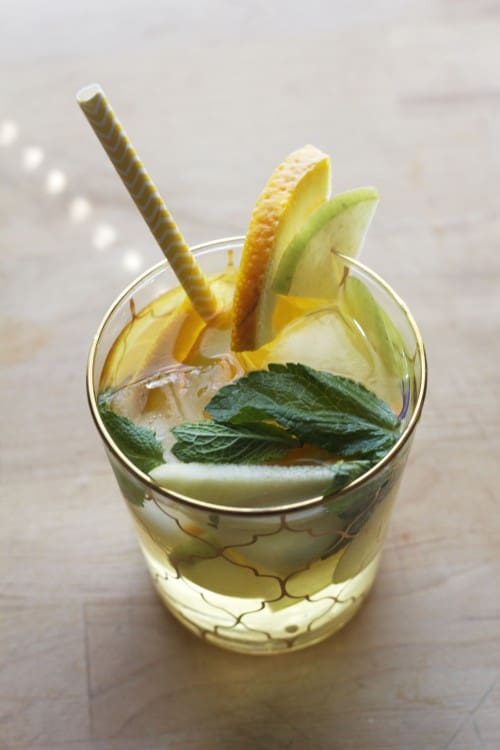 Glassware provided by BYOB Cocktail Emporium.