Anyone passing the busy corner of Bloor and Church Street will notice Daniel Mazzone's massive four-storey art installation in support of The Shoebox Project for Women. For Daniel, creating this piece, called "Maria," is a deeply personal one: his mother once lived in a nearby shelter. In collaboration with Klick Health, the piece is a reminder to Torontonians that homelessness in our city is a crisis, to get people talking about the issues that contribute to homelessness, and inspire action. One easy step to take this holiday season is to contribute to The Shoebox Project.
The Shoebox Project for Women supports local women impacted by homelessness by offering dignity and compassion through the collection and distribution of holiday gift-filled Shoeboxes and messages of support.
"My mother and I both experienced homelessness and different points in our lives, so this issue is very close to my heart," said Mazzone. "I believe art has the power to drive meaningful conversation and social change, and I hope that this activation helps challenge people's misconceptions and brings more understanding and support to women experiencing homelessness."
At 41 feet wide x 48 feet high, Mazzone's striking piece will surely stop pedestrians in their tracks. A closer look reveals that the larger image of "Maria" is full of single images of women changemakers. The art activation has a giant QR code, that with a scan, leading people directly to The Shoebox Project website where they can learn more.
"We want to make sure no woman, no matter what their circumstances, feels invisible, alone, or forgotten by their community and we are incredibly grateful to Daniel and Klick Health for helping to bring our mission to life," said Lesley Hendry, Executive Director, The Shoebox Project.
Creating a shoebox for The Shoebox Project has become a holiday tradition for us.
Here's how to participate:
Find the nearest drop-off location
Find a shoebox
Decorate your shoebox
Fill it with nice things that will be useful (Suggested value: $50)
Drop it off
Share, to inspire others, with #TheShoeboxProject
*There is also the option of making a virtual shoebox.
What to fill it with:
Gift cards (for groceries, coffee shop, movies, drug store, fast food). Please write the amount on the card or include the receipt.
Cozy accessories: socks, mitts, scarf, hat, hand warmers
Something sweet: nut-free chocolate and candy (not alcohol-filled)
Cough drops, multivitamins
Body or hand lotion, soaps, toothbrush, toothpaste, floss
Brush, comb, shampoo, conditioner
Nail polish, mascara, eye shadow, lipstick, lip balm
Purse-sized Kleenex, small cosmetic bag
Shower shoes, soap & toothbrush holder
Journals, colouring books, pens, coloured pencils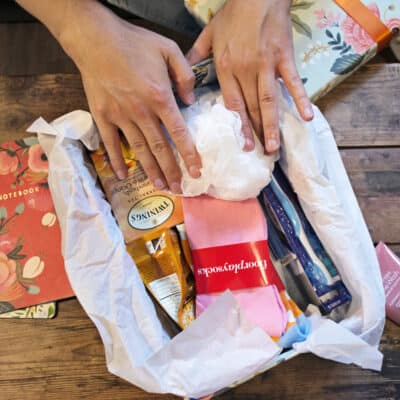 Some of the organizations that receive shoeboxes for clients include CAMH, Covenant House, Elizabeth Fry, Humewood House, Maggie's Toronto, Native Women's Resource Centre, Nellie's, Red Door Family Shelter, and YMCA Women's Shelter.
The Facts:
Women parenting on their own enter shelters at twice the rate of two-parent families.
66% percent of people experiencing homelessness in our city say that Toronto's high rent is the primary factor in their inability to escape homelessness.
Nearly 15% of people with disabilities live in poverty, 59% of which are women.
This year marks the 10th anniversary of The Shoebox Project, and in the past decade over 240,000 shoeboxes have been delivered. Find a location near you.