Women in Ontario are getting into provincial politics in greater numbers, and that's a trend we hope continues. Today, we'd like to introduce you to three cool women candidates who took the political plunge. Who knows? Maybe their stories will inspire you to do the same!
Bhutila Karpoche, NDP Candidate for Parkdale-High Park
In the 2018 provincial election, the NDP have 69 female candidates, which is more than any other political party (not just this year but in Ontario's history). In fact, they actually have more female candidates than male, as only 65 dudes are running for the NDP in this election cycle.
One member of this crew of cool, politically engaged lady candidates is Bhutila Karpoche. Karpoche is a newcomer to Canada, who emigrated from Tibet in 2002. Karpoche and her family struggled with the high cost of living and precarious labour situations when they arrived in Canada, and it's her lived experience that makes the candidate so committed to helping people facing financial inequality in our province. If elected to represent Parkdale-High Park at Queen's Park, she'll also become the first Tibetan woman to hold public office in North America. Now that's trailblazing.
Karpoche studied as an undergraduate at the University of British Columbia. Currently, she's completing a PhD candidate in Public Health Policy at Ryerson University.
During her time in Vancouver, Karpoche worked in a hospital for Tibetan refugees, at the famed Downtown Eastside Women's Centre. In Toronto, the politician has logged lots of hours at St. Michael's Hospital and at Anishnawbe Health Toronto. It probably won't come as a surprise that Karpoche is particularly passionate about Ontario's healthcare policy. According to her website, Karpoche's academic research "focuses on the social determinants of health as I strongly believe in prevention being better than cure. That's the best way to take care of our health. It is not only a more dignified way to approach healthcare but it also makes economic sense." That's a PhD dissertation we'd totally read!
Cherie Wong, Green Party Candidate for Ottawa-Centre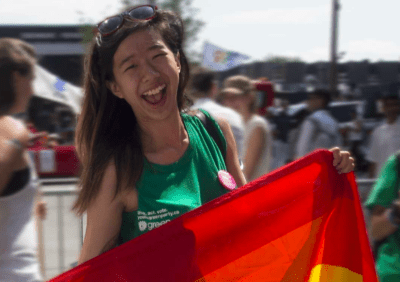 The Green Party also has more female than male candidates running in this provincial election (but not quite as many as the NDP). Cherie Wong is running in the Ottawa-Centre riding. Wong graduated from the University of Ottawa in 2017 with double honours in Criminology and Psychology. And no, you didn't add that up wrong: Wong is running for office a mere year after completing her BA. This young woman is a total overachiever when it comes to her #LifeGoals, and we love it!
During her undergraduate degree, Wong became involved with the Green Party. In fact, she volunteered for none other than federal Green Party leader Elizabeth May in the House of Commons. That's a pretty impressive mentor, to say the least! Wong has spent years volunteering as a community organizer, raising awareness about environmental issues. In 2017, she was on the organizational team for the People's Climate March in Ottawa. She's also the co-chair of Young Greens of Canada. Those are some very solid environmental credentials.
According to her website, as a young queer woman of colour in politics, "Cherie seeks to engage socially marginalized groups in this Ontario election!" Amen to that, sister!
Jess Spindler, Liberal Party Candidate for Toronto-St. Paul's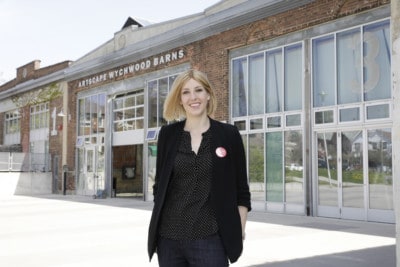 Ontario's Liberals are currently polling in third place overall. While they form the government right now, polls suggest the Liberals are poised for a rebuilding period. And one of the women who'll probably play a big role in that rebuilding is lawyer Jess Spindler. Spindler is currently running as the Liberal candidate in the St. Paul's riding in Toronto. She may only be in her early thirties, but none other than famed law professor/political pundit Warren Kinsella recently pegged Spindler as a likely candidate to replace Kathleen Wynne as leader of Ontario's Liberal Party.
Spindler became interested in provincial politics while studying for her undergraduate degree in Political Science at Guelph University. She went on to receive a law degree from Queen's University. Today, she's determined to devote her legal smarts to making the world a better place.
Before running for office, Spindler had worked for the Ministry of the Attorney General, the Family Responsibility Office, and the Liberal Party of Canada. She also has a long history of volunteering her time to important causes. Among other pursuits, Spindler has toiled on the front lines of the Refugee Crisis in Greece, where she advocated for asylum seekers. Now that's making good use of a law degree.
Spindler decided to pursue the Liberal Party nomination in St. Paul's because she was disappointed there weren't any other women in the race. She secured her nomination this May and has been campaigning since then. If she wins the general election, Spindler plans to advocate for causes like better quality healthcare and easier access to post-secondary education for Ontario's students. She's also passionate about the all-important feminist issue of affordable childcare. Says Spindler, "Women should only stay home by choice; not because there are no affordable childcare options. That's an important piece of women's empowerment." Sing it!