TIFF has announced 60 films that will be included in their Gala and Special Presentations programmes at the 2023 festival. The Toronto International Film Festival returns for its 48th year from September 7-17, and the buzz for this year's festival has already begun! There is so much to look forward to in this initial slate of films.
We're excited to see Canadian filmmakers among the titles announced today, including Montreal filmmaker Chloé Robichaud with her highly-anticipated drama Days of Happiness. The film stars Sophie Desmarais as Emma, a young conductor and rising star in Montreal, who faces a crossroads in her life and career.
Another highlight on our TIFF must-see list is Chelsea McMullan's Swan Song. Their documentary takes us inside the National Ballet of Canada's 2022 production of Swan Lake, directed and staged by the legendary Karen Kain.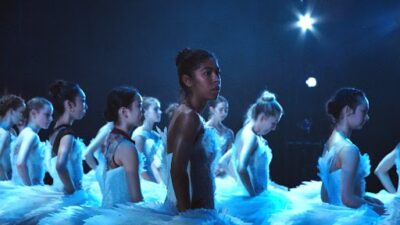 Several queer stories will be showcased at this year's festival. Set in Montreal's vibrant drag scene, Sophie Dupuis' Solo follows a talented young performer whose past and present merge in unexpected ways. Unicorns is a queer romance directed by James Krishna Floyd and Sally El Hosaini (who brought us The Swimmers, the incredible opening night film at TIFF 2022). We're also stoked to see Elliot Page star in Dominic Savage's Close to You, a story about a young transgender man who anxiously returns home, dreading reconnecting with the family that continues to push him away.
Another big draw at TIFF 2023 will be the world premiere of Woman of the Hour—Anna Kendrick's directorial debut. The film tells the story of Rodney Alcala's appearance on the titular game show in the middle of his 1970s murder spree, and is said to examine uncomfortable gender dynamics. After a knockout performance in last year's thriller Alice, Darling, we can't wait to see how Kendrick adapted this chilling story.
Stay tuned in the coming weeks for more TIFF films and festival details to be announced. The official film schedule will be released on August 15.
Here are some of the films announced today to keep on your radar. For a full list, head to TIFF's website.
Fair Play Chloe Domont | USA | International Premiere
Lee Ellen Kuras | United Kingdom | World Premiere
NYAD Elizabeth Chai Vasarhelyi, Jimmy Chin | USA | International Premiere
Solo Sophie Dupuis | Canada | World Premiere
The End We Start From Mahalia Belo | United Kingdom | World Premiere
The Royal Hotel Kitty Green | Australia/United Kingdom | Canadian Premiere
Close to You Dominic Savage | Canada/United Kingdom | World Premiere
Days of Happiness Chloé Robichaud | Canada | World Premiere
His Three Daughters Azazel Jacobs | USA | World Premiere
North Star Kristin Scott Thomas | United Kingdom | World Premiere
Swan Song Chelsea McMullan | Canada | World Premiere
Unicorns Sally El Hosaini, James Krishna Floyd | United Kingdom/USA/Sweden | World Premiere
Wicked Little Letters Thea Sharrock | United Kingdom | World Premiere
Woman of the Hour Anna Kendrick | USA | World Premiere