"My whole life I've been battling to be heard, to be seen, to be taken seriously," says Jennifer Lopez in a clip from the trailer for her new documentary Halftime. The hotly-anticipated film will open New York City's Tribeca Film Festival on June 8 and arrives to Netflix worldwide on June 14.
The film offers an intimate peek behind the curtain revealing the grit and determination that makes Jennifer Lopez the icon she is, from her performances onscreen and on stages around the world, to her Super Bowl Halftime show, to the recent Presidential inauguration. The documentary focuses on an international superstar who has inspired people for decades with her perseverance, creative brilliance and cultural contributions. Halftime also serves as the kickoff to the second half of Lopez's life, as she lays bare her evolution as a Latina, a mother, and an artist, taking agency in her career and using her voice for a greater purpose.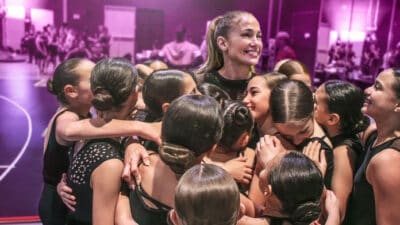 The trailer gave us goosebumps and warmed our hearts—JLo works hard for her fans, and this in-depth look at her life reveals the grit behind the glamour. The superstar also opens up about deep-seated insecurities, and how she has to continuously work to overcome them. Of course, we loved the Toronto shoutout, or the bit in the backseat where JLo is getting first audience reactions from Hustlers which premiered at TIFF in 2020 (we were there!).
We've been fans of Lopez since we were teens, and are constantly in awe of how she's dealt with the press, evolved her career, and remained true to herself. Not easy! Halftime is definitely on our summer must-watch list.