We LOVE to see how people transform their spaces. Whether you're looking for a small-scale or large-scale makeover, HomeSense has beautiful products that will keep you within your budget!
Stacey Lipstein lives in Toronto's Leslieville neighbourhood, and while she's an interior designer by profession, she admittedly hadn't spent much time designing her family's backyard. On Instagram, she's known as TinyHouseMama, and her enormous following loves to see how she works with small spaces.
Amy Peters lives outside of Halifax, and with nearly 50,000 followers on Instagram, her following loves checking out how she updates her home to accommodate her growing young family.
We're mega fans of these style gurus and wanted to see how they'd create their dream outdoor spaces, for summer living, at two varying price points.
Stacey received a $1000 HomeSense gift card, and Amy, who partnered with us last season to do a spring refresh, worked some magic with a $500 gift card.
Both of their trips to HomeSense landed them with an assortment of beautiful things: some big-ticket items, like new deck chairs, as well as smaller items, like plant pots and candles, that gave the spaces their own unique personal feel.
We're so impressed with how much they did with their assigned budgets, and now we're just waiting for an invite to go hang in their beautiful green spaces, sip lemonade, and enjoy serious chill vibes all summer long.
Here's how Amy designed her forested balcony with a $500 HomeSense gift card…
SDTC: What items did you purchase from HomeSense to update your outdoor space?
AP: Here are the items I purchased (everything was under $500):
Two Wicker Chairs
Jute Pillow
Off white Pillow
Palm print pillow with Jute fringe
Candle
Basket
Wicker serving tray
Cream + Terra Cotta Pot
Watering Can
Cream pot with wooden base
This is our second summer in our home and last year we didn't get around to completing our outdoor space, so this spring I wanted to give our upstairs patio a little extra love to complete the area. Naturally we went to HomeSense and found ALL the things to make it beautiful and cozy for relaxing with the family and an inviting space for entertaining friends. The spring merchandise was a goldmine!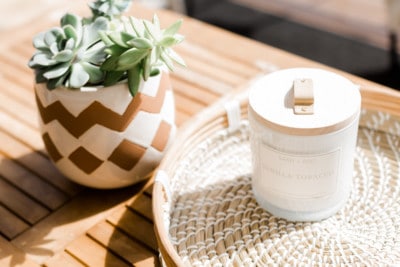 How did you decide what to get? Did you have a goal in mind before heading to HomeSense?
When I go to HomeSense, I always love picking up things I didn't necessarily intend to purchase. Usually it is a fun smaller item I just CANNOT leave behind. For this outdoor project, I knew I wanted a couple armchairs that were a different material than our existing patio set, but something that would also compliment what we already own. These two all-weather wicker chairs had my name written all over them. When I was at HomeSense, I had both of my children with me, ages three and five, and I was determined to get them home. I'm so glad I snagged them. I think they look perfect!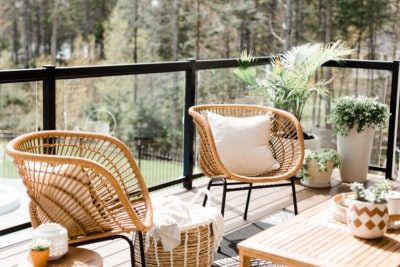 For outside, I stuck to a neutral colour pallet with natural materials such as wood, wicker, linen and jute so everything would work well in our space and be an extension of our interior decor and style. I love this natural palette! It would be easy to change it up by adding some new colourful throw pillows as the seasons change.
How do you use the space in the summertime? How will you use it now that you've changed it?
This space is off our main level and it overlooks our pool. In the evening it is shaded, and it is the perfect place to relax after a day in the sun and barbecue. Now that we've added a couple more seats and large pillows to sit on, we can easily accommodate a few more people on the patio. Occasionally in the evenings after the kids are in bed, my husband and I will enjoy an adult beverage and a little snack. We added a basket with blankets so it makes it really easy to get cozy and unwind.
What about designing an outdoor space is different from designing an indoor space?
We wanted our outdoor living space to be a natural extension of our indoor living space so everything would flow. We stuck to the same colour palette and style of furniture we have inside our home. The furniture we found was PERFECT and made the transition from our indoor to outdoor living space seamless. The two new seats we added are cohesive with our other furniture but isn't matchy-matchy, since the materials (wood + wicker) look great together! All the accessories compliments everything and ties it altogether.
Our climate here in the Maritimes can be wet and often damp, so I wanted to make sure that the fabrics and materials would be durable. For instance, the chairs are all-weather wicker, and we picked up outdoor pillows, and this will help them hold up longer against sun fading and possible mildew, and also I wanted to make sure these items were easy to clean…because kids 🙂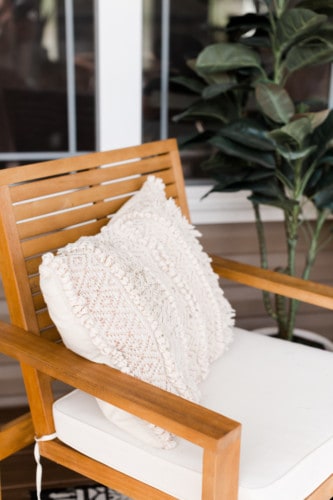 What did you love most about this project?
What I loved about this project is having my husband really on board about me working on the "outside" of our home. I'm so happy with how things pulled together so quickly. Our home has been a labour of love and we didn't rush to furnish and decorate every space. As we tick one area off the list, it gives me a sense of pride and accomplishment.
Since I work from home and spend 90% of my time here, it is so important to love your space. I really enjoy styling a space and adding these little touches. Now we just need the weather to cooperate so we can enjoy this space a little more!
What home project is on your mind now?
Now that this outdoor patio space is complete, I'd love to tackle our pool hut lounge area next. Or maybe our spare bedroom. The list never ends but we are slowly getting there! 🙂
Anything else you'd like to share?
Summer is my all-time favourite season to enjoy with the family. We cannot wait to make memories out here on the patio this year. Thank you so much, HomeSense and She Does the City, for partnering on this project.
---
Here's how Stacey transformed her backyard with a $1000 gift card…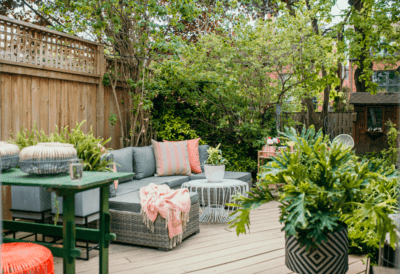 SDTC: First things first, what did you get with your $1000 gift card?
SL: I got A LOT, and it was so fun.
2 white Acapulco chairs
2 red-wire stools
3 Sunbrella outdoor peach pillows
1 metal and marble coffee table
1 Colin and Justin rattan bar cart
Outdoor Pineapple plates
Outdoor Pineapple bowls
Peach outdoor glasses
Pineapple stir sticks
2 large cement raised planters
A trio of footed pots
One large boho planter
2 wicker lanterns
1 beige decorative pot
Did you have an overall vibe you were going for? What was your initial goal?
We wanted to make the outdoor space feel like an extension of our home, like a living room you can curl up in on a summer night, with lots of pops of colour, whites, and plants galore.
I would say our overall vibe was boho, summer fresh lol.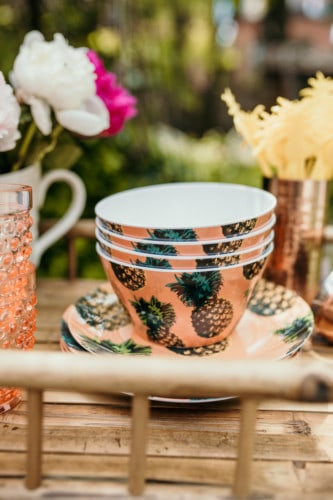 How did you decide what to get? Was there a particular piece that you designed things around?
I think I went into the shop with one thing in mind, the need for a coffee table and planters, and was blown away by all the other amazing pieces I found. I knew we wanted to bring colour into our space and add a few more seating areas as well as planters to grow herbs, flowers. And of course a super cool bar cart felt like a must have for that space.
I found the red-wire stool, which was initially going to be the coffee table. I loved the shape, colour of course and design. Then I saw the larger white one, which just fit so perfectly, and was totally sold. But the red one was still going to stay and be the anchor for the space. I felt like I kinda based the rest of the design around that initial purchase, pulling colours from it.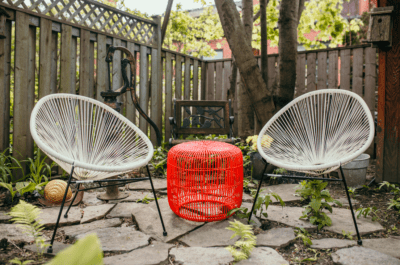 How do you use the space in the summertime? How will you use it now that you've changed it?
We live in such a small house; it is literally our living space all summer, eating, cooking, lounging, enjoying an evening drink in the back corner. It is so wonderful to have that additional space, and now it is a design haven and basically the only place I want to be.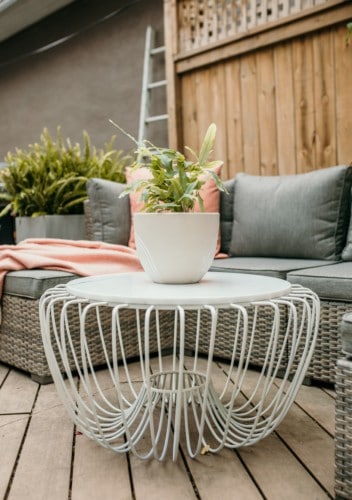 What about designing an outdoor space is different from designing an indoor space?
I think the elements really play an important role in your decisions, on what pieces will stand up over time, but also comfort in different ways, colours. All of a sudden you are taking into consideration the environment around you, not just the wall and floors. Also [I have to consider] how to use the space for entertaining and a place for my son to run around in. The space has to function for multiple aspects of our lives and not just as one single room.
What did you love most about this project?
I loved the amount of fabulous pieces I found at HomeSense, which totally was what I was going for in the space. I'm literally blown away by all the great finds. I love the fact that I didn't have a clear vision, yet my vision felt like it came to me as I went into the store, and the results have blown me away.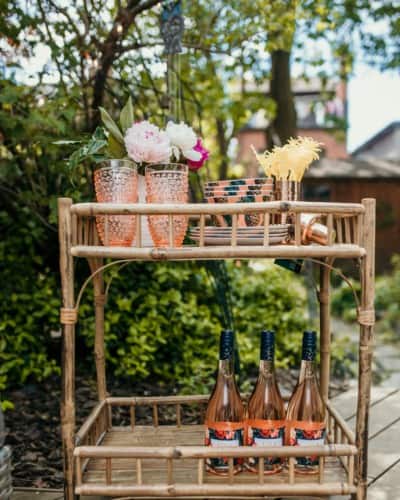 What home project is on your mind now?
My dressing room, which I would love to double as an office.
Are you feeling as inspired as we are? WE LOVE LOVE LOVE what they did! Enter our #MyHomeSense contest now for a chance to win a $300 gift card to get moving on your own makeover! Summer in Canada is for living outdoors. ENJOY.
Contest will run until June 26.