Poignant, heartbreaking, intimate, game-changing: UNICEF 360° is a virtual-reality documentary series brought to life through a Google cardboard viewer and an app that will take you into the Za'atari refugee camp in Jordan. The series has been created to help deepen the connection between Survival Gift donors and recipients. While the VR case is constructed from cardboard, its impact is incredibly powerful; you won't believe it until you try it.
How it works:
By simply downloading the UNICEF 360° app and inserting your smartphone into the cardboard case, you are instantly transported into Sidra's 'home.'
What you see:
By turning your head, you can get a 360-degree view of where Sidra has lived for the past year and a half. She introduces her siblings, we hear her baby brother crying, we see where her family sleeps. She then takes you into her classroom, and shows us where she plays soccer with her friends. We see small boys jumping in puddles, we see laundry blowing in the wind. We see miles and miles and miles of temporary housing on treeless land that looks cold and damp.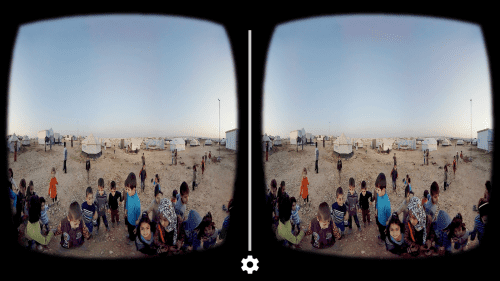 How to get your hands on a UNICEF 360° viewer:
Purchase a featured Survival Gift and receive a free virtual-reality viewer, or add a $12 viewer to your order when you purchase any Survival Gift.
Survival Gifts to Choose From:
1870 Water Purification Tablets – $14
Writing & Sketching Pack (50 pencils, 25 notebooks) – $16
Therapeutic Milk – $26
Early Childhood Development Kit – $134
See all other Survival Gift options here.
This holiday season, balance things out by purchasing a gift that will truly make a difference.