Ever been in the middle of entertaining and ran out of snacks and booze? Does packing your screaming toddler into a snowsuit (for the third time today) to trudge out to the grocery store sound appealing? Hellz no. Urbery, the new app from Toronto-based founder Mudit Rawat will send a Grocery Guru to hand-select and deliver your groceries/liquor to your doorstep. For young professionals, busy parents and office assistants tasked with organizing lunch, this app promises to make life a million times easier.
We chatted with Mudit about how he got the idea, how it works and why you can trust them to pick perfectly ripe avocados, every time.
SDTC: What was behind the decision to start the service?
MR: The idea of Urbery (a name derived from combining the words urban and grocery) was born out of the team's need for convenience without compromising on the quality of the groceries picked. At the time I was working at Sobeys, where I was fascinated by the amazing world of grocery retail. Having experience of working in technology companies prior to Sobeys, I was also very intrigued by the concept of e-commerce and the relative lack of online options that were available to Canadians. During all my research, three things really stood out: 1) Customers did not trust someone else to pick their food for them, 2) Customers wanted choice and speed of delivery, and 3) Grocery retailers found building and operationalizing a full-scale home delivery option cumbersome and extremely capital intensive.
To address these customer and retailer challenges, we decided to build Urbery, which uses an amazing fleet of vetted personal shoppers that we call Grocery Gurus who shop for customers at their favourite stores and deliver it to their doorstep in as little as two hours! Our Grocery Gurus love food and are experts at picking the freshest products and navigating aisles of a grocery store. They know how to pick an avocado that's ripe and ready for guacamole tonight. Quality and exceptional customer service is at the centre of everything we do, and that is only possible by finding these amazing individuals. For instance, we receive approximately a hundred applications every month for the role of a Grocery Guru and we only select about 10% of these applicants to join our fleet. Our Grocery Gurus also go through a comprehensive background check (including criminal and driving history check) and we have a zero tolerance policy.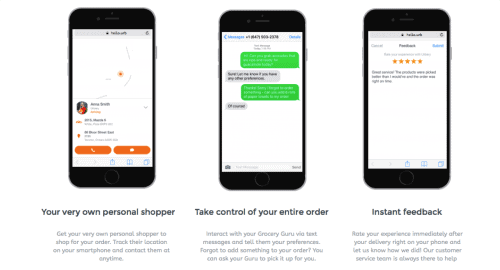 How exactly does it work?
Customer can use Urbery's web platform or the iOS app available on the App Store to select their favourite grocery and alcohol items. We currently have over ten thousand items listed on our platform and we are constantly adding more items to it. Customers can see the image as well as the price of the item and add it to their online cart. Once all the items are selected, customers can choose a delivery time that they would like (we provide one-hour windows for each time slot and most of the time we have an under two- or under three-hour time slot available for delivery). Customers can also specify a store of their choice in the notes section (e.g., Loblaws, Whole Foods, Sobeys). At the checkout screen, customers can pay for their groceries using their credit card or PayPal. Once an order is received, we route that order to an available personal shopper who then goes to the store to shop for the customer's order.
We use technology tools to make the entire Urbery process extremely interactive and predictive. Once a Grocery Guru starts shopping for a customer's order (approx. an hour before the order is supposed to be delivered), we trigger a text message alert that informs the customer that their order is now being shopped for. The customer can also see the image of their Guru, their exact location and call or text them to talk about their order. Once the order delivered, customers are asked to rate their entire experience and give a feedback. Since launching in May 2015, we have achieved an average rating of 4.7/5.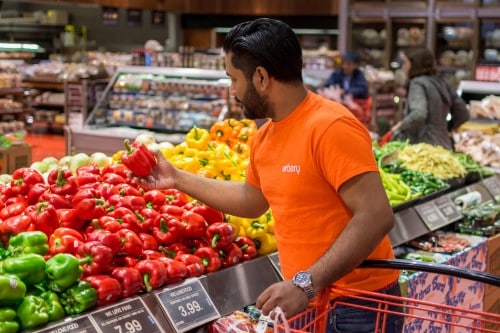 What has been the biggest challenge so far in this business?
Constantly innovating and evolving our service to cater to our customers' needs. When we started out, our product wasn't easy to use and our catalogue was lacking key categories and products. We worked hard on building a more user-friendly product and added over five thousand new products. We are now working on improving our alcohol offering too. We also monitor all the customer feedback on our internal feedback engines or on social media, which really helps us get a pulse of our current and potential users. As a technology startup, we believe constantly innovating and adding new features and services is key to our success.
Will you do deliveries to unconventional places (like parks!) come summertime?
Of course! The beauty of Urbery is that as a customer you can request deliveries wherever you want (as long as you are in the delivery zone). Because we provide our Gurus with GPS, our customers can easily locate and interact with them to let them know their exact location in a park.
Can you tell me a bit about yourself?
I came to Canada to do my MBA at the Schulich School of Business in 2007. I fell in love with the city of Toronto and never left. I have worked in various corporate business roles in companies like Oracle, CGI and Sobeys. Entrepreneurship was something that I always wanted to get into and I finally took that step when I decided to build Urbery from the ground up. Since we started Urbery, I haven't had much time to pursue any of my interests, but I do love watching baseball. My wife and I have been trying to visit ball parks all around North America (so far we've been to six, so there's still a long way to go). Hopefully one year we can follow the Jays around on all their road trips!
Try it for yourself: Use the discount code SHEDOESTHECITY to get $10 off your first order. You can enter the discount code during checkout.