Montreal's Little Italy doesn't get enough cred. Located up on St-Laurent, further north than most downtown and Plateau residents care to venture, there is a vast amount of undiscovered pasta and pizza, as well as a kitchen store that is secretly a gun store (and that's all I'm saying about that for the safety of my family). 
Amongst all of this, there is also a wonderful untapped little micro-brasserie ("untapped"—get it? I give autographs) called Vices & Versa (6631 St-Laurent) that deserves much more attention than it gets—especially considering it recently celebrated its ninth year in business. Vices & Versa's extensive beverage menu consists of 39 Quebec beers on tap, plus a selection of fabulous ciders that are usually hard to find in the city (they are served in the smallest glasses known to man for $7, but it's worth it!). Taste-testing directly from one of the 17 beer kegs ("casks") is also a neat activity for real beer connoisseurs.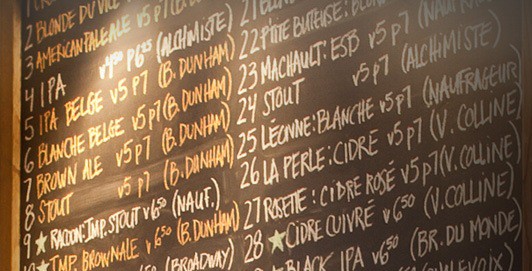 During my first visit—which also happened to be a date, for anyone keeping score at home—a live band occupied one-half of the venue, while the next room contained tables upon tables of happy friends and couples eating, drinking, and being merry (three necessities for hanging out in Little Italy, I think). To make things even more exciting, it came to my attention that Vices & Versa serves French fries in A PAPER CONE WITH SPICY MAYONNAISE. My Quebecois heart just about beat right out of my chest and off into the night! Their food menu contains other delicious-looking snacks like burgers and fancy sausages (amirite?!) that I'm sure wonderfully complement the bar's high-percentage IPAs and cream ales. The whole place was really lively and smelled really good. You should go.