Video stores were once de facto neighbourhood hubs. They were where you'd stop in after school to snag the newest release, where you'd take your kids to appease them, where you'd meander the aisles on Friday night with your date. What happens when the technologies that unite us become extinct?
Part escape room, part immersive theatre, The Tape Escape opened this month at the last Queen Video location to close in the Annex. The show riffs on escape rooms while situating audiences in an immersive environment (complete with over 5,000 VHS tapes and dayglo signage), and a choice of three film-themed storylines you can navigate your way through. The Tape Escape shatters typical constraints of theatre and hearkens back to the days of analogue media, asking what is lost when art is digitized and storefront businesses are shuttered.
Working behind-the-scenes is production designer Anahita Dehbonehie, who has created installations throughout the space. Dehbonehie recently scooped up two Dora awards for production design and her work has been featured across Canada and internationally, including at the Prague Quadrennial, The Vilnius Capital of Culture, and the Moscow Museum of Modern Art.
We caught up with her this week.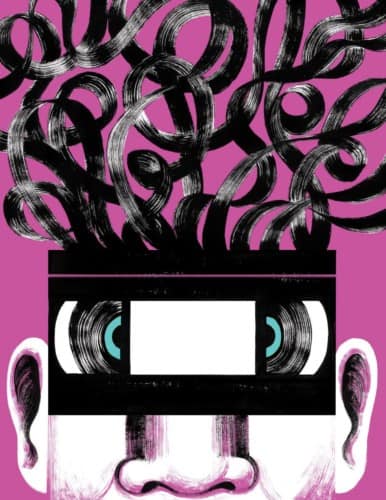 SDTC: Did developing this show bring back any memories for you personally?
AD: My experience with VHS is brief, which I think makes it all the more marked. As a kid growing up in an immigrant family in Flemington Park, movie rentals were not a relevant expense. And so the ones I remember, I remember vividly. My copy of Disney's Beauty and the Beast was first, which I watched until the tape began to wear; I still know every word of that film by heart. Later a friend sent me Henry and June in the mail, which was this secret racy movie that I kept hidden under some fabric in a bottom drawer. That movie introduced me to two of my favourite authors. I still remember the brown curve of Miller's fedora, and the simple blue tone of the cover. I remember thinking, "This cover is ugly, but this movie is beautiful." Conversely, when my first boyfriend rented Breakfast at Tiffany's, I immediately fell in love with the film. I've seen that film at least twenty times since, but that first experience—the glossy cover tucked into mussed plastic—is emblazoned into my memory.
For me, the magic of VHS is the object. A videotape reveals its history, it gets dusty with neglect, worn with use. You can tape over a piece of it forever, you can break it or preserve it in plastic or doodle across its cardboard body. It is an entity with a history of its own. When you interact with a tape, you are only the latest one to do so, and your interaction leaves an imprint.
Walk us through your process to creating the set for this play, set in the old Queen Video. What was the biggest technical challenge you faced?
In some ways for me traditional theatre is a black cave where we as creators are able to conjure states and worlds into being. Site-specific work is a whole other thing. The site is paramount; it becomes the greatest inspiring factor, in form and in content as well. The gift of existing spaces is their nooks and crannies and the stories inherent in the existing architecture. Designing becomes less about imagining the space and more about revealing it. For me, this is the most exciting challenge of designing in found spaces.
In the case of the site at Queen Video, we were gifted with all of these shelves and the permission to reconfigure them into a labyrinth, into broad swathes and small corners. We were gifted with spaces that we have chosen to leave almost unaltered, because the existing scraps are so compelling, and spaces have been entirely rethought.
Along with these environments, our considerable team has been building puzzles. There is a solid team on this project, and everyone has been thinking and creating together. I wouldn't really say there is anything that is designed by any one person. In my usual practice with installation or theatre design, there is a central vision and from that branches everything. I would contextualize this more as participatory creation than straight-up design. We are all Escape Artists on this one. The store has been a hub of activity, with the performers testing and finishing puzzles and everyone thinking and building together. It's been a really lovely collaboration in that way, especially between myself and fellow designer Nick Blais.
When did you realize you wanted to design for theatre for a living?
I was never someone who was interested in theatre as a kid. It was also antithetical to my extreme class consciousness when I was growing up. The divide between art and entertainment, and high and low culture was something that featured very prominently in my adolescent brain.
When I was in my teens, my first real boyfriend took me to see this show. I didn't know we were going to a show; we were going camping. We went to this place in the woods, and we saw a work by R. Murray Schafer. The show was a bunch of puppets across a lake, and music and lights from invisible places—I had never seen anything like it. It was like an out-of-body experience, and it was also my first true immersive experience.
I ended up going to school at Concordia for Theatre Design. When I was there, I went on exchange to the Norwegian Theatre Academy. It was a small group of interdisciplinary artists—there were maybe fifteen of us on this little island—so my foundational training comes from a group of people who are essentially really bored by (or really interested in) the same things. And they sit in this room, and they are really open to each other's ideas, but they are also really open to criticizing each other's ideas. And they find harmony, and they make work, and then they go off and share that work with a much larger audience.
What do you love about your work?
What's most exciting for me about this work is the interaction with an audience, the audience completes the experience just like in a really good sketch, the eye completes the line. I love the fact that it always changes. I see my work as a privileged series of experiments, each with its own heart, each with its own material concerns and emotional context. And each with its own insane challenges. I love that it's hard sometimes and that it can be lonely sometimes but that I'm always working within this great community of originators, that for each show we become a family and that each process carries its own climax. I can't imagine doing it for any other reason.
What is your favourite moment in the show?
There is a trend in performance towards immersive environments and gamification, which I find really exciting, but which seems inspired by, and focused on, a virtual rendition of reality. As if somehow by augmenting or transcending liveness we can tap into a more profound experience. I love that this project flies in the face of that. My favourite moment in the show is what I consider to be a perfect marriage of imagination and sensory experience. The audience and the performer switch places, and I don't want to ruin it, but the players need to become a community and solve the final riddle together using tools they've had all along. Once they do, everything changes. I've had the opportunity to work on escape rooms in the past, and this storyline, and its eventual fruition, are far more emotionally charged and transformative than anything else out there!
What did we really lose when we lost video stores?
I think we shifted from entertainment and interaction as a single event to a continuous one. We carry the most sophisticated, dopamine-inducing entertainment devices with us constantly. A friend of mine said recently that "stages are stages whether they are in front of you or on your phone." But I don't know that I completely agree with that. I do think that when art is in a physical space, especially a theatre, and you have to pay a certain amount of money, and sit in this chair, and you have to look this way for three hours…whether pleasant or not, these are the conventions: if you get up, it's rude. If you cough, it's rude etc. I think the same is true of visiting a brick-and-mortar store. I have access to millions of hours of streaming entertainment at home, and I can watch it all in my pyjamas. And as tempting as that is, there is no ceremony to that; the effort on my part is so little that it makes the consumption almost irrelevant and somehow very lonely. And ceremony, an awareness of the other, of the community, is an integral part of who we are, and I think there's fulfillment there that we crave sometimes and that we've lost by limiting face-to-face interaction.
The Tape Escape runs until August 4 at 480 Bloor St W. Grab your tickets here.