One watch of the Blonde teaser and it's clear that Ana de Armas is well cast as Marilyn Monroe.
From director Andrew Dominik, and based on the bestselling novel by Joyce Carol Oates, Blonde boldly reimagines the complicated life of icon Marilyn Monroe. Blurring the lines of fact and fiction, the film artfully explores the tension between her public and private life.
The Hollywood legend has been the focus of numerous biopics and documentaries but in Blonde Dominik imagines Marilyn's world through her eyes. "He wanted the world to experience what it actually felt like to not only be Marilyn, but also Norma Jeane. I found that to be the most daring, unapologetic, and feminist take on her story that I had ever seen," said de Armas.
Plenty has already been written about the film, releasing globally on Netflix September 23, 2022, but most of it has been about the NC-17 rating it's been assigned—a first for the streaming giant (the film has not yet received a rating in Canada).
In February, Screen Daily published an interview with Dominik where he describes the rating as "a bunch of horseshit". The director goes on to share that Blonde is "a demanding movie. If the audience doesn't like it, that's the fucking audience's problem. It's not running for public office."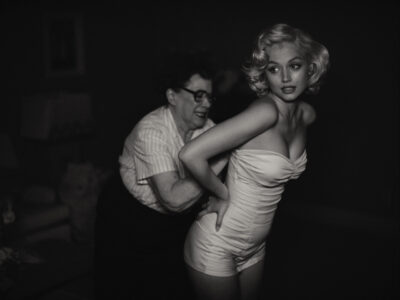 No matter what the rating, it's evident that audiences still have an insatiable hunger for Marilyn's complicated story. We were quick to guzzle The Mystery of Marilyn Monroe: The Unheard Tapes, the documentary which arrived to Netflix this past spring, and will be counting down the days for Blonde. The first photos gave us goosebumps, and Armas' performance is one we can't wait to watch.