When we noticed Gwendoline Hovey's post on the Women Who Freelance Facebook past, that shared photos of her 2022 Tea & Comfort Food Calendars, we couldn't help but smile. Calming and delightful, the illustrations of women stretched out in bowls of ramen noodles, or napping in a comfy taco, are a welcomed antidote to the noise and chaos and fear of life right now. "My biggest focus is always trying to represent a wide variety of women, just at peace & enjoying life with joy (surrounded by good food & drink!)," says Gwen. We love her work.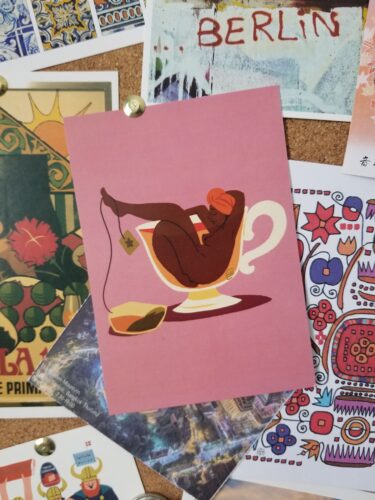 Food has always been Gwen's muse. "Eating is, at the end of the day, simply a basic human need for survival. Yet creating food, and eating it, has become so much more," she says, excitedly. "It's become a way of connecting with friends, family, and new people. A way of transmitting cultural heritage. A way of using resources creatively, pushing boundaries, and encouraging ourselves to try new things. How we make, celebrate, and eat food has become so complex and it's fascinating to watch its evolution across time & culture. I absolutely love everything about food and its relationship to humanity, and I think it's something therefore every person has a powerful link to — and I like making art that connects with people!"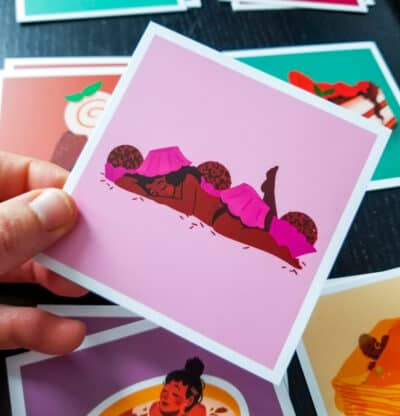 This is the third year that Gwen has made calendars. Her first calendar was the Tea Calendar, which she's revamped for 2022. Each month shows a different woman taking a "bath" in a different tea (eg: orange pekoe, jasmine, masala chai, matcha…). "I loved that I could make art of women relaxing and enjoying a peaceful moment." For the second year, Gwen created a calendar of women having naps in dessert (tiramisu, creme brulee, baklava, ice cream…). This year, she's added a Comfort Food calendar.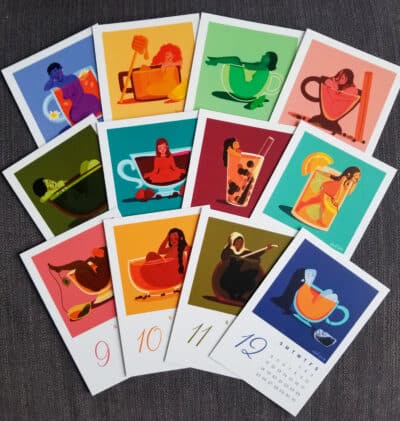 "I wanted to make sure I included food from around the world. I did some North American classics like mac & cheese and avocado toast, along with foods like kimchi jjigae from Korea, hummus from Middle Eastern & North African cultures, ramen from Japan, baozi from China, and green curry from Thailand," she shares. We're suddenly very hungry.
You can purchase Gwen's calendars on her Etsy Shop. They are priced at $25 per calendar. We think they'd make delicious kitchen art, and bring some added comfort to another challenging year.