Want to pretend you're at the Grey Gardens mansion, have cocktails in a church courtyard and watch two wealthy and reclusive sisters prepare for the most eccentric summer party of their lives? Comedians Gwynne Phillips and Briana Templeton, of The Templeton Philharmonic, will pull you deep into their zany imaginary world; we can't think of a better way to spend an evening in July than attending An Evening In July. Truly.
A hit at the 2014 Fringe, this darkly surreal comedy was inspired by the 1975 cult classic Grey Gardens and Marie-Helene de Rothchild's infamous Surrealist Ball. Step into the 1970s, order a gin & tonic and choose to participate in the performance, or enjoy being a wallflower in this picturesque and historic Toronto space.
Enter for a chance to win tickets for you and nine (yes, NINE!) friends to attend this whimsical, bizarre, hilarious and totally immersive performance! Tweet: "Yes @Shedoesthecity, I want to go back to the 1970s & have cocktails at Grey Gardens with @templetonphil #AnEveninginJuly @SummerWorks"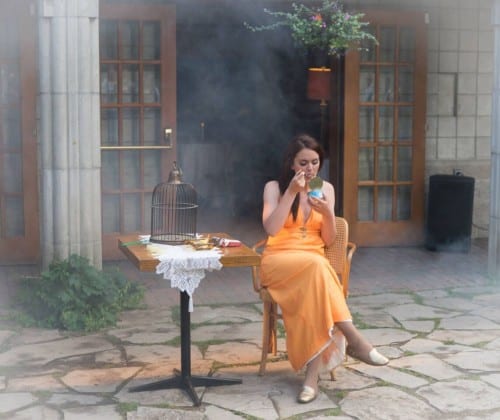 "The writing and focus are razor sharp." – Now Magazine
"Templeton and Phillips are becoming a force inToronto comedy thanks to their funny, feminist, and dark point of view." – Torontoist.
We had many questions for Gwynne and Briana, but they were busy planning Toronto's most alluring event, so we narrowed it to these two:
Share with us why Grey Gardens has left such a mark on you, why you find it so inspiring?
Grey Gardens is such an iconic documentary and there are so many elements that make it fascinating. But for us – it was the unusual relationship dynamic between Big Edie and Little Edie that really stood out and helped inspire An Evening In July. The mother and daughter are so enmeshed. They can't live together; but they can't live apart either. Even though their situation is so extreme, I think many people have experienced that in a relationship at some point in their lives to some degree. It's the same with how the Beales rationalize and justify behaviour that doesn't make any sense on the surface. It's shocking but it's very human. There are a lot of heartbreaking moments in the film, and it really shows how destructive mental health issues can affect a family across generations. But at the same time – there's a lot of dark humour in the movie too. Ultimately, the Beales were proud of their appearance in the film. Which is good, because the film shows such private moments between the two women. It can feel very voyeuristic at times.
The Beales were a jumping off point for creating our characters in An Evening In July. Instead of a mother and daughter pair – we developed a story about two sisters. And while they're equally as reclusive as the Beales, they decide to host a giant party… and by the end of the show, the audience will discover why. Cue the dramatic music – dum, dum, dum!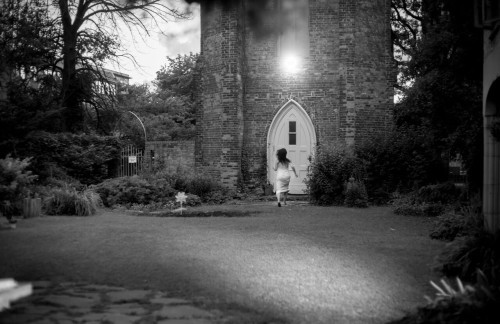 What did you love most about this performance last year?
We had a great time designing the set of An Evening In July. In a nod to Grey Gardens we created an eerie aesthetic of decaying 70s glamour … think over-the-top makeup, unsettling floral patterns, and LOTS of gold. Plus, it's an immersive show that takes place at garden party – so people had a lot of fun grabbing a drink from our surly bartender Robert (played by actor Thom Stoneman) and exploring the decadent and surreal environment for themselves. One of our favourite parts of the show last year was when audience members got play with a 28 foot wide pink parachute. It made everyone feel like they were 10 years old for a moment, despite the show being 19+. There are a lot of comedic, improvised moments in the show, so every night was completely unique. It will be this year too!
This is a must-see, must-do garden party, theatrical extravaganza. Did we mention that guests will be invited to frolic in a 20-foot pink parachute? Yeah, enter our contest and if you don't win, go go go.
The Details:
Run time: 85 mins
Performances:
Thursday, August 6 – 8:00 pm
Friday, August 7 – 8:00 pm
Saturday, August 8 – 4:00 pm & 7 pm
Sunday, August 9 – 8:00 pm
Wednesday, August 12 – 8:00 pm
Friday, August 14 – 8:00 pm
Saturday, August 15 – 4:00 pm & 7:00 pm
Sunday, August 16 – 8:00 pm
All performances at the courtyard of St. George the Martyr Anglican Church (205 John St., Toronto)
For SummerWorks ticket pricing and information, go here.