I'd been hearing about Chefs Plate for years, but it wasn't something that I ever considered trying until a few months ago. It seemed like a neat idea, but I kept holding on to the hope that I would one day start planning my meals like an adult and grocery shopping regularly.
It never happened. Instead, I spent a small fortune each week on UberEats and take-out and made some pretty questionable choices. One night I ordered four different slices of cheesecake for dinner; my husband wasn't amused.
Then my bestie started using Chefs Plate and became completely obsessed. After two straight weeks of receiving pics of his dinners, I caved and decided to go for it. It's now been several weeks, and I'm hooked too. The selections are plentiful, allowing me to pick four meals each week that I'm genuinely excited about. And produce is fresh and locally sourced whenever possible, which is why the recipes change often, to reflect seasonal ingredients. A company that takes a lot of pride in building relationships with farmers and butchers, Chefs Plate offers antibiotic-and hormone-free meat and sustainable seafood (in partnership with OceanWise).
Vast choices and high-quality food aside, the whole process has been fun! My husband and I are like two ships passing in the night: he preps his shows and I hammer away in my studio all evening. But Chefs Plate allowed us to carve out thirty minutes each night to hang out together, to cook and even to flirt a little.
I also love that ingredients come portioned in recyclable containers, and that I can skip weeks whenever I need to without incurring additional costs. I recognize, however, that while Chefs Plate worked for me, it may not work for everybody, so I enlisted the help of a few of our writers – Tara, Tiffy and Nicole – who each got a chance to try out two meals. Here's what they thought:
I was pleasantly surprised by my experience with Chefs Plate. I thought it didn't make a lot of sense for a young Torontonian like myself, but I can definitely see how having a few of these meals delivered to my house each week could be totally worth it. Firstly, the serving sizes are generous, so you certainly get a good deal – you pay $10.95 per HEAPING plate, and you'll probably have leftovers for tomorrow's lunch. The convenience is a huge factor here and I would argue mostly what you pay for – the delivery to your front door and pre-measured ingredients make weeknight meals super fast. I cooked both of mine in less than thirty minutes and was very pleased and satisfied with the flavour and amount of both. – Tara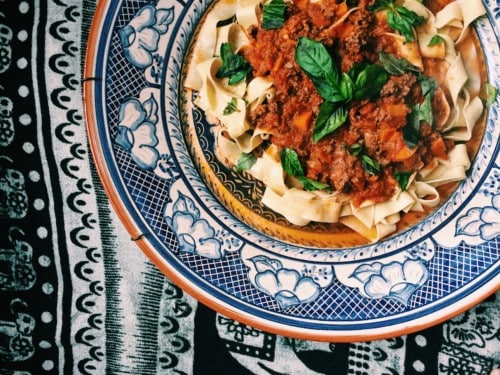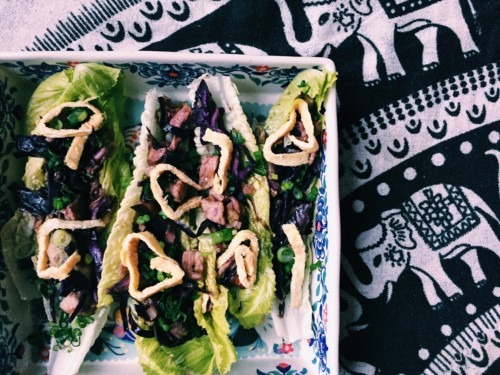 I was excited to have the box arrive on my doorstep (thus negating my need to schlep to the grocery store with a busy toddler in tow). This saved me three hours, easily. The first dish I cooked, Beef Bolognese, wasn't too complex but quick to throw together, and it tasted delicious. The two-person serving fed my parents, my toddler and myself for lunch. The next – tilapia – was fresh and delicately flaky with the right hint of spice. I happily drank the remaining jus from the pot afterward. Can't recommend enough. – Tiffy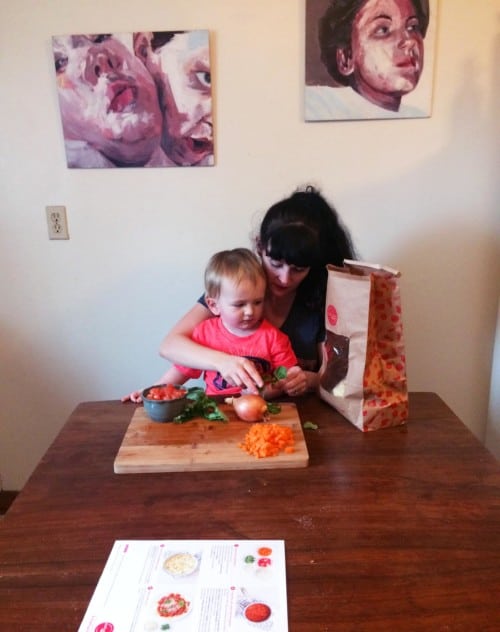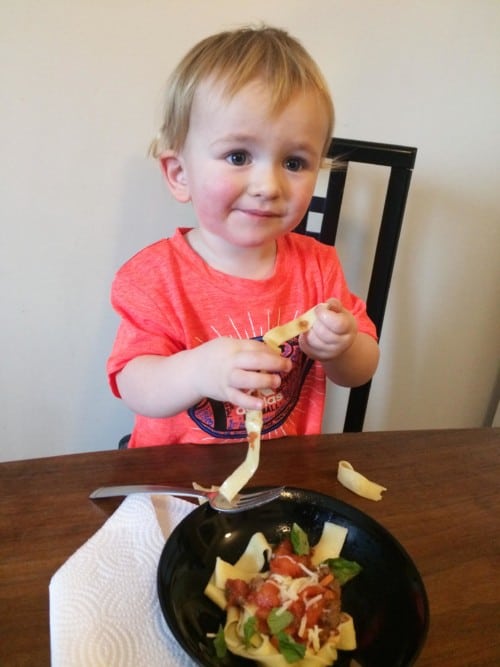 After selecting my meals (Chicken with Dijon Gravy and Red Wine Beef Bolognese), I patiently waited (only two short days) for all the ingredients to arrive. To my excitement, everything was totally fresh (even the pasta!) and completely ready to be shared (since each meal comes in a two-person portion).
Normally, I would have hoarded it all and claimed leftovers, but I was feeling extra giving that week, so I shared chicken with the BFF and pasta with the BF. To enhance the meal-making experience, I got both of them to follow along with the handy instructions (complete with images) and help me in the kitchen. To be honest, my only con would be lack of seasoning. I like heat and a lot of flavour. That being said, it's very easy to add spices (I don't have a cupboard full of them for no reason) or even swap/add veggies. All in all, I would recommend for anyone on the go or for individuals who want to cook their own meals but just don't know where to start. – Nicole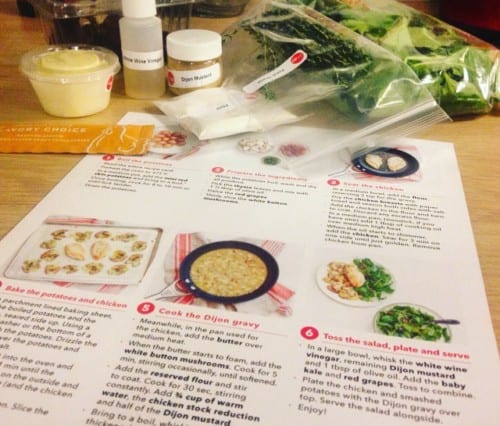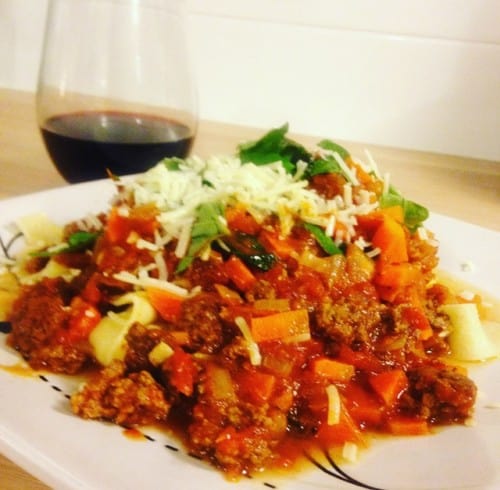 CONTEST
We've teamed up with Chefs Plate to help you host the Galentine's Day dinner of your dreams. One reader will win a Chefs Plate family plan box with 3 meals for 4 people. Y-U-M!
There are THREE ways to enter:
On Twitter:
Tweet: "Hey @shedoesthecity & @ChefsPlate, please help me throw a yummy Galentine's Day dinner for my girls! #ChefsPlate"
On Facebook:
LIKE + COMMENT on one our Chefs Plate post
On Instagram:
LIKE + COMMENT on one of our Chefs Plate pics
Winner will be announced on February 14th. Good luck!