It's Saturday morning. A weekend like any other. Except instead of waking up to solidify a brunch outing, I have already have plans. I AM GOING TO MUSKOKA FOR THE DAY.
How can this be, Danielle? You ask, isn't the drive at least a couple hours each way? It's as simple as Instagram. Jack Astor's is running a promotion for another three weeks, and the winner gets the intriguing "Ultimate Patio Experience" which goes down in Muskoka. Anyone who Instagrams a selfie before 1 PM (on Saturday, July 26th, August 16th and/or August 23rd) on a Jack Astor's patio with the #JacksPatio hashtag, with mention of your locations and @Jack_Astors is automatically entered. But it's not an enter and wait a year situation. You find out within hours of instagramming! Zero to hero. In no time, you are picked up from the restaurant in a town car and whisked away to Billy Bishop Airport for a day of fun. Basically, if you have time to Instagram and patio lounge, you probably have time to suck it up and enjoy some Muskoka nature. Enter at your own risk.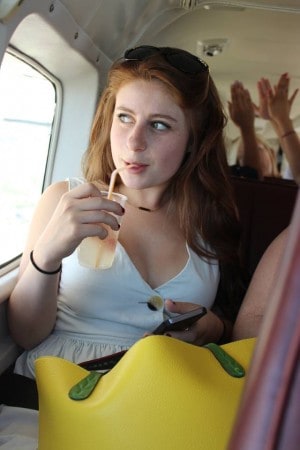 Last weekend was the first weekend of the contest, and boy was I lucky to be invited to rep SheDoesTheCity. Our day began with individual limos rolling up to our apartments, but that was just the tip of the iceberg for Saturday's sweet rides. The four contest winners arrived at the airport in Cadillac Escalades that had cherrypicked them from their Jack Astor's location that afternoon. We collected together at Billy Bishop airport, where the lovely Licia (a star bartender at Jack Astor's) was waiting for us with a cooler stocked full of Coronas, "Jacked Up" margaritas and an array of fresh citrus to add to the mix.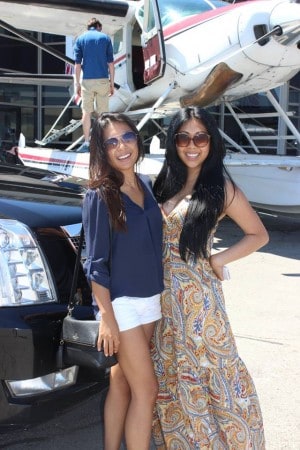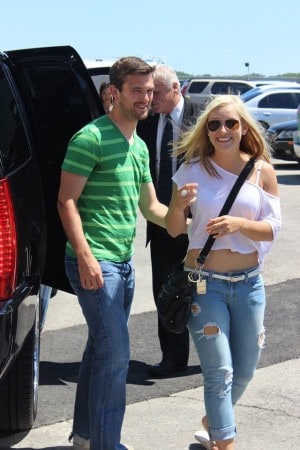 We boarded the plane—a sea plane!—not knowing exactly where we were going, but confident that the strapping young pilot would take us there safely. A cottage party? A yacht? Wracking out brains. What could the Ultimate Patio Experience be?!?! We would soon find out. After a brief flight that offered an amazing view of Toronto's skyscape and Ontario landscapes, we landed by a large pier-type patio with boats flying around, an inflatable slide area, and colourful Muskoka chairs dotting the harbour. The sun was out.  Canadian paradise.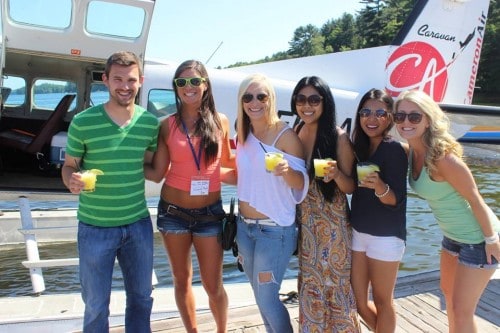 After signing many autographs (kidding), we made our way to the best table in the house at the seasonal Duke Refresher Muskoka (owned and operated by the same Jack Astor's family) and got straight to work. In no time, we were loaded back up with drinks and apps. Classic Caesars were a crowd pleaser, the cocktails were delicious and anything you desired was on tap. My clear favourite eatable was the "Sweet Potato Thing"- a mixed brick of sweet potato and regular fries, with caramelized onions and spices. Once a chunk was ripped and dipped in the coconut chili dipping sauce, there was no going backwards. I could drink that sauce.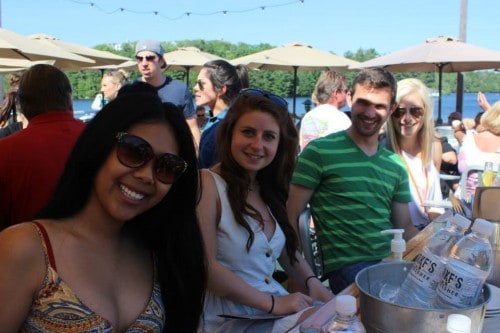 The day in Muskoka was capped off with a boat ride around Lake Rosseau. The wind blew in our hair as we blasted music and reflected upon the day. The contest winners were still shellshocked that they made it there, when all they thought that morning was "How about we grab some lunch at Jack Astors?" My, how things change! We gathered for some farewell ice cream and milkshakes at the Duke's Refresher ice cream window. Getting the celebrity treatment each step of the way, we posed for some final photos on the dock as onlookers tried to guess why we were quite so lucky.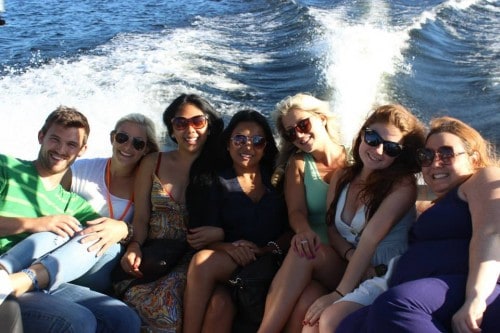 Straight from the dock, we boarded the plane once more (how amazing it would be if we could personally bypass security, customs and airport waits forever) and flew away from the day. It was sad to leave everything, except we still had our still-packed cooler of Jacked Up margaritas. As I hopped off the ferry at Billy Bishop and crawled into the black car waiting for me by the airport exit, I couldn't help but think… who really won the contest? Am I still allowed to enter?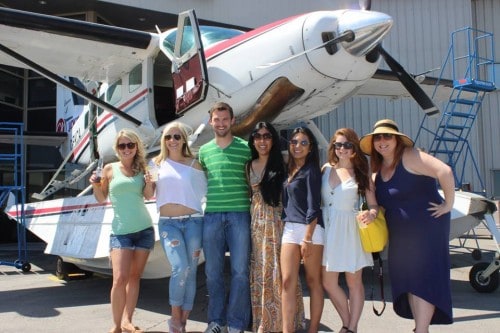 Watch the Ultimate Patio Experience here.
#JacksPatio