It snowed a lot on night two of The ShOws, the unofficial kick-off to Toronto Fashion Week(s). Did you know that it snowed? Of course you did. But many fashion people need, as if it is the life-blood of their entire species, to appear as though they've got an exclusive—always. So, last night I was told that it was snowing by several sources, and I'm sure glad they told me because I teleported everywhere yesterday.
I bring up this rather mundane fact for a reason. On the first night of The ShOws, co-ordinator and producer Paola Fullerton said, "We decide Canadian fashion." By "we," she meant the people in the room (not you), and that really got to some people's heads. This one gesture—toward a crowd of people who live their lives fishing for digital gestures—seemed to create an identity crisis. On night two, attendees were consumed not by the decision-making of Canadian fashion, but by how to appear more like decision-makers.
Here's how they accomplished that:
One woman was changing out of her knee-high winter boots into pristine Massimo Dutti Oxfords—she was barefoot under her boots, and she made this switch a couple of seconds before Kaelen's show to an audience of anyone in eye-shot. Get the look: can-you-believe-I'm-doing-this-not-in-a-washroom? A duo of front-row ladies spent 15 minutes selecting an Instagram filter for what they described as a definitive "fashion selfie," whereby each party angled their chins downward and looked disinterested. Get the look: I-am-fashion? A former fashion big-wig spent 90 per cent of Antonio Azzuolo's show applying lip gloss, 5 per cent talking to a man about the contents of his phone screen and 5 per cent looking at his tailored collection. Get the look: where-am-I? A man and his son, both dressed in semi-formal attire, just got up and walked out of a show. Get the look: I-have-money.
"Appearance is everything" as a slogan for fashion isn't a new idea, but it got me thinking about whether Fullerton was actually correct in her assessment. Are "we" really deciding Canadian fashion? Why is it that a room full of 100 people are being credited for steering an entire economy? Why isn't the designer being credited as the visionary, and we, as an audience, just lucky to witness their art? Why aren't we talking about how advertising dictates editorial in magazines, and how editors are no more decision-makers these days than your average sponsored blog post? How can a decision process be conducted in that room when buyers have already made their buying decisions? We are there, I believe, not as decision-makers, but as the intermediaries between the creators (designers) and the decision-makers (you). Fashion Week, while leaning toward the glamorous at times, is, at its core, an exercise in bolstering the egos of people who no longer decide as much.
So, you decide. Here are the collections from last night. What are you into? As a bit of a primer, Kaelan showed a collection of pinky red mohair, squid ink-dyed pique cotton eyelet (the squid ink was hand-harvested in Redhook, Brooklyn if this makes a difference to you), and a variety of skirts with contrasting raffia lining. She also used double-teeth zippers to transform feminine pieces into more simplified, "less feminine" silhouettes.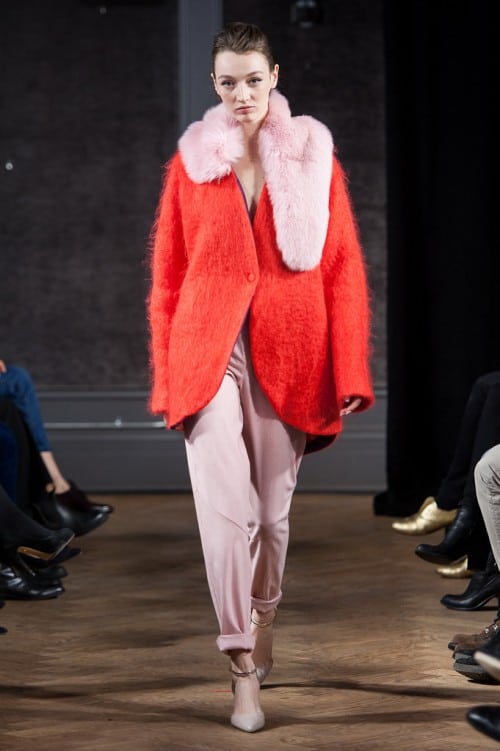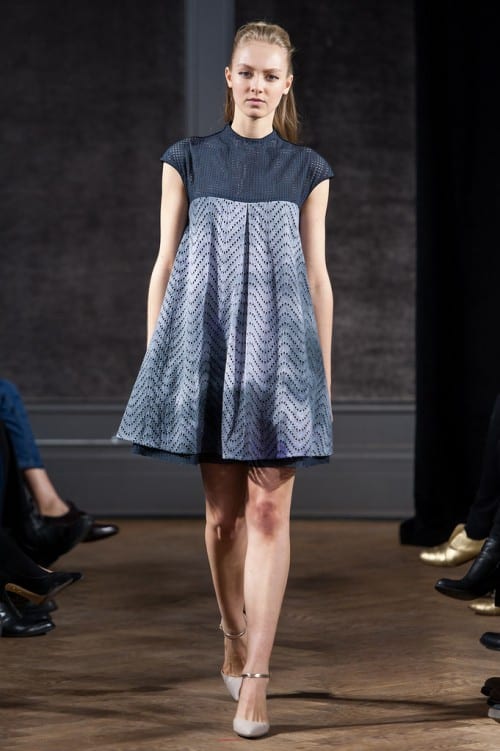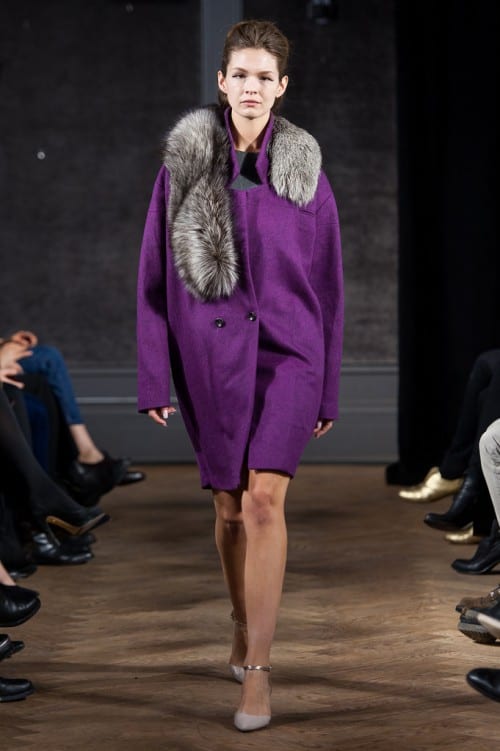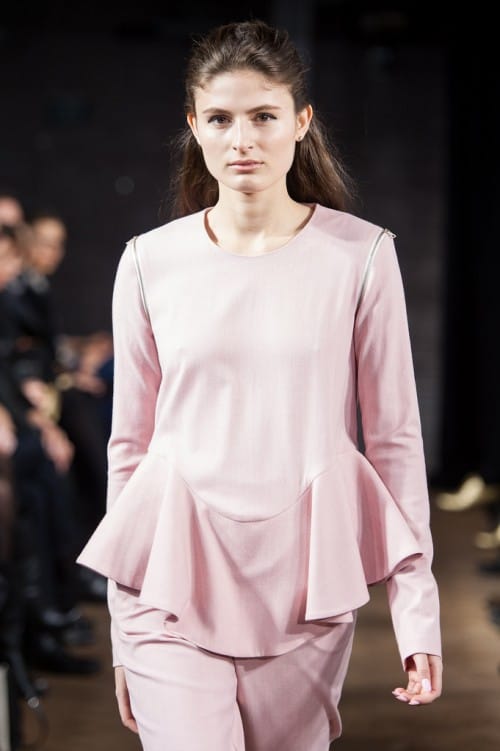 Antonio Azzuolo launched his womenswear last night, featuring immaculately tailored wool jackets, suits and pants—this was in addition to his usual bespoke tailored menswear, and more unusual pieces like dotted cowhide smocks, gorgeous knits and varsity jackets. His signature, he says, "is the saddle shoulder."