Liana Lewis, AKA Petra Queen of the Nile, is a Toronto-based dancer, actor, singer and burlesque performer. "I've always been a person who marches to her own beat of the drum, " says Lewis, who credits the burlesque community as being extremely beneficial in helping her step into her power. "It was when I came into the world of burlesque, performing with Love Letters Cabaret, that I truly felt empowered and gained an increased sense of confidence and understanding of who I am."
Last year, after a gut-wrenching breakup, Lewis promised herself to say yes to more opportunities, and push out of her comfort zone. "By doing things that I'd typically say no to out of fear, I found my purpose. I began teaching dance through Beyography and The Pink Studio, helping people to come more in tune with their body, to love the skin they're in through movement. To be unapologetically themselves, one strut at a time."
We're glad we caught Lewis during her year of YES because she courageously agreed to participate in our ongoing Womanizer boudoir photo series, shot by the extraordinarily talented Juliette and Fanny of Scandaleuse Photography. Pro tip: If you want to put yourself first for a change and turbo-charge your confidence, we suggest putting self-pleasure on your calendar. Get yourself a Womanizer in 2020, and make you a priority.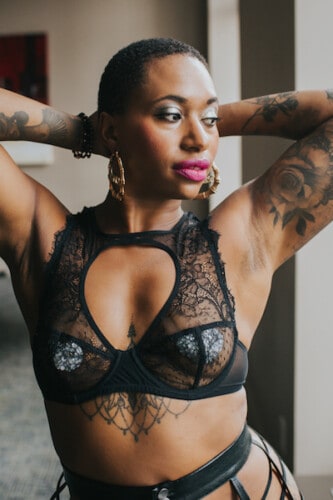 SDTC: How would you describe your sexuality?
LL: Awakened. For so long I put anything and everything first. My career, friendships, family, my job. Myself sorta became my last thought. I began incorporating things into my daily routine that make me feel sexy, wearing a bright color lipstick, wearing a certain scent, pampering myself. Wearing big hoop earrings. Listening to some good old R&B music and letting myself get lost in it. When I started to take time for myself, and put myself first, I gained the importance of self-pleasure. When you allow yourself to have a release there's certain energy that you let out that allows you to feel awakened.
When it comes to feeling good in your own skin, what advice would you give to your younger self?
Being a woman of color–and being in the industry that I'm in–there's more rejections. You are told your looks are not desirable, you are only seen as stereotypical things. You're looked as a fetish, a sexual object. Even in everyday life, society will make you feel ways because of the color of your skin. My advice to my younger self would be give less f$cks, love everything that makes you YOU because being YOU is your superpower. When they try to place you in certain box you gotta just do you, boo, because you're a magical being destined for greatness! Embrace and love the things that are seen as undesirable. Learn the practice of self-love and self-care so that you can have a healthy relationship with yourself. Lastly always speak your mind, your voice matters.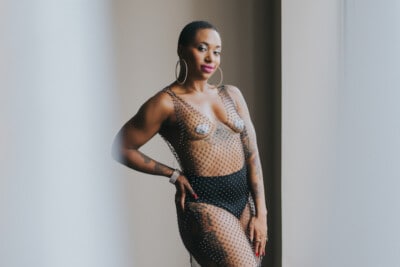 What turns you on?
Smell, sound, energy, confidence, being comfortable in your own skin. Knowing exactly what you want and not being afraid to go after it. Being straight up and honest with your intentions. A sense of humour. Drive to go after anything and everything. Travis Garland–his voice does a number on me.
How did the photo session with Scandaleuse make you feel?
Juliette and Fanny are so sweet, they easily put you at ease and make you feel so comfortable. I definitely felt like a Queen. This shoot was special to me because other times [for photo shoots] I have worn wigs and my make-up was a bit more glamorous, this time I sorta stripped it down and said this is ME! It was nice to be able to show another side of myself, the shoot couldn't have gone any better.
Do you have any major resolutions/intentions for 2020?
My intention for 2020 is to align with my manifestations. Doing all the things that spark and love and joy vibrations!