Our Womanizer x Shedoesthecity Boudoir photo shoots are something we always look forward to. The pictures are stunning, but we also love learning about how different Toronto women describe their sexuality and desires. It's an ongoing project that is both invigorating and inspiring.
For our latest shoot, Juliette and Fanny of Scandaleuse Photography visited the home of Sabrina Nanji for a sexy, safe, and socially distant photo session.
Sabrina is a 31-year-old political reporter by day (who occasionally likes to write about sex & relationships too). We admire her adventurous spirit; Sabrina never shies away from taking risks, or sharing strong opinions. Daring and bold, the path she's blazed is entirely her own.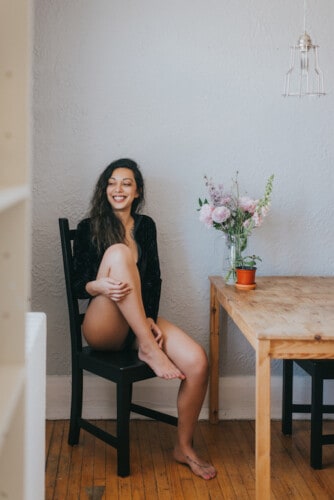 How would you describe your sexuality?
Cerebral, fiery and fun.
When it comes to feeling good in your own skin, what advice would you give to your younger self?
Don't look to outside sources to own your energy and feel at home in this sack of flesh that is our bodies. This lesson has never been more felt than during the pandemic. I'm still cultivating that connection between being a literal human — with blood pumping and sinews holding us together — and being a creature with big emotions and spirit.
It's easy to forget that I am both, especially during pandemic-prompted shutdowns where I'm engrossed in screens. For me, climbing out of that screen-addled daze means getting physical, like going for a walk or doing something that reminds me of the adrenaline flowing through my veins, instead of just a floating bundle of nerves and consciousness.
It has nothing to do with how I look. The first day back at the running track after about a three-month hiatus had me strutting my stuff while doing the most mundane errands. That energy comes from within, then it radiates.
And moisturize everywhere, everyday!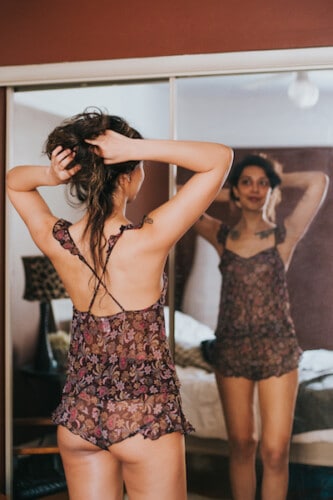 What turns you on?
Confidence in individuality. It's so attractive when someone is bold and comfortable enough with themselves to share the parts that make them who they are — the weird, secret, messy bits. It's intimate and sacred and allows for vulnerability, which is both thrilling and terrifying, and creates a deeper connection.
Follow Sabrina on Instagram @sabrinananji, and see more of our Womanizer x Sheoesthecity boudoir shoots here. Thank you to our partner Womanizer for generously supporting our ongoing Boudoir Photo Sessions. We love working with them, and we also love the selection of Womanizer toys that live in our bedroom. Have you tried?