Shudder.com – the all-horror streaming service – is launching on October 20th, just in time for Halloween. Among their roster of deliciously evil offerings is Beyond The Walls, an art-house French horror show starring the Tribeca award-winning actress Veerle Baetens. Her performance also received an Oscar nod in 2014 in the Best Foreign Language Film category. In Beyond The Walls, her character, Lisa, transforms in a way that is quite empowering. We chatted with Baetens last week.
SDTC: What drew you to this script in particular?
VB: I loved the mystery behind the Lisa character. She leads an isolated life, has no friends, no family, makes up a relation and has only some yogurts in her fridge. I love troubled characters. That she has to go through the house to face her inner struggles – to face life, really – is beautiful. This house is one big metaphor for inner growth, coming even with your true self, and dealing with the past.
Because there was not much speech, because of the length of the series, because of the beautiful and touching ending, because of the genre, because of the symbolism in it, I really wanted to be part of this.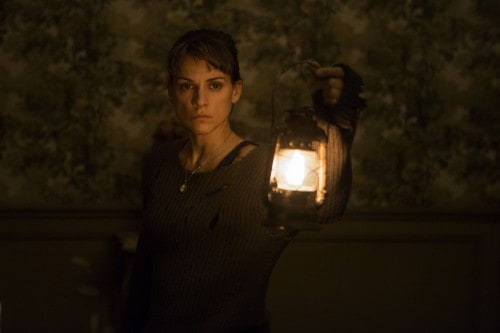 Your performance is so understated, yet the subject matter was so creepy. How did you approach this project?
I felt I did not have to be freaked out the whole time, because the spectator could get bored with it. It's not interesting to watch… Also, I think she had to get used to the atmosphere of the house in order to deal with it. She becomes stronger than Julien at a certain moment, because she is not running away from her past anymore. I wanted the public to be able to fill in some feelings.
What do you like about French New Wave horror?
I haven't seen enough French Horror movies to talk about them. I think it is not just a French Wave though. I see it in Belgium with Calvaire and Cub. I see it in Sweden with Let the Right One In, in Austria with Goodnight Mommy, in Spain with Rec, The Descent from UK and so on. We are back in business with horror. For a long time it just seemed to draw the attention of a niche public. It seems to have increased its public. What is maybe new is horror in television shows. It's a very interesting evolution. People used to be scared to tag it as horror but now it is becoming more and more acceptable.