There's something about fashion week that I find troubling. Well, perhaps not troubling, but slightly confusing. Every season I read about someone saying they #WearCanada, and how people should #WearCanadian. And then, of course, most people don't, and that's not really a shocker. But what I find really fascinating is this undying support for an industry in words, but in practice, there's as much staunch support for our fledgling fashion economy as there is for Russian anti-gay propaganda legislation or Rob Ford. People would rather nail down a Tide sponsorship than really bolster the fashion landscape they project to be a part of.
I'll explain further. When I arrived at Toronto Fashion Week on night two, there was a lot of foot traffic outside. Street style photographers pranced like gazelles, hoping to capture some blogger's outfit and requisite fashion prop(s). This exercise in self-promotion is important, because it definitely helps drive the economy to an extent, but it also illustrates just how much self-importance is a factor at a fashion week.
Fashion editors from print media, who are still held in higher esteem than any digital outpost, viral media aggregator or Instagram account, show up for one show (maybe two) in Toronto. And yet New York Fashion Week is a gauntlet, with people sacrificing food and energy to get to every last off-site and on-site show in an effort to illustrate that they are present at a place in time that reflects a larger conversation about fashion and style worldwide. Despite our efforts to wear clothes manufactured in Canada, or made by Canadian designers, there is still no sense of urgency at Toronto Fashion Week outside of the unrelenting desire to be featured in a street style gallery.
Now Magazine's Sabrina Maddeaux made this painfully clear with her analysis of night one—two people I don't know by name decided they were bored of a show and opted to spend half the time taking selfies. Now, like Maddeaux writes, there is something refreshing about their honesty and candidness, but what is problematic about this exercise is that Toronto Fashion Week continues to celebrate the behaviours of honest assholes who have no reason to even be in attendance. Their contribution: a series of selfies, and an on-the-record quote about how bored they are with clean lines and Canadian fashion. I'd be more inclined to applaud their sincerity if they started a WordPress blog, rather than advocate rudeness on the basis that they are just over it. I am definitely a proud advocate of speaking your mind, but pulling out your phone and taking front row selfies isn't valuable criticism—it's just kind of the worst.
People like the self-involved selfie strangers will always be in seats, whether it is because World Mastercard Fashion Week sells consumer tickets or brands sponsor contests to fill seats at shows that would otherwise be empty (see above). With the assumption in mind that some people are too good for this show, or too busy for that show, there's little that would appear less impressive to designers than having a show full of empty rows and chairs. So, the hard-working PR people and endless crew of volunteers hustle to get butts in seats. That's the reality of Toronto Fashion Week—there is no overflow room, and no impenetrable guest list. It's accessible because it has to be. But what is that doing for the industry? And why are there still empty seats at every show? It's because people don't care as much, even though you wouldn't think that because there's a bunch of sponsored support. Season after season, people will always say the same thing: it's not New York. That's it, that's all. Will we ever be New York? Well, no. But we've got some cool shit, and that should be worth an attention span of three minutes without taking 300 selfies.
Last night was the latest season from Mercedes Benz Start-Up, featuring designers Matierre Noire and Malorie Urbanovitch. Matierre Noire started with this penetrative, repeating noise that was so obnoxious and grating I felt like I might have a panic attack. Then the show started, and everything made a little more sense. The show began with digital art that was equal parts Illuminati-inspired, and something born of an acid trip. It gave way to a collection that could have easily been inspired by the movie Hackers, featuring gangs of futuristic nomads in applique moon sweaters and wool wrap dresses with leather belt-strap closures. It was unmistakably au courant, in that most of the models were wearing platform sandals with socks, which I was very into.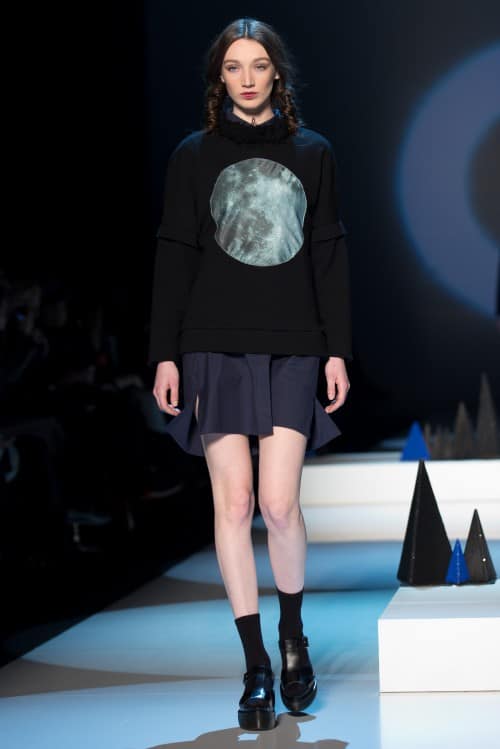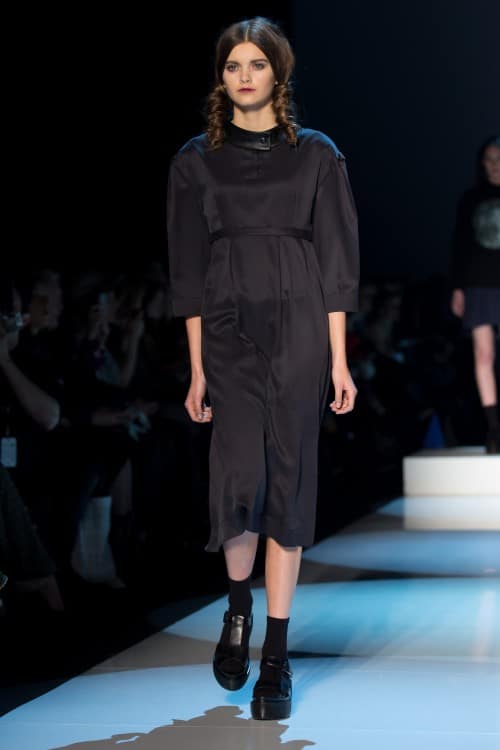 It was in perfect contrast with the basic prep looks from Malorie Urbanovitch—each girl looked put together, with a little edge. White ribbed sweaters and black knit dresses stood out as her strongest pieces, and most looks were balanced with white socks and black shoes or black socks and black shoes. It reminded me of prep school girls I've known who smoked and had their Stephanie Kaye game down to a science. I wanted to be or chill with Malorie Urbanovitch's basic bitches.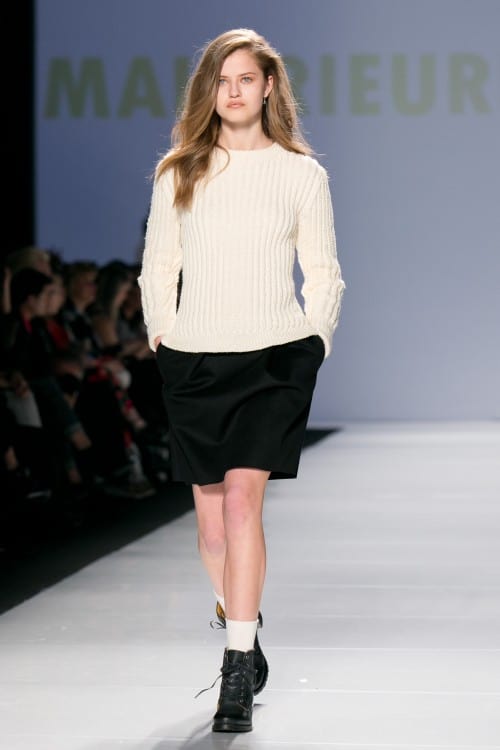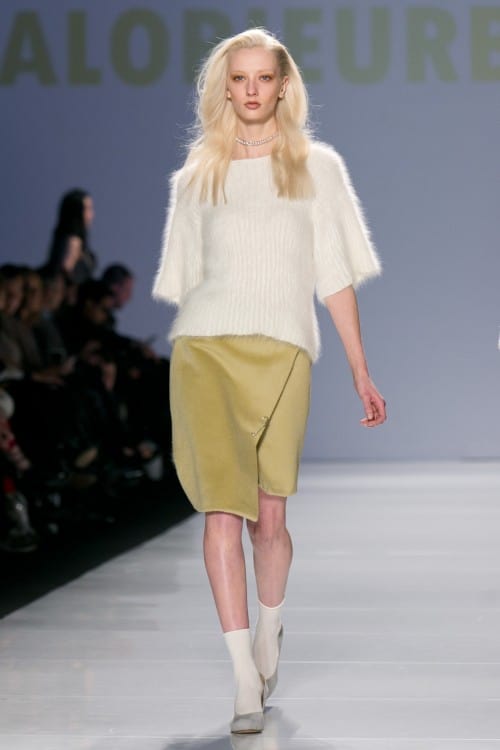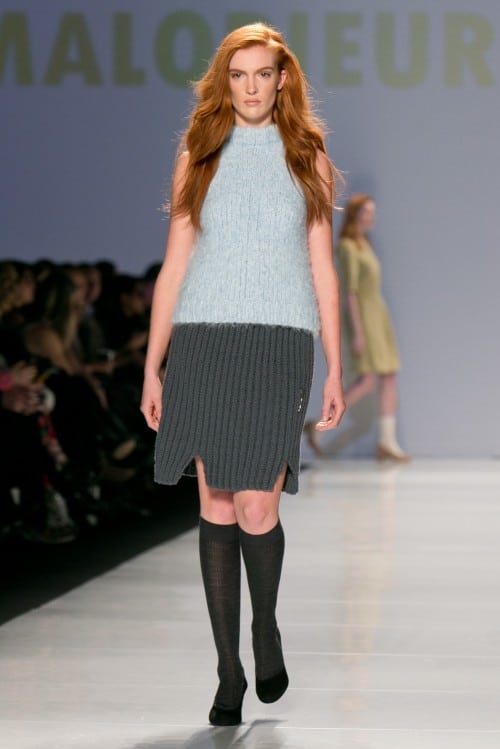 This followed by a very greasy—in the best way—Melissa Nepton show. Each model had partially slicked back and disheveled hair, with a tiny braid tucked in the back, as if a nod to an organic grocer we all have encountered at some point. The collection featured impressive scarves that seemed to travel the length and width of every model, as if to prove its capability of doubling as a blanket. It was a rather comprehensive (read: long) collection, that contained glossy gold foil-like mini dresses, and floor-length black lace dresses befitting Morticia Addams.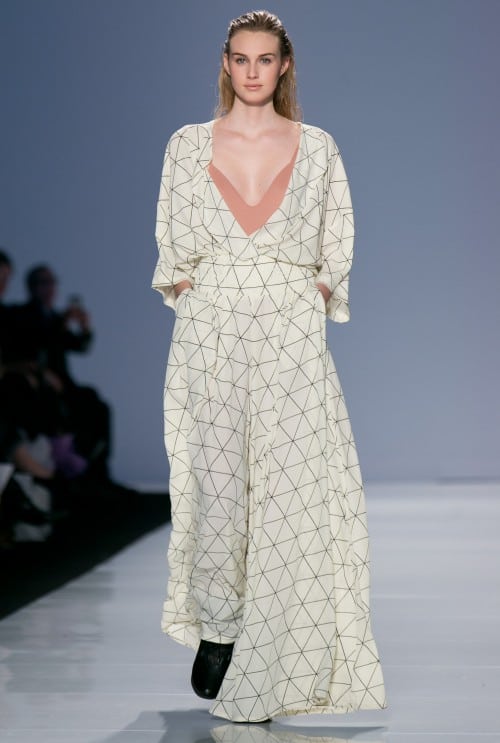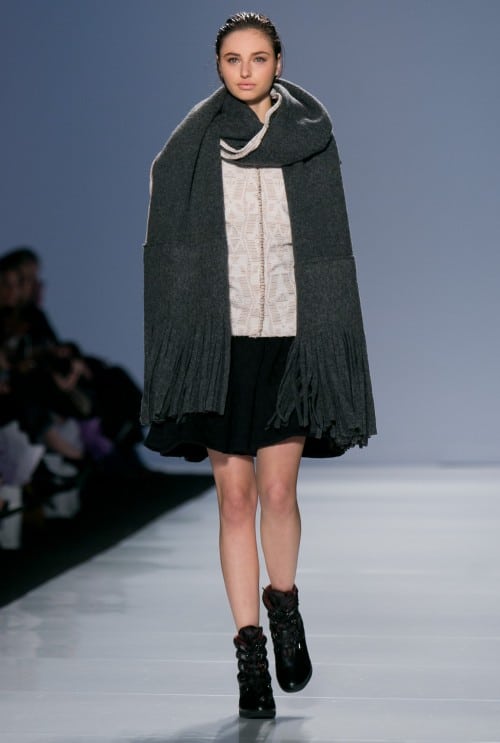 By the end of the night, I was ready to curl up in a giant blanket-scarf, eat coleslaw, and send text messages to a boy I like. Not because I wasn't interested in being there, but because there was so much to see, and I needed to distance myself a little before I could fully comprehend the swirls of thought inside my head. Onward to night three.