Summer is for salads, that is a fact. We got our girls at Limberlina to share a delicious vegan and vegetarian-friendly asian noodle salad bowl, and we can't stop eating it. Here's how to make one yourself!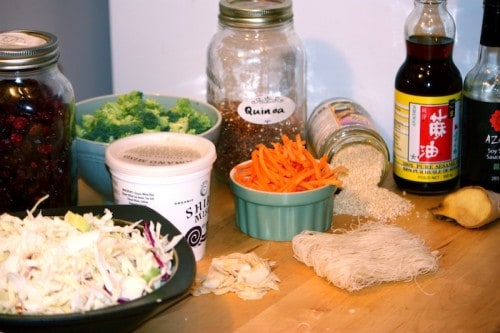 You'll need:
1 Cabbage, shredded
Extra firm tofu, pressed and cubed
Marinade of your choosing for the tofu (I used a lemon garlic sauce)
1 cup dry quinoa
1 cup broccoli
1 cup carrots, shredded
1 cup cooked vermicelli or rice noodles
½ cup dried cranberries
½ cup slivered almonds
¼ cup sesame seeds
For the dressing:
¼ cup sesame oil
¼ cup soy sauce
2 tsp. miso
1 tsp. sesame seeds
Juice of one lime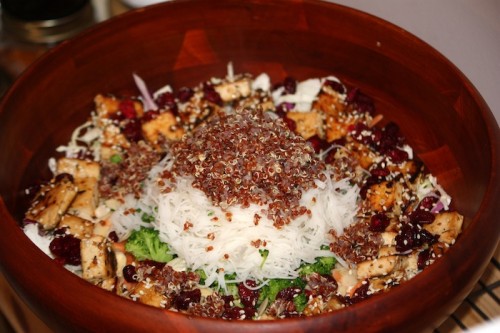 Steps:
Cut your tofu to the desired thickness (I cut mine into four ½ inch slabs) and place between paper towels. Lay something heavy on top to help drain the tofu of excess water
Cook your quinoa in a small pot – use 2 cups water for 1 cup quinoa. Be sure to rinse your quinoa before cooking
At the same time, steam your broccoli – they should only need 5-7 minutes in a shallow amount of boiling water. Once they have cooked let cool water run over them in a strainer
Cook your vermicelli noodles by bringing water to boil, dropping them in and letting them cook for 2-3 minutes. Immediately remove them from heat, dump them in a strainer and run cool water over them. Set aside
While your quinoa continues to cook, begin cooking your tofu in a large frying pan set to medium. Put the tofu in the pan, and pour marinade over top – let cook and flip once the tofu has started to brown/crisp. Once the tofu is almost done – add 2 Tbsp of sesame seeds. Set aside
Once the quinoa has cooked, set it aside and let it cool
Shred your cabbage and carrots and toss them into a large bowl. Add the broccoli, noodles, tofu, almonds, cranberries and the remainder of the sesame seeds
To make your dressing combine all ingredients and mix well
Add the quinoa and dressing to the bowl and toss the salad to ensure it is evenly coated.
Serve and enjoy! Makes about 4 main courses or 8 side salads.