When I sat down at the communal table at The Depanneur on Tuesday I was greeted by nine shy faces who slowly introduced themselves. Most of the students came as individuals and seemed to be regulars at The Dep.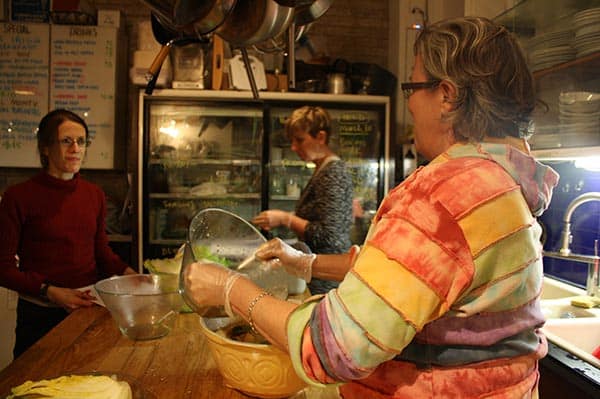 Soon Jonna, the chef, introduced herself and the workshop's schedule. "Now," she said "Before I get all 'Miss Frizzle' on you—'Take chances! Make mistakes! Get messy'—let's go wash our hands."
Over the next four hours it really did feel as though we had entered an episode of Magic School Bus: we got down and dirty with the ground red pepper, salted the hell out of the cabbage, touched and tasted everything. It was a grade 5 science class, complete with the student stereotypes. Upon seeing the mess of kimchi we were about to make one person became a total Arnold "I should have stayed home today" Perlstein. And there was definitely more than one few foodie Phoebe: "At my old school... we used less sesame oil…"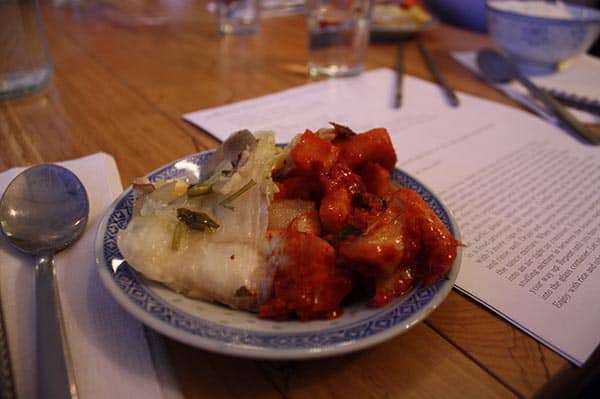 Jonna called out for volunteers to help her with the prep and cooking,  to stir the acorn jelly powder, flip kimchi pancakes, squeeze the water from our cabbage. A feweager students came forward to help while others remained shyly behind. Lots of my fellow workshoppers seemed well versed in the culinary arts and weren't afraid to volunteer their knowledge. Len, Depanneur's owner, provided quite a few helpful facts about osmosis and fermentation. There were a few teacher's pets, a few know-it-alls, and even some rebels "That's not what I call those noodles." But the group's common interest prevailed over any potential dominating personalities… Learning! Science! Food! Yes!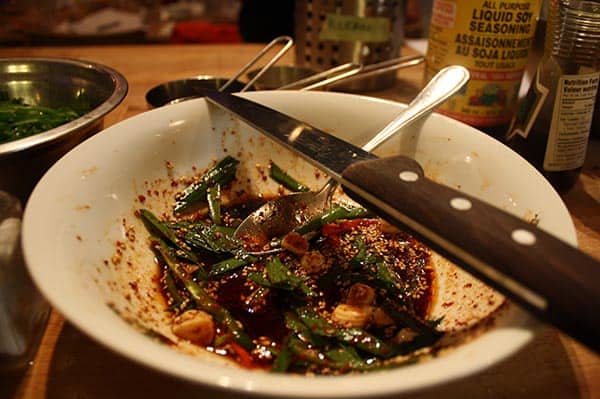 The best part of the workshop was when we slipped on some gloves and wrapped up our kimchi. The spicy red sauce got everywhere. The class was covered in the stuff… it really looked as if we had boarded the bus, shrunk down and were rolled amongst the cabbage leaves and kimchi sauce. After we peeled off our gloves and washed off, everyone looked proudly at the take-home packages we'd made. By the end of the class people were sharing business cards, recipes and planning to come to the Korean themed Supper Club on March 24. Many of the students were signing up for the next few Depanneur workshops, which include Meatless Meatballs and Raw Deserts… It was a wacky night with lots of hands on work and laughter… and the Frizz'smotto really helped everyone relax and enjoy the process.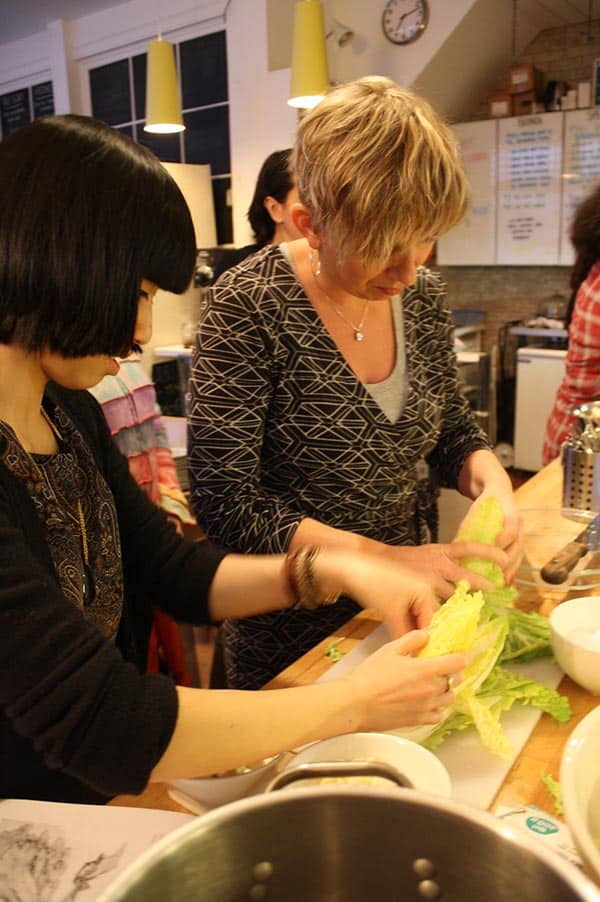 Rating: 4/5 Delicious New Recipes I Could Make At Home Now (If I Became More Adventurous/Self-Motivated/A Better, Cooler Person) (not the Dotorimuk Muchim, that brown jello stuff is not my thing)