10 minutes / Easy / $5
We had A LOT of fun with bleach this week. This t-shirt and tank top were inspired by the galaxy prints we are seeing everywhere these days, and absolutely loving! We thought it would be cute to add our own little touch with the silhouettes at the bottom of the shirts, and it turned out exactly as we'd hoped! The wolf silhouette works perfectly with the galaxy theme, and the numbers have special meaning for our friend/guest crafter, Merry. A few other silhouettes we thought would work well are a tree, a ball of yarn or any animal, really. Of course, any silhouette will work well—just make sure it has a good outline or else it might be hard to tell what it is. Also, keep in mind that like all bleach crafts, this one is best done outside (although we did ours inside and paid the price… the smell of bleach is NOT fantastic and takes a while to come out). Note that the bleaching/painting process itself takes about 10 minutes, but the drying will take longer. Good luck, and happy crafting!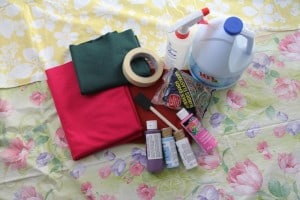 Supplies:
An old shirt
Bleach!
A Spray bottle
Card stock or heavy paper
Printer
Garbage bags (or anything that you can lay down underneath the shirt and inside of it)
White acrylic paint
An old toothbrush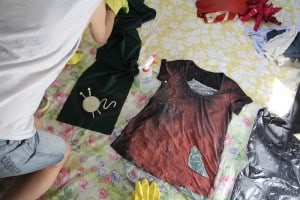 Steps:
Lay down your garbage bags and spread out your shirt. You will also want to put a layer of garbage bag (or some barrier) inside the shirt to prevent the bleach from soaking through to the other side
Fill your spray bottle with bleach
Choose a shape for your silhouette and print it out on heavy cardstock. Carefully cut out the shape with scissors or an exacto knife and tape it (by making little tape rolls on the back of the shape) to the area of the shirt you'd like to leave a silhouette
Use your spray bottle to spritz all over the shirt!
Dip your old toothbrush in white paint and use a flicking motion to splatter "stars" all over the shirt. Let it dry and repeat on the back of the shirt
Once the bleach and paint have dried a bit you can toss the shirt in the dryer to help it dry quicker/set or if you don't have a dryer just let it hang dry.
You will definitely want to wash it before wearing as it is going to smell heavily of BLEACH – but once you do, oh boy, enjoy!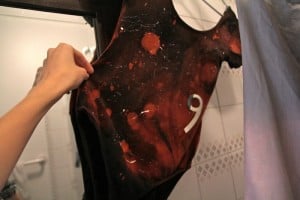 Limberlina are Kimberley and Laura—they teach people with creative ambitions to make their own mark in and outside of their homes through simple, imaginative and inexpensive DIY projects. Follow them on Facebook, Twitter, Pinterest and Instagram  and check out their DIY Kits here!